Buffalo Bills Training Camp Battles Part 4: Linebackers
May 9, 2012

Jim Rogash/Getty Images
As of now, the Buffalo Bills currently have 10 linebackers on their roster. However, that number is sure to shrink throughout training camp as players fight for playing time. While Kelvin Sheppard and Nick Barnett are locks at middle linebacker and weakside linebacker, with Kirk Morrison expected to start at strong side, there still could be some serious competition at the position.
The Bills selected outside linebacker Nigel Bradham of Florida State and inside linebacker Tank Carder out of Texas Christian in the 2012 NFL draft, and while they are raw, it's not out of the question for them to see some time on the field this year.
Strong-Side Linebacker
The Bills re-signed Kirk Morrison to a two-year, $2.5 million deal after he recorded just seven tackles in the 2011 season. Morrison was out of place in the Bills' 3-4 front, as he is best suited to play in a 4-3 as he did during his most productive seasons with the Oakland Raiders and the Jacksonville Jaguars.
Arthur Moats became a cult hero in Buffalo when he knocked out Brett Favre, but he hasn't been able to get on the field much. The Bills' coaching staff has tried him at defensive end, outside linebacker and even inside linebacker. During his collegiate days, he was a productive defensive end at James Madison with a knack for getting to the quarterback. Last year he recorded 29 tackles and 2.5 sacks in extremely limited snaps.
Middle Linebacker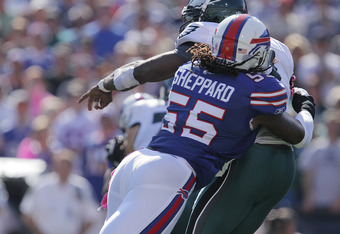 Brody Wheeler/Getty Images
Kelvin Sheppard has earned the starting role at mike linebacker as the Bills transition to the 4-3. The former third-round pick had an extremely productive rookie campaign, recording 70 tackles after replacing veteran Andra Davis as the starting inside 'backer alongside Nick Barnett. Dave Wannstedt and Chan Gailey have spoken highly of him throughout the offseason, and he is a lock to start inside from day one.
Tank Carder played middle linebacker for a stout TCU defense, recording 228 tackles, 25 of those for a loss, 5.5 sacks, four interceptions and a forced fumble. Even more impressive are his 23 pass breakups, which displays his ability to be at the right place at the right time. While he is a bit undersized at just 237 pounds, he will initially see time on special teams, due to Sheppard's presence in the middle.
Weakside Linebacker
Nick Barnett was the leader of the Bills' defense last year, recording 130 tackles, three sacks and three interceptions. He has played his entire career as an inside linebacker, so it's unclear how he will respond to the switch to weakside linebacker. Still, he is a leader in the locker room and will serve as a mentor to the younger linebackers on the roster.
Bryan Scott will see a lot of time in nickel packages as the hybrid safety/linebacker is coming off of a very productive season in which he made 66 tackles and two interceptions. Its unlikely he'll start any games, but his versatility is what has kept him on the roster for so long.
Nigel Bradham is a quick and instinctive linebacker who will also begin his career on special teams, but I wouldn't be surprised to see him on the field towards the end of the season. Bradham led the Seminoles in tackles for the past three seasons and ended his career with 305 tackles, 21.5 for a loss, nine sacks, three interceptions, 14 pass breakups and two forced fumbles.  While he is strong against the run, he is still a work in progress in his pass coverage.
Conclusion
Barring any injuries, the Bills have the right personnel to operate the 4-3 defense they will be utilizing this season. Additionally, they actually have depth at the linebacker position, something they have been extremely lacking in recent years.