Detroit Tigers Struggling to Make Returns on Investment on Highest-Paid Players
May 9, 2012

Jamie Squire/Getty Images
Justin Verlander, Miguel Cabrera, Prince Fielder and Jose Valverde account for $73 million of the Tigers' payroll this year.
And nearly thirty games in, General Manager David Dombrowski might well be asking himself if the Tigers are seeing the type of returns expected from such a large investment.
It's true that 28 games isn't enough to gauge a ball club, but it's enough of a sample size to start making some observations about the Tigers' performance in 2012. Not considering inadequate contributions from the bottom of Detroit's lineup and so-so bullpen, many Tigers fans are also asking themselves, "Should we have put all these eggs in the same basket?"
With the Tigers sitting in the middle of pack in the AL Central, now is a good time to take a look at the production numbers of Detroit's highest-paid players:
Prince Fielder ($23 million)
In terms of power, Fielder is off to a slow start, with only 4 home runs. His batting average of .308 sits a bit higher than his career (.283), but his on-base and slugging percentages (.381 and .452, respectively) are slightly lower than his career averages of .389 and .537.
Fielder may be experiencing the adjustment period most hitters do when changing leagues, but it's not enough for serious concern. Perhaps he should have more than 14 RBIs at this point in the season (.412 BA with runners in scoring position), but again, his numbers so far are not cause for panic.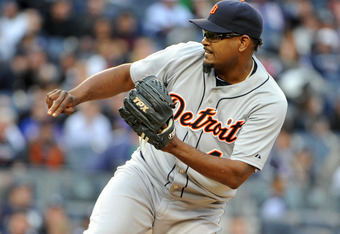 Christopher Pasatieri/Getty Images
Is his plate-production worth $23 million? That question remains to be answered.
Miguel Cabrera ($21 million)
While a BA of .284 might not seem too shabby, Dombrowski and Leyland are probably expecting more out of their star third basemen given his massive salary and given his career batting average of .316.
His OBP and SLG percentages are off a bit, but what's really got Detroit worrying is Cabrera's average with runners in scoring position (.296). Again, it might not seem all that bad, but it's a far cry from Cabrera's 2011 batting average with runners in scoring position of .388.
Another thing Tigers fans might be worried about is Cabrera's ability to drive in runs with two out. Last year, Cabrera batted .382 with runners in scoring position and two out—this year: .250, including 0-3 last night in Seattle.
With a salary of $21 million, and an obvious downside on defense, Dombrowski might also be asking himself if Cabrera is living up to his paycheck.
Justin Verlander ($20 million)
Not much to complain about here. In six games started, Verlander has gone 2-1 and put up an ERA of 2.38 and a WHIP of 0.86. He's averaging 8.3 strikeouts and 1.8 walks per nine innings.
Verlander has shown that his below-average Aprils are a thing of the past.
Jose Valverde ($9 million)
The next highest-paid player on the Tigers might be the biggest disappointment.
While it's impossible to expect him to repeat his 2011 perfection (49 for 49 in save opportunites), Valverde has struggled to keep runners off base in 2012 and has already blown two saves. His ERA of 5.68 must come down if the Tigers are going to build on their success in 2011.
It's early in the season, and Detroit's big-money players have plenty of time to put up big-money numbers, but with a record of 14-14, there's no question that Motown is a bit anxious for an adequate return on their investment.
Stats derived from Baseball-Reference.com and ESPN.com