NBA Draft 2012: College Stars Worthy of a First-Round Pick
May 9, 2012

Jamie Squire/Getty Images
The NBA draft is littered with early entries that weren't on the radar until this past season, but that doesn't mean there aren't proven stars available.
I'm talking about the players college basketball fans have been accustomed to seeing for the last few years. Players that have big-time experience in pressure situations, that aren't going to be drafted based on the word "potential."
While the pre-draft camps and workouts will obviously change things, for now, here are three recognizable names that are worthy of being selected among the top 30 picks in the 2012 draft.
Draymond Green, F, Michigan State
When you are 6'7'' and average over 10 rebounds in the collegiate ranks, you are a rare talent. Tom Izzo taught him well.
Green has the ability to be a standout contributor right off the bat for a team who needs a shooting guard/small forward that can potentially be a strong slasher at the next level.
His senior leadership was a big reason the Spartans were such big overachievers this past season. The talent level wasn't there, but Green came up with the big play seemingly every time his team needed it most.
Green may not have star potential, but there is no doubt he can be a strong contributor for a NBA team seeking championship hardware.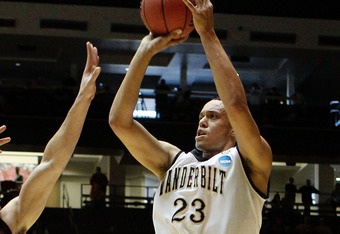 Christian Petersen/Getty Images
John Jenkins, G, Vanderbilt
The junior is the ultimate sharp-shooter.
He shot 305 three-pointers this past season, hitting them at a 44 percent clip. That's a skill ready to translate at the NBA level instantly.
But that's not the only thing the 6'4'', 215-pounder can do. He is a strong finisher around the basket and plays aggressive defense that can frustrate smaller opponents.
Obviously his size isn't something scouts are thrilled with, but his three-point shooting alone makes him worthy of a first-round pick.
Kevin Jones, PF, West Virginia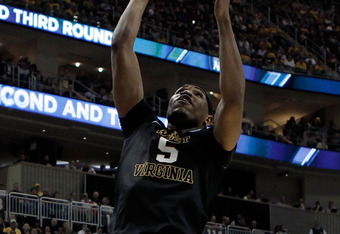 Jared Wickerham/Getty Images
Jones is a rebounder, plain and simple. He is incredibly aggressive on both sides of the glass and has outstanding instincts when the ball goes in the air. His reactionary and adjustment skills are off the charts.
He led the Big East and was fourth in the nation his senior year (11.1). Obviously at 6'8'' and 250 pounds he'll be undersized, but this scrappy hustler will certainly find his niche in the NBA.
You can't teach hustle and heart.