Friendly Rivalry: Rory and Rickie Rise to the Top
May 8, 2012

Mike Ehrmann/Getty Images
Charles Schulz, the creator of Peanuts, once wrote, "There's no greater burden than great potential."
Two young guns, Rory McIlroy and Rickie Fowler, know just what he meant.  They are fine, young talents who are now getting bombarded with questions.  How far they can go?  How soon will they get there?  Are they rivals?
McIlroy and Fowler were in a playoff at Wells Fargo on Sunday, with Fowler coming out on top.  McIlroy has gone to and from the world number one ranking since taking it over—at least temporarily—from Luke Donald in March.  He has it again as a result of his finish last week.
Rory and Rickie are no longer rising stars—they have received full-wattage status.  
Hunter Mahan, who was considered a rising star for a while, has already won twice this season and is seven years their senior said, "I think it's great that we have so many young guys in their twenties and young thirties that have an opportunity to really grow the game and to be No. 1.  It's always great for the game that we have golfers who look different and bring something different to the course."   
Fowler was relieved about his victory on Sunday. 
"It's nice to finally get the first one out of the way," Fowler admitted.  "It's been fun. It's obviously a process, and it's not easy to win on the PGA Tour.  There's a lot of great players out here, best players in the world.  But it was nice to get last week at a very good tournament and against a very good field."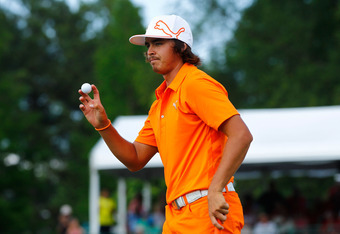 Mike Ehrmann/Getty Images
McIlroy recalled his first victory.
"Dubai was a big relief for me because it was out of the way," he explained. "I should have won in Switzerland and had a couple more chances.  Lost in a playoff in Hong Kong and was in contention a couple other times, and I think I was six ahead with six to play coming down the stretch in Dubai, and only won by one, so it was a relief to get over the line."
In his victory, Fowler beat the big boys.  The Phils, the Tigers, the Lees, the Lukes—guys who have been at the very top for a while—plus McIlroy, the current No. 1.  That should give him confidence going forward, not that Fowler is lacking in that department.
He wants to be on the Ryder Cup team again and play at the Tour Championship, and his victory should secure that goal.  For McIlroy, he's a lock for the Ryder Cup team, and with a PGA Tour victory notched for 2012, he's also in good shape for the Tour Championship.
McIlroy and Fowler met at Walker Cup two years ago and have had a friendly rivalry since.
"We've played each other a few times starting at the Walker Cup," Fowler said.  "I respect his game, and I feel like he respects mine.  We enjoy playing together and against each other." 
"I developed a really good relationship with him at the Walker Cup in '07," McIlroy said about Fowler. "I felt like he was the best player on the team at that time, and he was also the nicest guy."
McIlroy said he felt Fowler would certainly win, he just didn't know when.
"He got into that playoff really early in Arizona just when he first came out here, last year, and it was just a matter of time," McIlroy added.  But McIlroy knows how hard it is to win and to follow it up.  "It took me a while to get my next win at Quail Hollow after that, and since then, I've won a little more regularly, still not as much as I'd like." 
In fact, it took him more than a year to win his next one.
As far as true rivalries go, Fowler is somewhat doubtful whether one will emerge between the two of them. "I know he wants to beat me just as bad as I want to beat him, but I think that both him and I would have to kind of run away and play really well just for it to be a rivalry between the two of us."
Fowler, mature beyond his years, said. "I could go down and name off 10 to 20 guys between Rory and I to Keegan to Dustin to a guy like Jason Day. It might take a while, they there's a lot of good, young players right now, so it would be unfair to say Rory and I are the rivalry right now versus the others that are just as good.
Kathy Bissell is a golf writer for Bleacher Report. Unless otherwise noted, all quotes were obtained firsthand or from official interview materials from the USGA, PGA Tour or PGA of America.