WWE: How Alberto Del Rio Already Holds the Key to Reviving His Stale Character
May 8, 2012

After returning to WWE at Elimination Chamber and to the ring last month, the Mexican Aristocrat, Alberto Del Rio, has re-injected himself into the title picture for the first time since Tables, Ladders and Chairs last year.
He joins Chris Jericho, winless on pay-per-view since his return and likely to leave WWE sooner or later, Randy Orton, who wins about 90 percent of the time, but has gotten, let's face it, pretty stale lately with his ho-hum feud against Kane.
And finally, World Heavyweight Champion Sheamus, or Super-Sheamus it appears, since he won the title in 18 seconds and couldn't even be bothered to tap out to one of the most brutal submission finishers in WWE.
Del Rio himself is not without fault. He's boring. Tedioso, you might say. His rich-as-hell foreigner gimmick has worn pretty thin, and WWE doesn't have the luxury of simply turning him babyface, because regardless of his alignment, the fans still wouldn't care.
He does, however, have one thing going for him that the others don't, even if he doesn't win the title at Over the Limit.
His personal ring announcer, Ricardo Rodriguez.
I'm still baffled by how Ricardo, in all this time as a character on WWE programming, has not taken the next step by actually getting into the ring as a competitor. He's been made to look like a stumbling, bumbling lackey to ADR, but the guy can really wrestle.
That picture-perfect flying cross body he delivered to Sheamus on SmackDown last week was just a glimpse of what Rodriguez is capable of in the ring.
And despite how indifferent I am to Alberto Del Rio, every time Ricardo is introduced, for whatever reason, I start laughing. I like the guy. I don't even know why. I took Spanish in high school, so I can only pick out a couple words of what he's saying, but he entertains me.
He entertains me and I don't even know exactly what he's saying.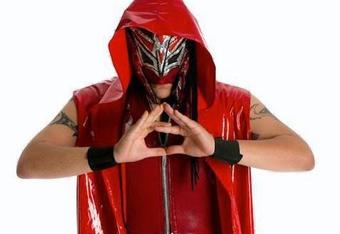 At this point, Ricardo is a heel, and has more than likely become too much of a comedy character to be taken seriously. This is a guy who, just a short while ago, was scared into belting out "La Cucaracha" by R-Truth.
But he has an ace in the hole to fall back on, which would assure him a serious push and a prominent angle.
Chimaera.
For those of you who don't know, before he was Ricardo Rodriguez, your friendly neighborhood personal ring announcer, he was Chimaera, a serious masked luchador with an arsenal of absolutely stunning maneuvers, including his corkscrew moonsault finisher, Chimaera's Rage.
As a masked wrestler, it's conceivable that Rodriguez could pull double duty as Del Rio's ring announcer and the mysterious, awe-inspiring Chimaera.
With Rey Mysterio in serious trouble after violating WWE's Wellness Policy, WWE could use another luchador to make things more exciting. And chances are, only the smarks will be aware that Rodriguez and Chimaera are one and the same.
Wait a minute...what about Sin Cara? Isn't he supposed to come back at some point?
Oh, you mean the botch machine who's been out of sight and out of mind for months?
I'm glad you mentioned him. He's the first step. His return to the ring should signal the debut of Chimaera. Suddenly the mid-card has a believable and proper feud. It doesn't even need any build, really. Two masked luchadors squaring off basically sells itself.
Chimaera needs to lay a serious beatdown on Sin Cara to let the WWE know that he's not messing around. No jobber squashes. No NXT regulars. Get this guy into a real angle off the bat, or risk having him lost in the shuffle of debuting talent.
The real angle, however, lies with Del Rio. After Chimaera builds a rapport with the fans as a super-over face, Del Rio starts to take notice. Who is this guy, this masked Mexicano, stealing the spotlight from El Patron?
He gets very angry, and who does he voice those frustrations to? His manservant Ricardo, who will be most pleased to hear that he's gotten under his master's skin.
Slowly, WWE drops hints as to who Chimaera really is, and finally the reveal is made. Rodriguez attacks Del Rio as he stands in the ring, ostensibly to publicly call out the Superstar who is stealing his thunder.
Rodriguez then rips off his ridiculous bowtie and tuxedo to reveal his Chimaera wrestling attire underneath and set up a major match between the two at whatever the next pay-per-view will be.
Again, the feud sells itself.
It has all the ingredients for success built in. Submission grappler vs. high-flying luchador, overbearing, critical master vs. consistently humiliated and under-appreciated servant.
Plus, it serves the added purpose of getting the attention of Latino fans in a way that stereotypes like Hunico and Camacho just can't, so Vince McMahon should love it.
This angle is right in so many ways. But I'll keep my expectations low so that when it doesn't happen, I'm less disappointed.
I just hope if WWE goes in a different direction, I'm not embarrassed for all involved.