NHL Free Agency 2012: 11 Most Overpriced Players on the Market This Summer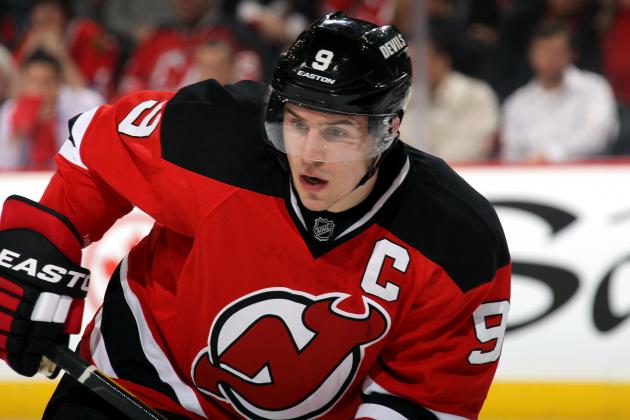 Bruce Bennett/Getty Images

The National Hockey League is less than two months away from its wildest day, and the competition for best free agents on the market has already hit a frantic pace.
With this year's class of UFA's (unrestricted free-agents) even shallower than usual, the elite available names—stars like New Jersey's Zach Parise, Nashville's Ryan Suter and Washington's Alexander Semin—are bound for a July 1st payday like no other.
Six million.
Seven million.
Eight million.
Week by week, the inflation levels keep rising, and the money values keep doubling for the few superstar free agents.
After all, a League's worth of headline-hungry general managers are starving to win at least one bidding war this summer, and that scathing competition will benefit nothing more than the salaries of these 11 ridiculously overpriced free-agents.
Who's destined to cash in the most come July? We'll name a select group of overvalued stars set for some colossal offseason raises in the coming slides.
Note: For a viewpoint on the other end of the spectrum, check out Bleacher Report columnist Kevin Goff's breakdown of 11 bargain free agents from earlier this week.
Begin Slideshow

»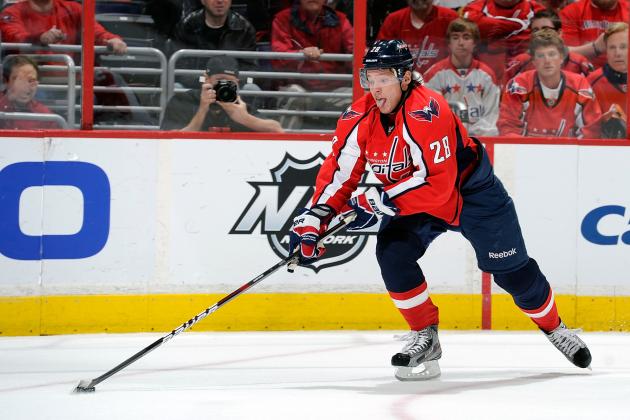 Greg Fiume/Getty Images

Capitals winger Alexander Semin is a talented playmaker in the prime years of his career, but Washington appears satisfied to let him walk this summer.
The 28-year-old Russian, whose reputation has been forever plagued by off-ice concerns and motivational issues, has recently failed to duplicate the 40-goal, 84-point campaign he registered in '09-'10 despite a whopping $6.7 million cap hit.
Nonetheless, it's very possible that Semin's new salary could top even that. He's regarded as arguably the best free-agent forward around, and, whether offered by the Caps or another eager suitor, will have plenty of cash-laden contracts to choose from when July does roll around.
Character issues or not, there's no doubt that Semin will only be getting richer this summer.
Projected Contract: Four years, $7.0 million cap hit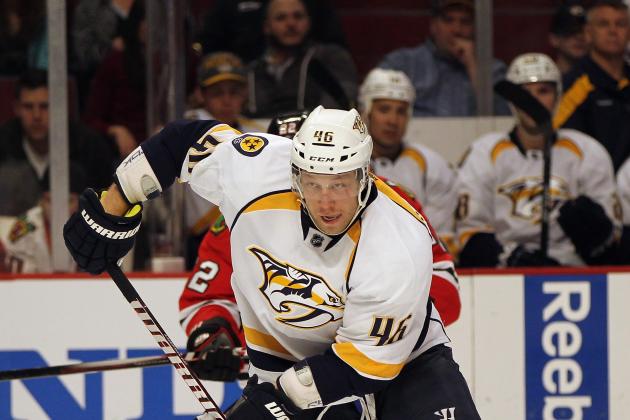 Jonathan Daniel/Getty Images

Andrei Kostitsyn, reunited with his brother Sergei in Nashville at February's trade deadline, turned out to be a nice addition for the Preds.
Tallying 12 points and a plus-seven rating in 19 regular season games and then three goals and a plus-three rating in eight playoff appearances, Kostitsyn—at least briefly—revitalized his career after a steady decline in Montreal.
He's not the annual 25-goal, 50-point scorer than his '07-'08 rookie season originally painted him to be, though, and he probably deserves something of a pay cut, if anything, from his current $3.25 million salary.
However, we expect that, given the sparseness of this summer's UFA forwards crop, more than a few GM's will forget to take Andrei's upturn without a grain of salt. His new contract could very well rival that of an average first-line winger.
Projected Contract: Three years, $4.0 million cap hit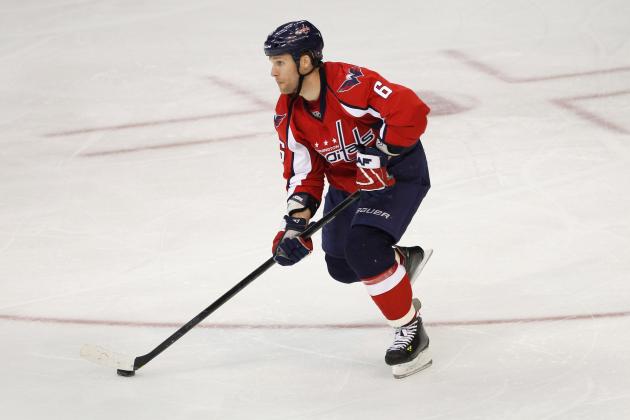 Rob Carr/Getty Images

Opinions vary widely on Dennis Wideman's worth as a top-pairing defensemen but, regardless of his skeptics, the flashy offensive blueliner is due for a big payday when he hits the market.
Wideman is unquestionably a tremendous power-play point presence; his 35 assists and 46 points in the '11-'12 regular season marked his sixth straight campaign of at least 23 helpers and 30 points.
The 29-year-old blue-liner can be a painfully large liability in his own end, though, lacking any sort of physical presence and touting a horrendous minus-41 rating over the past three seasons.
Still, a good-looking stat line as juicy as Wideman's will win some teams over on its own, and he'll benefit greatly from that. The bank account of this overrated D-man, already gaining nearly $4 million per year, is only going to be growing in size.
Projected Contract: Two years, $5.0 million cap hit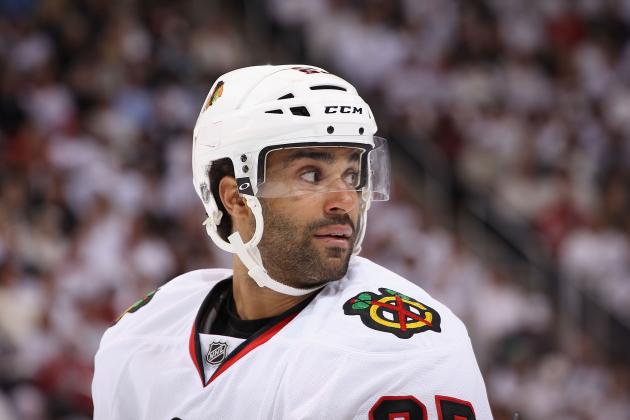 Christian Petersen/Getty Images

We weren't big fans of the Blackhawks' acquisition of Johnny Oduya at the trade deadline and, as it turned out, with good reason. The 30-year-old defenseman failed to contribute significantly for Chicago all the way through their disappointing first-round postseason exit.
Nevertheless, Oduya has remained a memorable household name since his true shut-down days with New Jersey soon after the lockout, and may continue to ride that now-unwarranted reputation into another loaded contract in early July.
In truth, Oduya is, at best, a pedestrian second-pairing blueliner worth nothing more than $2 million or so.
But he'll fetch up to twice that much on the open market.
Projected Contract: Two years, $3.5 million cap hit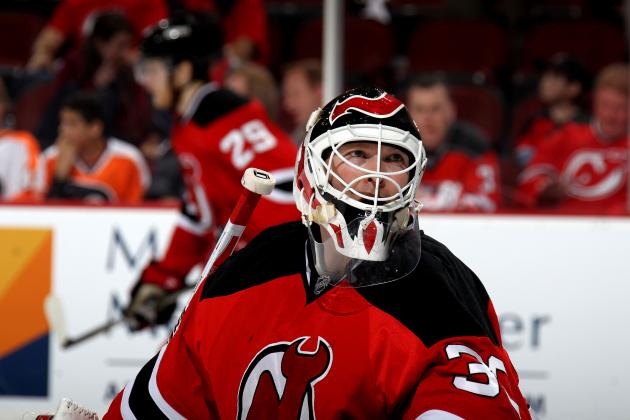 Bruce Bennett/Getty Images

Martin Brodeur has the reputation, the name and the career of unblemished success.
He has the record of reliability, consistency and dominance.
And soon, even at the whopping age of 40, he'll have another pricey contract—that is, if he wants to take it.
Of course, retirement will certainly be a strong option for this future Hall of Famer, especially if he and the Devils can finish off their ongoing playoff run with Brodeur's fourth career Stanley Cup title.
If the NHL's all-time shutout leader does return for another go at it, conversely, plenty of GM's will be ecstatic for a shot at landing one of the best netminders in history, despite the questions surrounding how much longer he can hold up.
Signing a 40-year-old Brodeur is a boom-or-bust proposition, yet a number of teams would still be happy to take on that risk if the opportunity emerges.
Projected Contract: One year, $3.75 million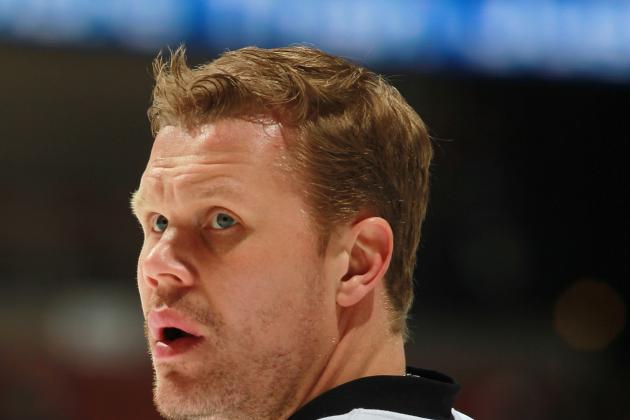 Jeff Gross/Getty Images

Olli Jokinen is far, far removed from his 30-goal seasons of the past.
But, for some reason, he remains one of the most highly-touted free agent forwards on the market.
After Jokinen's abysmal 15-score campaign in '09-'10, the Calgary Flames proceeded to re-sign him to a two-year deal with a considerable $3.0 million cap hit—only to have Jokinen score just 40 combined goals and record a woeful minus-29 rating over those two years combined.
Now, with that contract expiring and Jokinen already 33, Calgary is finally willing to let this declining veteran go.
Somewhere else, though, Jokinen's household name will singlehandedly produce another bountiful contract offer for a salary far higher than what he truly deserves.
Projected Contract: Two years, $3.0 million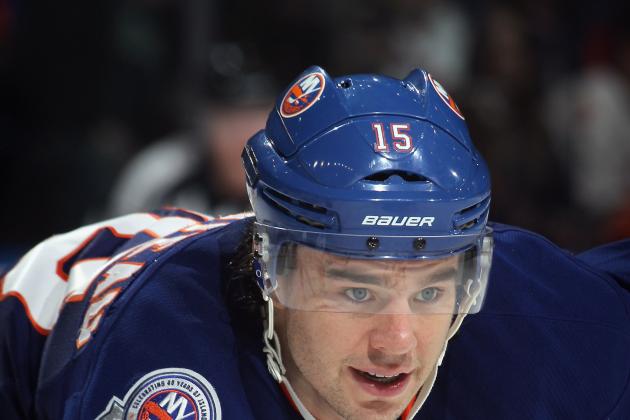 Bruce Bennett/Getty Images

The Islanders' PA Parenteau used to be one of the most unheralded top-six forwards in the League.
Until a few months ago.
As a former ninth-round pick who spent seven years in the AHL before finally making the big jump, Parenteau boasts a nice Cinderella story and an impressive resume, as well.
The 29-year-old's 38 goals (including 15 on the powerplay) and 120 points over the past two years combined were a huge bargain for the Isles, who paid him just $0.6 and $1.25 mil in each of those seasons, respectively.
Now, however, Parenteau is a UFA. Over the course of this spring, he's drawn interest across the continent from GM's looking to sign an "under-the-radar" free-agent for a bargain.
Except he's no longer a bargain.
In the end, anticipate a boatload of competition to raise Parenteau's next deal exponentially before he finally cashes in.
Projected Contract: Five years, $3.75 million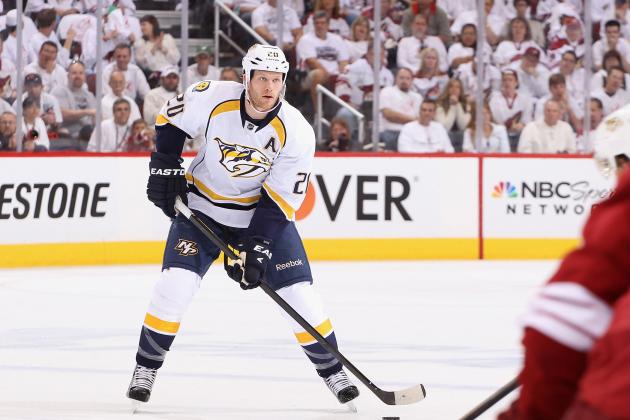 Christian Petersen/Getty Images

With the Predators' disappointing second-round loss earlier this month, Ryan Suter wants out of Nashville and onto a "real" Cup-contending team.
Back in February, the 27-year-old Suter told CSNPhilly.com (h/t Sporting News) that "[David Poile and I have] never had a timeline or deadline [on a new contract]. We're just focusing on winning. Everything else will take care of itself."
The Preds didn't win. GM David Poile didn't win. And Suter didn't win, either.
But he will come July.
As certainly the most highly-sought-after unrestricted blue-liner on the market, Suter's track record of physicality and dependability make him a dream-come-true addition for many of the NHL's defensively-challenged squads.
That astounding level of interest will only increase the size of Suter's upcoming contract even more—his salary in '12-'13 is currently predicted to reach well into the $7 million range and will only inflate larger as free agency approaches.
Suter packs a strong portfolio of skills, but he's simply not worth the type of money he's bound to receive.
Projected Contract: Five years, $7.5 million cap hit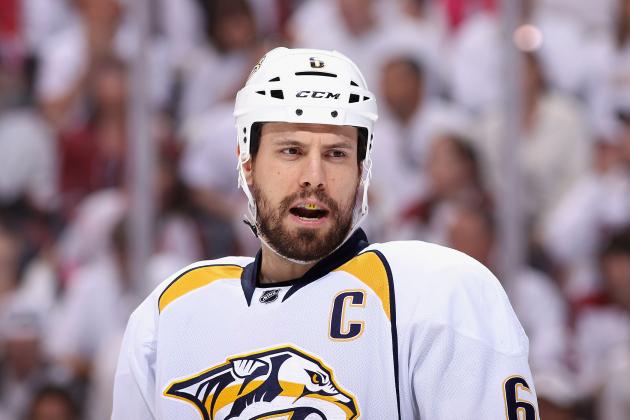 Christian Petersen/Getty Images

Due to a rather complicated detail in the NHL rulebook, Ryan Suter's fellow 2003 draft pick and Nashville defensive partner Shea Weber is still a restricted free-agent this summer, but that doesn't mean he's not on the market.
Weber and the Preds traded punches viciously during negotiations last year—and eventually had the terms of his one-year contract settled only through arbitration—and, even if Weber is still willing to re-sign, there are doubts that Nashville can afford to keep him.
Regardless, Weber will get millions and millions somewhere. He's well-known as one of the most responsible and versatile defensemen in the game, with at least 16 goals and 27 assists for four straight regular seasons and an intimidating physical and defensive presence, to boot.
All of those skills make Weber the fantasy signing for practically every front office in the League, though, and every interested GM will have the Predators, who will own the right to match any offer, to deal with also.
Weber's expiring contract, worth $7.5 million, was among the ten highest in the NHL this past season. His new contract could possibly crack the top five.
Projected Contract: Seven years, $8.5 million cap hit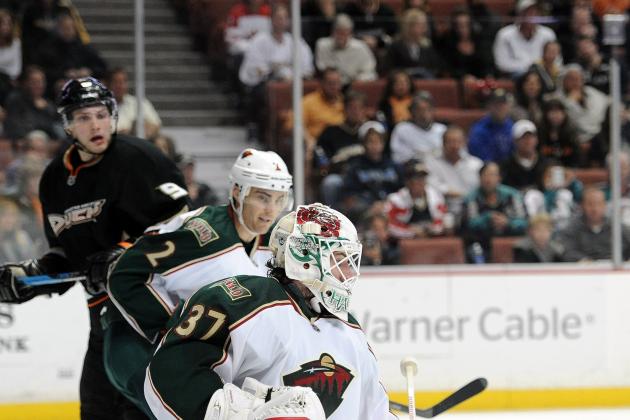 Harry How/Getty Images

At the 2012 NHL trade deadline, the Minnesota Wild controlled the future destination of promising goaltender Josh Harding.
They chose not to trade him.
Now, UFA status is approaching for the 27-year-old Harding, and he'll get the large benefit of open competition for his services.
A stunning number of clubs, from Toronto to Tampa to Columbus, are in desperate need of a goaltender with his best years in front of him—and, based on what we've seen of him so far, Harding fits that description like a glove.
The problem is, however, that Harding doesn't have a lot of experience on which to judge him; he's spent his first four NHL campaigns as the backup to Niklas Backstrom, compiling a respectable .916 save percentage and 2.65 GAA in 117 career appearances.
A bunch of GM's are perfectly willing to pass that lack of track record over, though, for the potential that he offers. Indeed, Harding could turn into a very solid starting netminder, but he could also be a colossal bust—and that would make the multi-year, multi-million dollar deal he's bound to sign this July look like a disastrous mistake.
Projected Contract: Three years, $2.75 million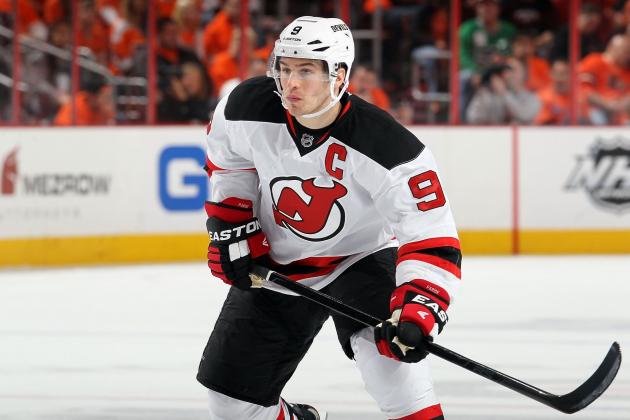 Jim McIsaac/Getty Images

As the clear-cut premier free-agent of 2012, Zach Parise is guaranteed to get money that would make even Hollywood celebrities' eyes pop out.
But from which team will that cash be flowing?
Parise's career numbers—194 goals, 410 points and a plus-57 in 502 games played—justify his fame, and with the Devils' possible financial issues this offseason, he could be out on the open market in July.
The 27-year-old star winger, who tallied 31 goals and 69 points in the regular season and four goals and eight points in 12 playoff games to date, has already drawn sky-high interest from the Detroit Red Wings, Carolina Hurricanes, Dallas Stars and numerous others.
No matter how many teams get in on the fun, however, the Parise bidding war could be one to remember. His expiring one-year deal carried a $6.0 million cap hit, and that number could skyrocket into the $7 or $8 million range before July 1st arrives.
Parise is a very good player, but his disastrous knee injury of 2010 and lack of proven success outside of New Jersey casts some doubts on his worth as one of the NHL's highest-paid players.
Projected Contract: Six years, $7.75 million cap hit