Big Ten Football: Ranking the Big Ten Punters
May 9, 2012

Eric Francis/Getty Images
Every Tuesday, the Big Ten Blog will rank the top players at each position for each team in the Big Ten. Today, we're going for the men who can change the field position battle—for better or worse—with one swing of the leg. Yes, the punters.
It bears mentioning that despite the unusually high amount of returning starters at punter, enough of these guys were replaceable that some position battles are bound to crop up coming into the summer and preseason practice sessions. Where there was a battle in 2011, it's generally noted, but just because a guy took the vast majority of punts last season doesn't guarantee him a job this year.
12. Will Hagerup, Michigan
Automatic last place.
11. Nick Freeland?, Indiana
Freeland would be the closest thing to a solution at punter for the Hoosiers, as he was a former starter at kicker as a freshman and has handled kickoffs since. He went out with a knee injury during Week 2 last year, though, so maybe he'll be back?
Indiana has four other punters on its roster, none of whom have punted in college, and the Hoosiers will add another walk-on K/P in the fall. Presumably someone out of the group must be able to punt the ball 35-plus yards semi-reliably.
10. John Wienke, Iowa
Iowa led the Big Ten in net punting last year, but there's not a lot of promise here this year as Iowa replaces Eric Guthrie. Wienke serves as probably the first person in college football history to attend Elite 11 Quarterback Camp, then start at punter. So—so there's that.
9. Dan Orseske, Minnesota
Orseske struggled mightily in 2011, and Minnesota couldn't crack the top 100 nationally in net punting. His nadir came at the end of the season, where he averaged just 26.4 yards on 10 punts, including a horrendous six-yard shank.
There's no way that happens again in 2012, though. Or so one would hope.
8. Drew Meyer, Wisconsin
Replacing Brad Nortman isn't going to be easy for Meyer, though it may not even matter all that much for Wisconsin, since Nortman failed to qualify for the national punting rankings despite taking every Badger punt. So Meyer's work isn't exactly cut out for him. 
7. Justin DuVernois/Ryan Lankford, Illinois
Justin DuVernois was inefficient in his freshman season of punting in 2011 and was summarily replaced late in the year by Ryan Lankford—who just so happened to be a backup wide receiver.
Lankford's a rugby-style punter, while DuVernois is the traditional type. However Tim Beckman wants to conduct his special teams will determine who gets this job. Neither are bad, but neither are particularly good, either.
6. Brandon Williams, Northwestern
Williams is pretty good, though his leg strength isn't quite where Northwestern should want it to be. In fact, we can admit it—he's an average punter.
But that's okay! Average punter plus disciplined special teams unit plus lack of shanks equals contending for best net punting average in the league. That's precisely what Iowa did last season.
5. Mike Sadler, Michigan State
Sadler started as a redshirt freshman last year and averaged more than 41 yards a punt for the Spartans, including pinning more than 40 percent of his punts inside the 20.
More than that, we appreciate his left-footed (or what the Latin language calls, "sinisfoot") approach.
4. Ben Buchanan, Ohio State
Buchanan boomed 70 punts last year, the third-most in a season by an Ohio State punter. Not good, not his fault.
He also did so at more than 41 yards a pop. Imagine how bad OSU's season would have been if Buchanan were lousy. His release is slow, though, so that can be problematic.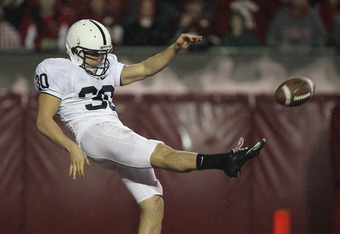 Jonathan Daniel/Getty Images
3. Anthony Fera, Penn State
Fera will likely continue his double-duty at kicker and punter under Bill O'Brien, and for good reason—he's very good at both. He's averaging about 42 yards per punt, and his ability to avoid touchbacks (three in 2011) makes him especially valuable.
2. Cody Webster, Purdue
Webster was the consensus second-best punter in the Big Ten last year, taking second-team awards from the coaches and media.
You can't blame them. Webster booted 44 punts for more than 43 yards a pop without a single touchback, and he's still got two seasons of eligibility remaining.
1. Brett Maher, Nebraska
It's probably no coincidence that the best kicker in the Big Ten (spoiler alert) is also the best punter, and voters agreed last season, giving Maher the first-team spot at both positions.
Maher has a cannon for a leg (note: is this unsafe?), landing in the Top 10 nationally in punting average at 44.5 yards per. That's better than LSU media darling Brad Wing, by the way. Shhhh! don't tell the SEC!