NBA Playoffs 2012: Why Miami Heat's Erik Spoelstra Should Not Be a Scapegoat
May 8, 2012

Jeff Zelevansky/Getty Images
Miami Heat Coach Erik Spoelstra has by far the toughest coaching gig in America.
Why exactly do I say this? If this Heat team is unable to accomplish the ultimate goal of winning an NBA championship this season, all of the blame will be directed at Erik Spoelstra. If the Heat goes on to win it all, the fans and the national media will say that he won it with Pat Riley's players. They will also emphatically declare that he was supposed to win it all, with the star-studded roster he was given.
The analysts and pundits will ignore the fact that even though Spo inherited a talented roster, he also inherited a roster with a considerable amount of flaws and imperfections. So as you can see, Coach Spo is in a no-win situation.
He can't win—even if he wins.
Can you imagine having that kind of pressure on you as a coach? Most of us wouldn't be able to deal with all of this stress and pressure. Many people would fold.
Coach Spoelstra has done exactly the opposite. In fact, he has been patient, relentless and bold. He has stood up to the media, and he has dealt with all of the outside noise. I think it's important to put yourself in another person's shoes before judging and indicting someone.
With all that being said, guess how people in the local and national media have chosen to reward his efforts? Take a guess at how they all chose to thank him for taking on the challenge of coaching a team filled with massive egos? They reward him by using him as a scapegoat whenever the Heat fails to meet everyone's extraordinarily high expectations.
Whenever the Heat falters down the stretch, the first reaction is to blame the coach.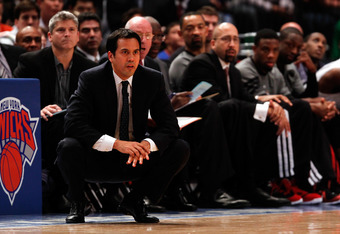 Jeff Zelevansky/Getty Images
Specifically, let me refer to the conclusion of Game 4 against the New York Knicks on Sunday. Following the game, Coach Erik Spoelstra took on a full-court press from disgruntled fans and media personalities. Apparently, it was Spoelstra's fault that Heat star Dwyane Wade lost control of the ball and ended up throwing a wild fade-away three-point shot with seconds remaining.
Like that was really how coach Spo drew up the play!
How can you possibly blame him for getting the basketball in his closer's hands with the game on the line? At the end of the day, Dwyane Wade—who has an amazing track record of coming through big in clutch situations—just failed to execute the play.
Even the best players in the world make mistakes every once in a while. It's not Coach Spo's job to make the plays. It's the player's job to make the necessary amount of winning plays.
On the other hand, it's the coach's job to put his players in the very best possible position to be successful. Coach Spoelstra definitely succeeded in doing this.
Is it true that Coach Spo irritated LeBron by going to D-Wade in crunch time? It's possible, but who cares? Even though LeBron may have been disappointed that Coach Spo didn't call his name, I'm sure he understands that Dwyane has the better track record in the closing moments of games.
It's nothing personal. It just comes down to what's best for the team.
In the past, I have been a very outspoken critic of Coach Spo's offensive system and coaching methods.Let's face it; he is far from a genius when it comes to running an offense. However, I am well aware of the fact that he is doing everything he can to help his flawed team win. There is just no way you can blame him for one of his best players failing to execute.
Did he draw up the perfect play in that situation? Maybe not. The fact is that he made sure he got the basketball in the correct player's hands. Dwyane Wade has the ring. He is a proven champion. Why would you want to go to anyone else?
Regardless of what you may think of Coach Spoelstra's methods and philosophies, you must acknowledge the fact that he did the right thing in this situation. Also, don't overlook the fact that this Heat team has been playing tenacious team defense all year long, thanks to the defensive principles he emphasizes day in and day out. Where do you think the Heat would be defensively without him?
Just a little food for thought.
So maybe we should spend more time thinking about where this team would be without Coach Spoelstra, and less time nitpicking his coaching deficiencies. Just remember, there are always other factors involved besides what the head coach draws up in the team huddle.
As seen on http://crankuptheheat.com