Cleveland Cavaliers 2011-12 Season Awards: MVP, Most Improved, ROY and More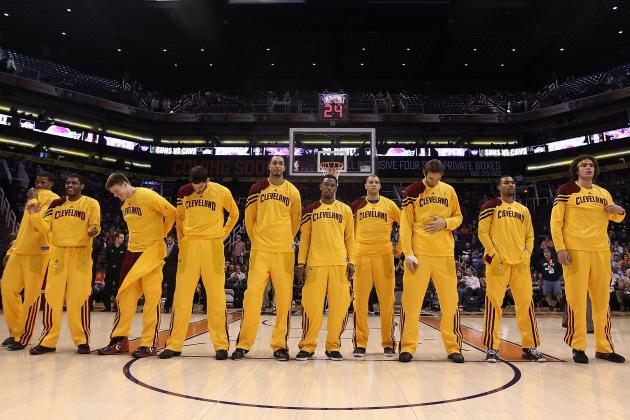 Christian Petersen/Getty Images

In a whirlwind 66-game condensed schedule that had players everywhere struggling to catch their breath, the dust has finally settled for teams not fortunate enough to clinch the postseason.
For a young team like the Cleveland Cavaliers, they now enter into a time of reflection upon the 2011-12 season.
The year brought us the trade of Ramon Sessions, the once-again season-ending injury of Anderson Varejao, the breakout party of Alonzo Gee and the emergence of two young stars in Tristan Thompson and Kyrie Irving.
Now it's time to hand out some hardware. Who was the Cavaliers' MVP? What about most improved or most disappointing? How many years until Luke Walton's contract runs out?
These questions and more in the slides ahead.
Ladies and gentlemen, the 2011-12 Cleveland Cavaliers postseason awards.
Begin Slideshow

»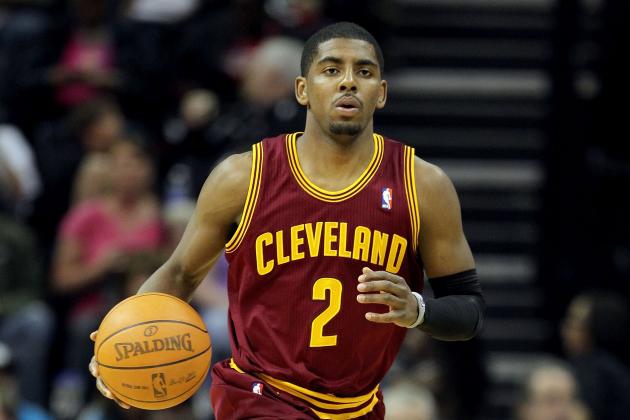 Andy Lyons/Getty Images

Winner: Kyrie Irving
Runners-Up: Tristan Thompson, Donald Sloan
The newly-named Rookie of the Year in the NBA, Kyrie Irving surpassed possibly everyone's expectations but his own for his first season in the league.
For the season, Irving put up averages of 18.5 points, 3.7 rebounds, 5.4 assists and 1.1 steals per game while recording a remarkable 21.49 PER.
The knock on Irving out of college was that he only played 11 games. How many games did Kobe Bryant play in college again?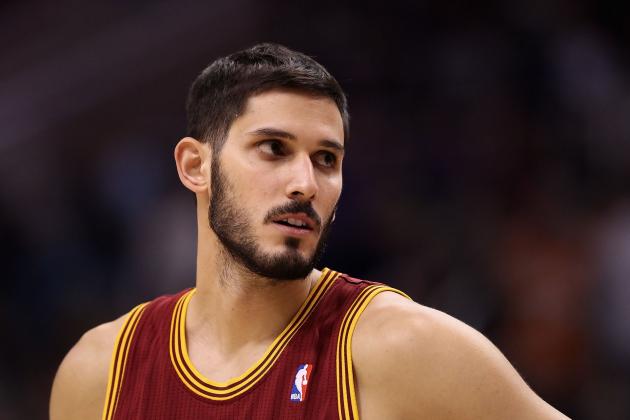 Christian Petersen/Getty Images

Winner: Omri Casspi

Runner-Up: Daniel Gibson
Casspi, along with rookies Kyrie Irving and Tristan Thompson, were supposed to be the bright spots on this year's Cavaliers team.
While Irving and Thompson didn't disappoint, it was Casspi who failed to live up to any expectations bestowed upon him in Cleveland.
Coming over from Sacramento in a trade for J.J. Hickson, Casspi was supposed to fill the void at small forward for the Cavs who unsuccessfully tried to patch with Jamario Moon and Joey Graham last season.
Casspi was a total bust in every sense of the word. His scoring (7.1), rebounding (3.5) and field goal (.403) percentages were all career lows despite starting for a team that gave him every opportunity to be successful.
His three-point shooting was particularly horrid (.315 percent) and looked reminiscent of the opening scene of Bambi.
The good news for the Cavs, however, is that Casspi is only owed $2.2 million next season and Cleveland has the option of extending him a qualifying offer the season after that.
Casspi still has potential and at 23 still has time to grow, but improvements have to be made if he even wants to stay in the NBA.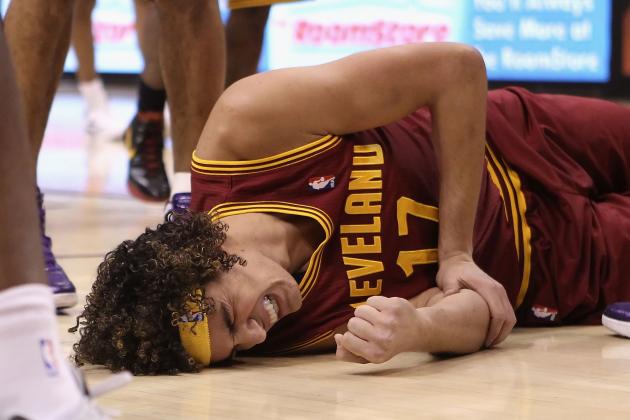 Christian Petersen/Getty Images

Winner: Anderson Varejao

Runners-Up: Ramon Sessions
Varejao is the winner of this not-so-prestigious award for the second straight year, this time going down for the season with a fractured right wrist.
The impact Varejao has on the Cavaliers is simply invaluable. He provides so many additional opportunities for shots with his hustle and rebounding, it's ridiculous.
In the 25 games he played this season, Andy was averaging a career-best 10.8 points, 11.5 rebounds and 1.4 steals per game.
In those 25 games, the Cavaliers were 10-15 with a winning percentage of .400.
In 41 games without him, the Cavs only mustered a record of 11-30, a winning percentage of .268.
The Cavaliers need Varejao on the court to be successful, and have obviously struggled mightily without him.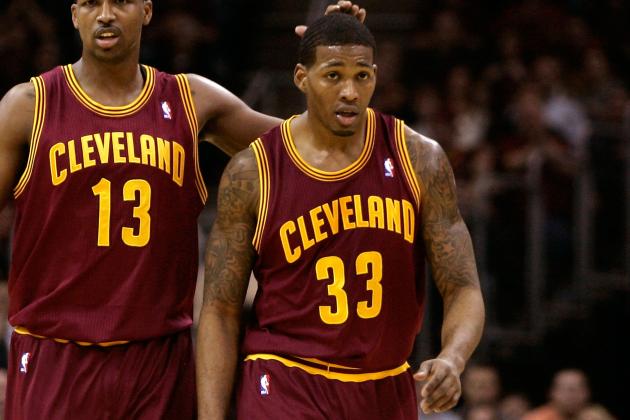 Mike Lawrie/Getty Images

Winner: Alonzo Gee
Runner-Up: Anderson Varejao
Gee looked like a completely different player this year, no doubt thanks to his time spent in Poland during the NBA lockout.
He was one of the few Cavaliers who could attack the rim, and attack he did on a regular basis providing some of the year's best highlight dunks.
For the season, Gee registered 10.6 points, 5.1 rebounds, 1.8 assists and 1.3 steals per game while posting a PER of 13.32.
Starting the season coming off the bench, but eventually playing himself into a starting role, Gee had his best month in March where he averaged 12.5 points and 6.5 rebounds a game.
It's unclear if the 6'6" Gee will become more of a full-time shooting guard or small forward in the future, and it will probably depend on what the Cavs do in the draft. As a restricted free agent being pursued by other teams, the Cavs need to lock him up with a multi-year deal and keep the Gee service going strong.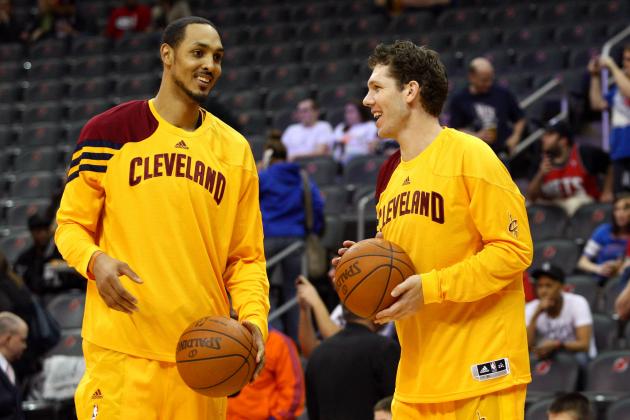 Chris Chambers/Getty Images
"Dude, can you believe people are still paying us to play basketball?"
Winners: Antawn Jamison, Anthony Parker, Luke Walton

Runner-Up: Semih Erden, Luke Harangody, Manny Harris
Quite a few candidates qualify for this distinction, and for a variety of reasons.
Jamison has already stated he won't be back, and Anthony Parker could very will retire.
Luke Walton still has a year left on his contract and could be used as a trade chip for his expiring deal, or Dan Gilbert could decide he values the roster spot and decides to eat the money and have Chris Grant cut him.
Erden, Harangody and Harris are all up in the air, as they've all shown flashes of ability, but not enough to guarantee a roster spot for next season.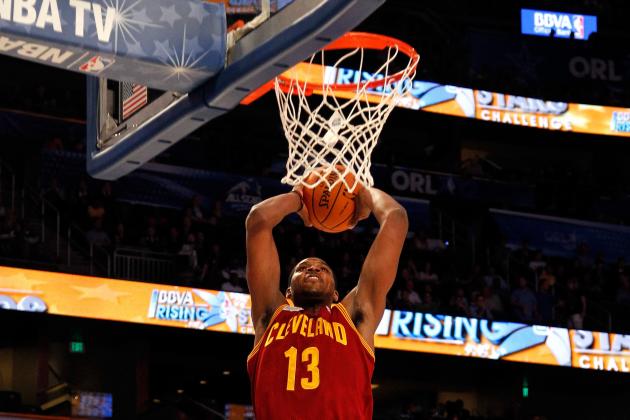 Mike Ehrmann/Getty Images

Winner: Tristan Thompson

Runner-Up: Alonzo Gee, Kyrie Irving
No offense to Irving, but it seems like his career is pretty much laid out.
Thompson, however, remains an incredibly interesting prospect due to his length, youth and work ethic.
Thanks to a stretch of starting at the center position and a full offseason to work on his game, Thompson should be much improved in 2012-13. His defense is already very good, and he's shown he's a capable rebounder and shot-blocker.
On the offensive end, Thompson leaves a lot to be desired, but remains an interesting prospect because of his ability to finish at the rim with either hand.
If he can develop a jumper and pick up some things from his offseason mentor, expect Thompson to start to reach his high potential this coming season.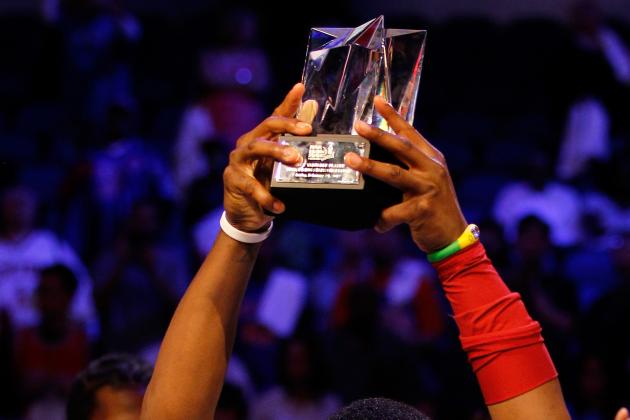 Mike Ehrmann/Getty Images

Winner: Kyrie Irving

Runner-Up: Anderson Varejao
From the moment Irving stepped on an NBA court, he immediate became the Cleveland Cavaliers' best player.
Varejao is a better rebounder and defender, Alonzo Gee is a more explosive dunker and Antawn Jamison shoots more, but there is no better all-around player than Irving on the Cavaliers.
Soon to be a top-five point guard in the league, Irving has already shown the ability to hit game-winning shots and come up big in clutch situations.
Irving is a great player and person who is representing Cleveland in a positive way, and the 2012 NBA Rookie of the Year award winner will hopefully be the Cavaliers MVP for many years to come.