Cleveland Indians: Time to Give Matt LaPorta One More Chance?
May 8, 2012

Rich Pilling/Getty Images
I feel like I'm opening a can of worms writing this. Then again, it's to be expected. Every few years, the Cleveland Indians end up with a Quadruple-A player; that is, a player who dominates in the minors, but can't get it together in the majors.
Luis Valbuena was one, hitting .300 every year in AAA (and is doing so again with the Iowa Cubs), but he could never make that work in the majors. Matt LaPorta has become that exact same type of player.
In two seasons, he hasn't been terrible offensively, but his numbers have been modest, and his defense has anything but made up for it. In his last minor league season with major playing time, 2009, he hit .299 with 17 HR and 60 RBI.
A tear in 2010 (.362 in 18 games) put him in the majors, but with the signing of Casey Kotchman in 2012, he's back in the minors. Here's where the problem resides. He's killing the ball yet again (.361 and 9 HR in 26 games), while Kotchman is playing horribly.
Kotchman is hitting .235 in May, a vast improvement that brought his average from .149 to .167. His defense has been serviceable, but it doesn't cancel out such a bad start with the bat. Due to the above, is it time to try LaPorta one more time?
The answer is not a simple yes or no. After all, LaPorta had two nearly full seasons with the Tribe at first base and did not do much. He did more than Kotchman so far, but 23 games really isn't that much of a sample size.
Besides, we've seen LaPorta tear up the minor leagues before. He even starts strong when he joins the team, but he can't seem to stretch that fortune over any length of time.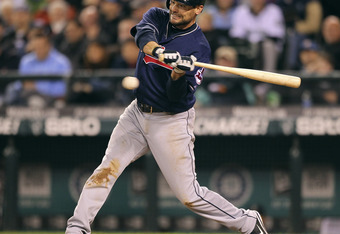 Otto Greule Jr/Getty Images
Having said that, I can think of two reasons it makes a great deal of sense. First, he's a right-handed hitter, which the Indians are scarce on. Adding him in makes the offense more dynamic. Second, even if he is a .250/10 HR guy, we have worse on our team.
The Columbus Clippers made one move with Matt LaPorta so far this year that's paying dividends, but more importantly, both helps and hinders what the Indians can use him for, and makes the question of promotion far more complicated.
That move is having him spend more time in left field. He's played both left field and first base in the minors before, but for whatever reason was used almost exclusively at first base in the majors. Given that left field is another weak spot even with the Johnny Damon addition, he can be used in both positions.
However, if he's there, then either Shelley Duncan or Damon will get minimal playing time, and as a result you have a group of players that you can't seem to use, which brings us right back to putting him at first base, where he has performed poorly in the majors.
If that's all a bit confusing, you're not alone; it's what makes the situation so complicated. The Indians can't just promote him and get rid of Kotchman already, they can't put him in left field (his range is still poor despite more playing time there), but with how well he's playing they can't indefinitely keep him in AAA either.
What do you do with a player like that? If you're the Detroit Tigers, you just keep him in AAA; they have a similar situation with first baseman Brad Eldred, who they can't add anywhere despite his AAA numbers since they already have Prince Fielder and company.
Here's what I would do: for now, keep everything as is. If, near the end of May, Kotchman is still hitting under .200, or Duncan and Damon are both struggling majorly, and LaPorta is still hitting over .350 and is fielding well on top of that, then promote him.
There's a third option as well, and that's to platoon both LaPorta and Kotchman at first. However, a first baseman by committee (Carlos Santana needs a few games there too) sounds like a terrible idea for a position that really should have an everyday player to provide some power.
In the end, the plan of waiting another couple of weeks really is win-win for the Indians. If LaPorta tanks again this year after a promotion, then the Indians know that it will never happen with him. If he does well, then it only helps the team.
As long as they don't rush and make a slew of roster moves in early May already (it's a long season, after all), then planning what to do with LaPorta can only help the Tribe.
Besides, the Indians always have Michael Brantley to carry on the CC Sabathia trade and make it worth anything if LaPorta fails to impress yet again.