2012 Preakness Contenders: I'll Have Another and Top Horses at Next Big Race
May 14, 2012

Matthew Stockman/Getty Images
The 2012 Preakness is set to run on Saturday, May 19, and the hope is that it will be just as thrilling as the 2012 Kentucky Derby. 
Of course, most will really be hoping the big name horses that flopped in the Derby will bounce back strong at the Preakness. 
While the field is smaller in the Preakness, it doesn't make it easier to win the big race. 
That being said, here are some of the top horses for the 137th edition of the Preakness Stakes. 
I'll Have Another 
The winner of the 138th edition of the Kentucky Derby, I'll Have Another surged toward the end to beat Bodemeister in the final stretch. 
As the colt continues his quest to win the Triple Crown, the focus turns to dominating the Preakness Stakes, which won't be easy. 
Still, I'll Have Another has proven it can outrun the elites of thoroughbred horse racing. The three-year-old will be a major threat on Saturday, and rightfully so. 
There will be a great deal of pressure on I'll Have Another, as many are hoping he wins so there will be the possibility of a triple crown victory. That could be tough to handle, but I'll Have Another is fully capable of getting the job done. 
Bodemeister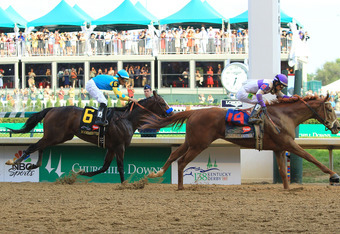 Travis Lindquist/Getty Images
The favorite to win the Derby, Bodemeister lost in the closing seconds, which had to hurt.
Now the colt is out for revenge, aiming to spoil I'll Have Another's quest for a triple crown and win such a prestigious race. 
This, of course, will not be easy. However, nobody can doubt Bodemeister's talents after seeing his run at the Derby.
He took command from the start and nearly dominated for the entire race. Bodemeister will be a strong contender and a hot name for the 2012 Preakness Stakes. 
Creative Cause 
Creative Cause was a sleeper horse for the Kentucky Derby, but after a fifth place finish, nobody is sleeping on this horse anymore. 
The colt showed that he could contend with the big name horses, so look for him to be a force in the Preakness Stakes on Saturday as well. 
Outside of the Kentucky Derby, Creative Cause has placed in first, second or third in all of his races.
Four first place finishes in his young career is a great stat, which is why I fully expect Creative Cause to be a big factor at the Preakness.