Dr. Phil Ruins Perfect Opportunity for Terrell Owens and His Babies' Mamas
May 8, 2012

Stupid Dr. Phil. He ruins everything, even a perfect opportunity for the best moment in sports history, featuring Terrell Owens and his cavalcade of baby's mamas. 
Terrell Owens sits down with Dr. Phil today, making for quite the revelatory interview. Oh, three of his babies' mamas will also be on the show, not that it matters. 
You see, this interview could be a must-see event that would rival The Avengers in every way imaginable, even the explosions. 
We take our little machine called the imagination on a ride through what if land and discuss how much better this meeting could have been.
For those that are interested in the boring constraints of reality, you can check the local listings here, or you can take a gander at a clip courtesy of The Bill Walton Trip here. 
As you can see, there is a lot of talky-talky and not enough shouting and throwing of chairs. I give you, what could have been.
Jerry Springer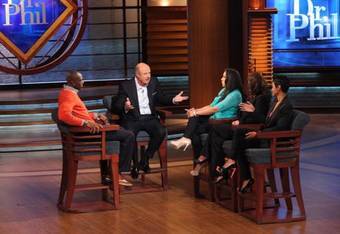 I have learned so much from the Jerry Springer Show over the years, I really feel like I should pay tuition to the man. 
I now know that people come in all shapes, sizes and sexual orientations...and formations. I also know that the best way to settle a disagreement is a calm discussion, but that is hardly the most entertaining. 
TO is being called out by his children's mothers for being a deadbeat dad, but the only thing I want to hear is the melodic chant of, "Jerry, Jerry, Jerry." 
It would come down to Jerry's Final Thoughts, which might look something like this. 
Terrell Owens may not be wanted by the Bills, Jaguars or even an Arena Football Team. Even Allen Iverson thinks this guy is unemployable. 

He is broke, down on his luck and playing for an Indoor Football League Team. Wait, where was I going with this?
Or it could go like this.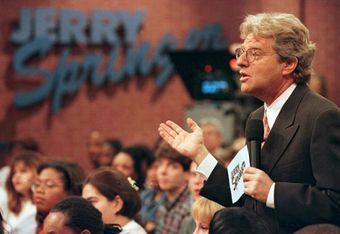 Maury Povich
It could be even better than that. 
The only real reason to call in sick to work on a random weekday is Maury Povich, because this show hits me right where I itch. 
Who would have thought that incessant paternity tests could become a career? Povich is a mad genius who uncovers the truth about hard-hitting issues like "Are you the father?" and "Are you not the father?" 
If you have never seen the magic, I feel sad for you and send my condolences. Here is one such brilliant moment.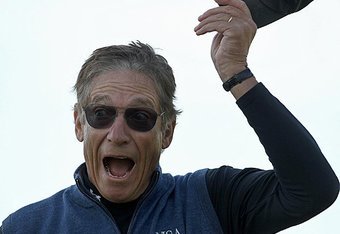 Well, what if TO showed up on Maury Povich and he had to have an envelope opened for each one of his past flings.
Maury Povich - Terrell Owens, we have here the equivalent population of Schenectady claiming you are the daddy.

Terrell Owens - I have never seen these women before in my life.

MP - Here are a bunch of pictures with you and these women.

TO - (crying, then begins to do sit ups)

MP - The moment of truth. (opens envelope) Terrell Owens, you are the father.

(cue Outkast bumper music, close up on TO sobbing, pan out to crowd doing the Dougie, Cat Daddy and other dance moves)

Fin
Think of all the moments that would have kept us entertained for years. 
We may have had TO and some great drama on the TV today, but it wasn't nearly enough. I just can't stress this important point enough. 
Dr. Phil ruins everything. 
Follow me on Twitter and we can trade Pogs.