New York Knicks Must Retain Amar'e Stoudemire to Make Another Playoff Run
May 8, 2012

Jeff Zelevansky/Getty Images
To say it has been a roller coaster ride of a season for Amar'e Stoudemire and the New York Knicks would be the understatement of the century.
Considering the fact that the Knicks are down 3-1 in their first round series against the Miami Heat and that they've dealt with injury after injury and a midseason coaching change, all eyes should already be on next season.
But how will the Knicks look next season on paper? 
One major change that could happen is a potential trade of Stoudemire. Since his losing battle with a fire extinguisher, more and more people have been speculating into the fact that the Knicks will look to deal Stoudemire in the offseason.
It makes sense on paper to deal a player with a history of injuries and $60 million still owed to him, but it's the wrong move right now and the Knicks need to give this core one more chance.
There will be changes to the roster, but if New York can come back with a starting lineup of Jeremy Lin, Iman Shumpert, Carmelo Anthony, Stoudemire and Tyson Chandler, then they have the talent to make a playoff run.
Sure, it's true that Stoudemire can't stay healthy and hasn't meshed well with Anthony, but give them a full season and see what they can do.
For one, the lockout was costly.
Stoudemire came in out of shape and lacked explosiveness. There wasn't much training camp to get ready, so he, Anthony and Chandler pretty much had to pick things up on the fly.
Given a full training camp, hopefully under Mike Woodson, maybe the three stars will be able to finally figure each other out and get the 2012-13 season off under a good note.
Also consider that due to circumstances, there's been very little practice time this season. Yeah, I'm talking about practice.
Think about how few games Anthony and Stoudemire actually played together with Lin at point guard. The projected future starting five of  Lin, Shumpert, Anthony, Stoudemire and Chandler was the 19th-most-used five man combination of the season for the Knicks.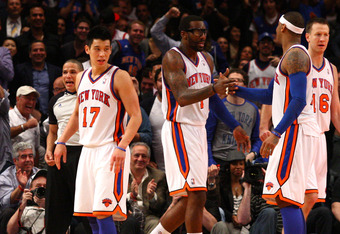 Chris Chambers/Getty Images
Between a full training camp, practice time and a spread out schedule, this unit can still have success.
It's far too early to pull the plug, especially looking at the injuries the Knicks have dealt with this season.
Just looking at the future projected starting five: Lin played in only 35 of 66 games and is currently hurt; Shumpert played in only 59 of 66 and is currently hurt; Anthony played in only 55 of 66; Stoudemire 47 of 66; and Chandler, while playing in 62 of 66 did so very banged up throughout the season.
Sure, it's pulling out the excuse book a little bit, but the only way to get this thing working in the Big Apple is by getting healthy in the offseason and getting enough practice time to figure out each other's tendencies.
Stoudemire is the one that chose to come to New York to make this team contenders for a championship. It would be nice to give him another opportunity to try and finish the job.