Los Angeles Dodgers: 3 Reasons Their Starting Rotation Is Better Than the Giants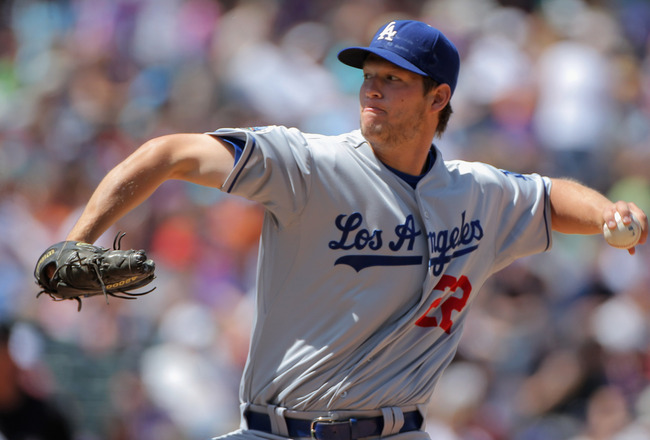 Doug Pensinger/Getty Images
The Los Angeles Dodgers entered the 2012 MLB season as the third best team in the NL West, with questions marks all over the field, particularly about their starting pitching.
Other than 2011 NL Cy Young winner Clayton Kershaw and the reliable, if unspectacular, Ted Lilly, the Dodgers were uncertain what to expect from the enigmatic Chad Billingsley, free agent acquisition Aaron Harang (who revived his once-promising career in San Diego last season), and Chris Capuano, who's coming off his first full season after a second Tommy John surgery in 2009.
The San Francisco Giants, following a disappointing 2011 in which they failed to make the playoffs after winning the World Series in 2010, had hopes of recapturing the NL West crown, with starting pitching being the least of their concerns.
The Giants gave lucrative contract extensions to two-time Cy Young winner Tim Lincecum and potential future Cy Young winner Matt Cain this offseason, locking up the two young guns for the next two and five years respectively. If that weren't enough, 22-year-old Madison Bumgarner proved that he was worth the hype with a spectacular 2011 campaign. They even got a surprisingly strong season out of journeyman Ryan Vogelsong, who returned to the Majors after a few seasons in Japan.
If you read my preseason position-by-position comparison between the Dodgers and Giants, you'll know that starting pitching may have been the biggest disparity between the two teams, with San Francisco having a sizable advantage. Fast forward five weeks into the season and it appears that what was once perceived as an area of concern for Los Angeles, may indeed be a position of strength.
The Dodgers are currently second in the National League in starters' era (2.94) behind the Washington Nationals. Their rotation is also second in wins (13), last in losses (4), third in strikeouts (146), and second in opponent's batting average against (.213).
By comparison, the Giants' starters are eleventh in wins (9), eleventh in losses (9), fifth in era (3.11), fifth in strikeouts, and fourth in BAA (.221).
It's not that San Francisco has been bad, but that Los Angeles has simply been better.
The pitching statistics tell most of the story of why Los Angeles currently holds a five game lead over San Francisco in the NL West standings. Here are three primary reasons why the Dodgers' starting rotation may be better than the Giants' over the long haul.
Our Ace is Better than Your Ace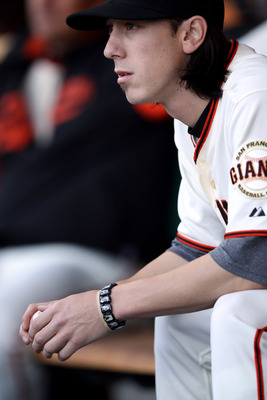 Ezra Shaw/Getty Images
Clayton Kershaw has been on a steady, four-year ascent towards becoming the premier pitcher in the National League. By the end of 2011, he finally made his case loud and clear.
Kershaw won his first NL Cy Young by winning the pitching Triple Crown (leading the league in ERA, wins, and strikeouts) and sporting the league's lowest WHIP and opponent's BAA. Still only 24, Kershaw has shown no signs of regressing in his fifth Major League season, posting an outstanding 2.63 ERA and .93 WHIP to go along with 34 strikeouts in 37.1 innings pitched in six starts.
Tim Lincecum, the 2008 and 2009 Cy Young recipient, has been anything but an ace in the same number of starts. He currently is sporting a career-worst 5.78 ERA and 1.52 WHIP, and while he is still striking out more than a batter per inning, observers have expressed concern over his drop in velocity. Lincecum may only be 27, but many are wondering if we are starting to see the first signs that his slight frame and quirky delivery are finally starting to take their toll on his body, something that a lot of people have wondered about since he debuted in 2007.
Lincecum may eventually sort himself out, but Kershaw has clearly distanced himself at this point as the better pitcher, and a guy the Dodgers can count on every fifth day to stop any prolonged losing streak, should one eventually occur.
Back of the Rotation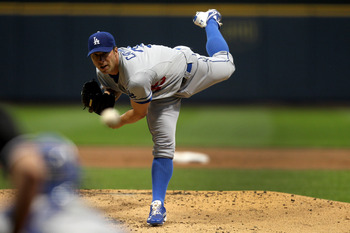 Mike McGinnis/Getty Images
Dodgers' fans were concerned when the team lost starter Hiroki Kuroda to the Yankees via free agency this offseason. But savvy general manager Ned Colletti sought to address the concern by picking up Aaron Harang with a reasonable two-year, $12 million contract.
His first five starts were disappointing to say the least, but he showed signs of getting back to his 2011 form in his most recent start against the Cubs on Sunday, allowing just two earned runs over six innings pitched. If Harang is more like the 2011 version than the 2008 through 2010 version, the Dodgers will be more than happy with their investment.
The biggest surprise of the 2012 season has been fifth starter Chris Capuano. He had an uneven 2011 with the Mets, his first full season as a starter following Tommy John surgery before the 2008 season, but has been outstanding for the Dodgers so far, going 4-0 while posting a 2.21 ERA and 1.12 WHIP over his first six starts.
The 15 walks are a bit of a concern, but Capuano has demonstrated an ability to get strikeouts when he needs them. He's also lasted at least six innings in each of his last four starts, which is big relief for a now-questionable Dodgers bullpen.
The Dodgers would benefit greatly if Capuano can be for them in 2012 what Ryan Vogelsong was for the Giants in 2011.
Vogelsong came out of nowhere (okay, Japan) to have an outstanding 2011 for San Francisco, proving that you can, indeed, go home again (he was originally drafted by the Giants in the fifth round of the 1998 Amateur Draft). In 28 starts, he went 13-7 with a stellar 2.71 ERA (good for fourth in the NL) and 1.25 WHIP over 179 and 2/3 innings pitched. His numbers aren't quite as good in 2012, going 0-2 with a 3.42 ERA and 1.33 WHIP through four starts, but he's the least of the Giants' concerns when it comes to the rotation.
It seems like another lifetime since Barry Zito won the 2002 AL Cy Young award, but in fact, it's only been a decade. Zito turned his stellar Oakland career into a lucrative seven-year, $126 million contract upon joining the Giants prior to the 2007 season. He's done virtually nothing to justify that deal since switching to the National League.
Zito has actually been surprisingly effective early in 2012, posting an impressive 2.21 ERA through five starts. However, those numbers are a bit deceiving as he's also delivering career lows in K/9 (5.37) and K/BB ratio (1.33). He's walked 11 batters in his last nine and 2/3 innings, including a whopping seven walks in three and 2/3 innings in a May 2 start against the Marlins.
In other words, don't let the early returns fool you. Zito is well on his way to being the same regrettable signing that he's been during the previous five years.
Dodgers Pitchers vs. Giants Throwers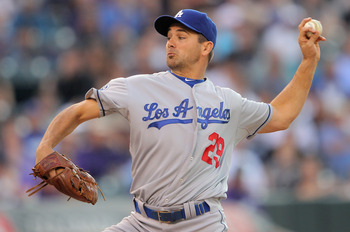 Doug Pensinger/Getty Images
Given the Dodgers' superior strikeout numbers through five weeks (146 versus 142 for the Giants' starters in eight less innings pitched in 2012), this might seem counter-intuitive. But the greatest asset that Los Angeles starters have, collectively, is their veteran savvy.
Even Kershaw is in his fifth season as a starter, the least MLB experience of any member of the Dodgers' staff. Because of that experience and maturity, Kershaw, Chad Billingsley (27), Ted Lilly (36), Harang (34 tomorrow), and Capuano (33) have just about seen it all on the diamond. This helps them all, both individually when working out of jams, and as a unit when they are able to rely on their 41 years of MLB experience when consulting each other between starts.
The Giants, on the other hand, have a relatively green staff by comparison. The trio of Lincecum (27), Matt Cain (27) and Madison Bumgarner (22) in particular, has arguably some of the best pure stuff in all of baseball. But they are also young in both biological age and MLB experience, with only Cain having more than five years in the Majors. Even the 34-year-old Vogelsong has only two seasons of experience as a starter during his seven-year MLB career.
Zito is the old man of the bunch at 33-years-old and 12 years in The Show.
When you combine their veteran know-how with the overall staff consistency and security of Kershaw at the front of the rotation, it's a lot easier to swallow an idea that seemed ludicrous just six weeks ago: the Dodgers starting rotation may actually be better than that of their Bay Area rivals.
Keep Reading

Los Angeles Dodgers: Like this team?