Floyd Mayweather: Money Needs Manny Pacquiao to Validate Legacy
May 8, 2012

Al Bello/Getty Images
Now that Floyd Mayweather has taken care of Miguel Cotto, it is only natural to wonder what comes next for the best pound-for-pound fighter in the world. A lot of names are likely to be thrown around, but only the biggest one matters, both to fans and to Mayweather's legacy. 
Mayweather doesn't even want to hear about Pacquiao right now; he's too busy talking about the possibility of retirement to worry about what goes on with his biggest adversary. 
I'm entitled to make certain moves that I want to make in my life. That's the great thing about my career - if Floyd Mayweather wants to continue to fight, he's gonna fight. If Floyd Mayweather is going to retire, that's what he's going to do.
He is absolutely right. He does have the right to retire and has made more than enough money to last him and his family the rest of their lives. But there is always going to be that nagging question that will follow him around forever. 
Could Mayweather beat Pacquiao?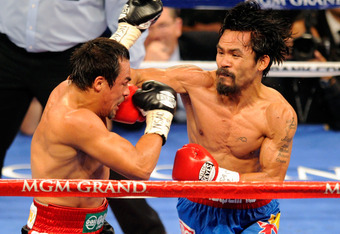 Ethan Miller/Getty Images
Regardless of whatever he does in his career, Mayweather is going to have to ask himself that question. Boxing fans and analysts around the world are going to have to ask that question. And with no definitive answer, the debate would rage on forever. 
For someone like Mayweather, whose ego needs to be fed 24/7, the idea that anyone else could even be considered in the same class as him is a joke. He can toss his perfect record around all he wants, but at the end of the day, there would always be that "what if" attached to it. 
Mayweather can talk all he wants about his legacy in this sport—and you know he will. But when an athlete has a chance to do something special and determine who the best really is, there is no reason not to make it happen.
Pacquiao is in the same boat. He needs a fight with Mayweather to prove that he is the best fighter of this generation.
The storm winds are swirling, with no reason not to make the match, presuming Pacquiao beats Timothy Bradley next month. Both fighters need it to prove what they already believe: They are the best in the world.