NHL Predictions: What the Anaheim Ducks Lineup Will Look Like Next Season
May 8, 2012

Jeff Gross/Getty Images
The NHL boasts a very short offseason, ending in June and starting preseason games back up in September. This is exciting for hockey fans, especially for those of us standing by a non-playoff team. Once the Stanley Cup is raised we're only a short three months away from all 30 teams hitting the ice again with renewed hope and a clean slate.
The Anaheim Ducks are one of those non-playoff teams and have the potential of looking very different on opening night of the 2012-2013 season. With so much uncertainty surrounding this club, especially in regards to their second scoring line, it's certainly worth questioning: Who will be in their lineup come October?
The First Line
The 2012-2013 season will be the last of Ryan Getzlaf and Corey Perry's contracts. How that effects their play remains to be seen, however we can certainly expect them to once again carry the load for Anaheim on their top line. The only question mark here continues to be who will play on this line's left wing.
Conventionally, this would be Bobby Ryan's spot on the depth chart. He is without a doubt the third best offensive player Anaheim has. However, he can play center, and Bruce Boudreau has utilized that versatility to move him around to other lines. It was Boudeau's short answer for trying to increase secondary scoring, which is something Anaheim struggled with all season long.
Without a single member of their second scoring line under the age of 37, expect Ryan to continue to be utilized below the first line. This will leave that spot open to a possible free agent signing or Medicine Hat sensation Emerson Etem, should he make the team out of training camp.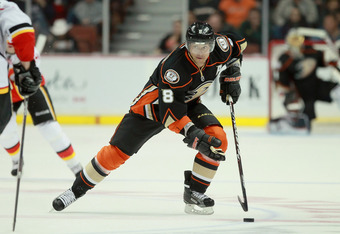 Jeff Gross/Getty Images
The Second Line
This is without a doubt the biggest question mark for Anaheim going into the offseason. Teemu Selanne, Saku Koivu and Jason Blake are all at the end of their contracts and are on the verge of retirement. Anaheim management will have to wait on movement from at least two of these players to start making informed decisions about where their secondary scoring is going to come from going forward.
What makes things more complicated is that Selanne, despite his age, led the Ducks in points last season. His retirement won't just require some reshuffling but will negate a very high percentage of Anaheim's offensive production.
While the future Hall of Famer certainly can't be replaced, his offensive numbers will need to be picked up somewhere else, especially on a team that already struggles to produce points.
For the sake of argument we'll assume that Anaheim is going to lose two players to retirement, likely Selanne and Koivu. If the Ducks don't make a splash in free agency at center, expect the second line spot to go to either Ryan or Andrew Cogliano.
Cogliano is Anaheim's de facto third line center, though he has played virtually everywhere in their offense. He certainly has speed, and if Boudreau feels like Kyle Palmieri is ready to contribute more, we could see a second line of Ryan, Cogliano and Palmieri.
The Third and Fourth Lines
Here the Ducks once again face a pretty significant amount of uncertainty. Nick Bonino, Rod Pelley, Niklas Hagman and George Parros are all free agents and were all regulars on Anaheim's third and fourth last lines last season.
Depending on the movement of these forwards, Anaheim is probably going to need address to these areas via free agency.
Since the Samuel Pahlsson, Rob Neidermayer and Travis Moen years, the Ducks never really have been able to put together a successful and consistent checking line. Parros and Bonino are more likely to stay, and along with Devante Smith-Pelly will be familiar faces on Anaheim's bottom two lines.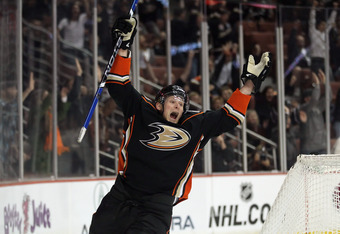 Jeff Gross/Getty Images
Moving Forward
Anaheim's offensive lineup is certainly at a crossroads. With the Teemu Selanne era rapidly coming to a close, and the core group of Getzlaf, Perry and Ryan desperately needing support, the Ducks are going to have to bring in new personnel.
It's worth noting that the Ducks will pick no worse then sixth in this year's upcoming draft. However, this year's draft class is rich with talent at the defensive position and many mock drafts have Anaheim taking a defender first.
If the draft doesn't yield any immediate offensive help, Anaheim is likely to be more active in free agency this year then they have been in years past. Expect Anaheim to be in the mix for some of the bigger name free agent forwards out there. Come opening night we should see at least one or two spots being filled as a result.
All this being said, Anaheim's safest bet might just be on the Medicine Hat Tigers, where Etem lit up the scoreboard all season long with 61 goals and 107 point in 65 games. Among those who have been watching, there's no question that Etem is ripe for picking up a Ducks roster spot coming out of training camp.
If he were to do so, he could be the biggest acquisition of the Ducks offseason. Were Anaheim to lure a big name free agent like Zach Parise onto their roster and pair him with Ryan and a rising star like Etem, we could see a completely different Anaheim Ducks team next season.
Here's to hoping.