Floyd Mayweather vs. Manny Pacquiao: Slim Chance Casts Shadow on Boxing's Future
May 8, 2012

Jeff Gross/Getty Images
The fight the boxing world has wanted for so long may never happen, and it raises questions about what lies ahead for boxing.
After his victory over Miguel Cotto on Saturday night, Floyd Mayweather Jr. came out and said, "The Pacquiao-Mayweather fight is not going to happen," via SI.com.
He predictably added, "It's not my fault."
Mayweather is blaming Manny Pacquiao's promoter, Bob Arum. Arum is blaming Mayweather. At this point, nobody really cares anymore. 
The two camps have battled back and forth for years now. One thing's for certain at this juncture: Mayweather wants more than a 50-50 split and Pacquiao's camp won't agree.
So as Mayweather heads to jail on June 1 on a domestic abuse conviction, Pacquiao will fight Timothy Bradley Jr. Neither scenario is exactly what boxing fans had in mind as each boxer nears the end of his career.
Mayweather claims that there's an "80-20" chance he will actually retire from the sport, via the Boston Herald. 
So what now?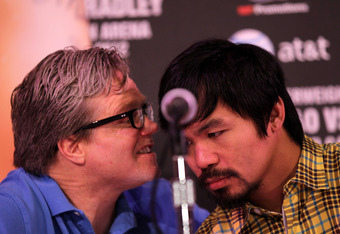 Stephen Dunn/Getty Images
As of now, it looks like we will be saddled with underwhelming fights. Bradley won't be the same opponent against Pacquiao that Juan Manuel Marquez was. The rest of the fights stand to be either ho-hum or pure blowouts. 
As for future stars, there's only one man who enters the discussion right now, and that's Saul "Canelo" Alvarez. He holds a 40-0-1 career record and is coming off a thorough defeat of Shane Mosley.
But it's too early to call Alvarez boxing's next star. Yes, he has the tools, and already has a wealth of experience, but beating Mosley wasn't exactly a shocker. Mosley has rapidly declined throughout the years, looking like the 40-year-old that he is. Some say that he should have retired even before the Alvarez fight on Saturday.
And even if Alvarez becomes a star, who is going to be there to give him a challenge? Pacquiao is a potential opponent, but will he be out of the ring by the time a fight can be legitimately scheduled?
There is always the potential for new stars, and there will undoubtedly be some young guns who burst onto the scene. But will we ever have a combo comparable to Pacquiao and Mayweather? Well, that's what makes this all so sad.
Pacquiao and Mayweather have distanced themselves as the top two boxers of their generation. There will be more stars down the line, but it's hard to imagine having two boxers like Pacquiao and Mayweather in the near future. It may be a while until we see two boxers so dominant with the chance of standing toe-to-toe.
If Pacquiao and Mayweather don't fight, it would be a travesty. But, perhaps what we should really be worried about is: what happens next?
Boxing's immediate future may be just as disappointing as Pacquiao and Mayweather never fighting.
Follow me on Twitter. We can talk about boxing together.