Guillermo Mota: Could San Francisco Giants Pitcher's Suspension Be Reversed?
May 8, 2012

Doug Pensinger/Getty Images
San Francisco Giants reliever Guillermo Mota has been suspended by Major League Baseball for testing positive for a banned substance.
Mota was tested as part of baseball's Joint Drug Prevention and Treatment Program. It is the second failed test in his career—he previously tested positive in 2007 as a member of the New York Mets, with whom he served a 50-game suspension. This second positive test carries with it a 100-game suspension.
Mota, however, plead ignorant for this 2012 result. Or at least he plead shopping in the wrong aisle at the local Walgreens pharmacy. According to SFGate.com, Mota's agent, Adam Katz, reported that Mota blames the positive test on his consumption of children's cough syrup. Apparently, the adult cough syrup bottle in his household was empty or something.
Players who test positive for banned substances always have a stretching "dog ate my homework" excuse, claiming they took some over-the-counter drug or doctor-prescribed medication that happened to have a banned substance as one of its ingredients. In Mota's case, the substance that he tested positive for was clenbuterol, typically an active ingredient in asthma medication. Clenbuterol basically makes breathing easier for its users.
Katz has stated that Mota will appeal the suspension due to his seemingly clear-cut alibi. Sounds simple enough, right? He took children's cough syrup. Oops. All should be forgiven, let's reverse this decision and get things back to normal.
Sure, sure.
However, the opposing reasoning makes things confusing for any decision-maker in this appeal case. Does Mota have asthma, or did he have a cold? And if he did have the latter, why would he take children's cough syrup as a remedy? And how many of these syrups, if any, actually do include clenbuterol as an ingredient? Which brand? 
Seems a little suspicious.
Isteroids.com identifies clenbuterol as a stimulant that helps the user lose fat by allowing the body to release and burn more stored fat at an increased rate. It can be used by asthmatics and also in the international farming world to reduce the fat in livestock.
However, the U.S. FDA does not allow clenbuterol to be included in asthma medication, and the USDA does not allow its use in livestock. Thus, because clenbuterol is ineligible to be used in the United States, it seems fishy that Mota unknowingly and accidentally ingested this stimulant.
Mota is not the first athlete to have clenbuterol found in his system. Professional cyclist Alberto Contador had his 2010 Tour de France title stripped due to a positive test for the banned substance. World-class athletes use clenbuterol to increase aerobic capacity and build muscle mass. Therefore, it's not out of the realm of possibility that Mota indeed intentionally used clenbuterol to increase his performance, right?
But would Mota, a relief pitcher, really need to take this stimulant to raise his physical strength? Mota hasn't had a long history of poor health. He has spent notable time on the disabled list in four separate seasons—2001, 2005, 2009 and 2010. However, only two of those trips to the DL were the result of arm injuries, and the other two were not overly serious (ingrown toenail in 2009, thigh injury in 2010). Surely that's not enough to warrant performance-enhancing drug use, is it?
Maybe it is. Mota is 38 years old, and the Giants bullpen and pitching staff are a fairly competitive bunch. The Giants' relief pitchers have been a somewhat-prestigious group over the past few seasons, heightened by the magnificent bullpen performance on the way to San Francisco's 2010 World Series title.
It's possible the burden of keeping up with one of the best relief corps in the National League caught up to Mota. The Giants' relievers posted the second-best ERA in the NL in 2011 (3.04) and 2010 (2.99). Could Mota simply be worried about his chance at securing a position in the bullpen, one that's loaded with talented arms such as Santiago Casilla, Sergio Romo, etc.?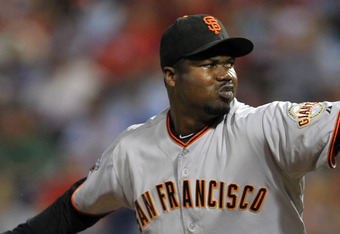 Drew Hallowell/Getty Images
Whatever the reason may be—whether accidentally ingested via (ahem) cough syrup or intentionally to remain a healthy force among the league's elite bullpen—is up for debate and to be determined only by Mota and his camp. However, the real question is whether Mota's defense could result in an overturn of his suspension. After all, we found out earlier this spring that a reversal is certainly possible.
When 2011 NL MVP Ryan Braun of the Milwaukee Brewers faced suspension for testing positive for PEDs last year, it was deemed somewhat of a miracle that the MLB rescinded his 50-game ban. There was speculation that the MLB did not want to look bad in having a marquee player out of service for steroid use. Unfortunately, this set the precedent, opening up the door for possible overturns in the future.
Could that happen for Mota's appeal? Will his case and suspension be overturned?
The odds are certainly stacked against him. After all, Mota is not a league MVP. He's not even a former All-Star. His role with the Giants is one of the more under-appreciated and under-recognized in baseball—a middle reliever. What good does it do for MLB to save him from a 100-game suspension?
Nothing. But it's possible that an overturn could happen.
As long as the league believes his excuse. Maybe Mota can get a doctor's note to support his claim that he had a cough...a children's cough.
Follow me on Twitter: @nathanieljue