A Recount of One Hell of a Talladega Weekend
May 8, 2012

There is a microcosm of Alabama that separates itself as an independent nation twice per year—Welcome to Talladega Superspeedway.
NASCAR was bred by bootleggers during the Prohibition Era. Some famous bootleggers that are more known for their organized crime syndicates include Charles "Lucky" Luciano and Al Capone.
While there were few bootleggers who warranted the national publicity that Kim Kardashian so deservingly has, the majority of the industry was made up of uneducated southerners trying to make a living.
Rebellious toward law enforcement and traditional professions, these bootleggers' sole agenda was to get rich quick. Not smart enough to manage a Ponzi scheme, they turned to grassroots resources.
In order to outrun state troopers and make cross-state deliveries during midnight hours, the bootleggers began to adjust the engines on their Chevy Roadsters to maximize horsepower. Thus, they bred a love for speed that still provides the backbone for what is commonly referred to as NASCAR.
The sport began with your common sportster coupe slapped with a number, driver's name and if lucky enough, a sponsor.
The sport began to garner momentum when Prohibition was abolished in 1933.
With an already established addiction to speed, former bootleggers decided that stock car racing was a legitimate business and they seem to have been spot on.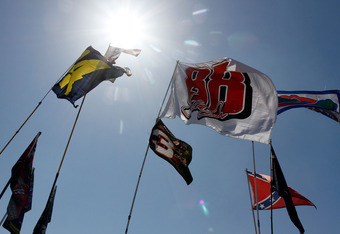 Jason Smith/Getty Images
NASCAR is just as much about the race on Sunday as it is the all—weekend camping made available to loyal fans.
Football may be famous for the one day events that go into a good "tailgate," but NASCAR's definition of "tailgate" is quite the contrary.
With the majority of NASCAR fans working in the blue collar industry (construction, roofing, trucking)  and having flexible schedules, they decided to give a gentlemanly "screw you" salute to "tailgating" and turn their sporting events into week long Woodstock-ish gatherings.
There is no better way to gauge this event than spending a Friday and Saturday night amidst this collection of fifth generation moonshiners. Seeing their operation hands—on may remind you of a mobile Civil War campground for the Confederacy.
There were four of us that decided to engage in this cautionary outing and we had one of the greatest trips of our lives.
You can start with accessibility. Getting into camp, setting up tents and starting a fire took all of about 10 minutes. Talladega does an exceptional job of making the campground entrances and exits very traffic friendly.
There are no hoops to jump through—you pull in, they slap a sticker on your windshield and you find a place to park within the 5,000 open acres.
We arrived Friday night a little bit late, around 1:00 AM. Late huh? Think again. The middle of March in Panama City doesn't hold a candle to a "Talladega Night".
With the campground opening the gates on the Wednesday before the race, there were already crowds beyond crowds of Silverados whose stereos were cranked up with Toby Keith and ACDC providing the sound that kept the night young.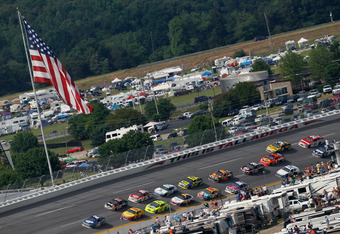 Kevin C. Cox/Getty Images
As we began to inhale our first round of Natural Light, there was the underlying temptation to make our way through the forest of RV's and lifted trucks that served as the blueprint for the village.
After becoming acquainted with our neighbors, who brought their own mower and mowed the grass surrounding their camper, the majority vote was to wait until sunrise to begin our trek.
Please note: DO NOT pull for a driver whose car is foreign made such as Toyota. This can be the difference between friendship and hardship at the campground. If you know a driver's name but not his brand, just say nothing at all.
98% of NASCAR fans are conservative Republicans. A driver who doesn't drive a Ford or Chevy is due Death by Hanging in their opinion.
Sleeping arrangements can be drastically different in nature. I slept in my Tahoe and my buddies slept in the tent.
However, the most popular sleep apparatus around Talladega seemed to be a folding chair around the campfire with a brown Winston filter in your hand the next morning.
As we all know, camping doesn't provide the most ideal sleeping conditions. Around 5:45 AM is when the sun began to peak over the horizon, blazing rays at about 250,000 km/second directly onto the campsite. Waking up doesn't come as a choice to many.
As the day began bright and early, you can't help but hear the crisp sounds of beer cans popping and exhaust pipes roaring off in the distance.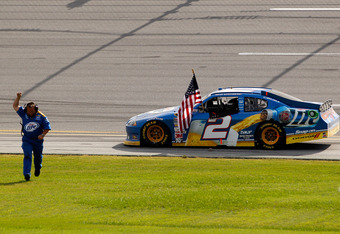 Tyler Barrick/Getty Images
Sparingly, you could catch a helicopter flying in one of the many CEOs who came to support their gladiator in the caged road match due to take place on Sunday.
We quickly made friends with a Vietnam Vet who was camping next to us. "Ramond from Tampa" is what he liked to be called.
Ramond identifies himself directly with every other NASCAR fan whose roots lay at the beginning of the sport. He was born in New York City and by the age of 11, he began to realize he wasn't cut out for life in the big city.
Ramond then began his journey to the foothills of Virginia where he was introduced to a life of whiskey drinking, panty chasing and all night gambling binges.
While most people whose lives spin into a 40 year cycle of the aforementioned hobbies would already be long and dead, Ramond has an unmatched passion to party.
As you may notice with the collection of beads around Ramond's neck, he was not afraid to distribute those accordingly, a task that is shockingly easy in Talladega nation.
As Ramond stumbled back and forth from the road to our camp site, a short 15 yards away, his attempts were valiant and successful in getting rid of his beads.
My crew, well, we didn't have any beads. But like Ramond said, "Wait 'til Monday mornin', all of the beads stay on the ground, nobody pick 'em up! And 'nats where I get all my beads!" His collection of beads has given birth to his 47 page photo album of milk fountains.
All day Saturday is like one massive concert/fair/wrestling event.
Every third trailer gives campers the opportunity to engage in one of the hundreds of activities set up: karaoke, foam parties, open bars, drinking games and the ever popular—NASCAR smack talking.
The sun began to set and things got weird. The police disappeared, which lay ground to an uncontrolled group of 120,000 campers who had been chasing Tennessee brown water with moonshine for the past eight hours.
While the details remain foggy on the rest of that Saturday night, we prepared for the race on Sunday.
As another 100,000 people rolled into Talladega, we began to pack up shop. What a weekend we had been through. Surprisingly enough, there were no threats made on our lives and we managed to hold onto our car keys.
I plan on attending Talladega every chance I can from this point on and many other NASCAR events for that matter.
The verdict after lap 188 was that Brad Keselowski took home the checkered flag as if it mattered.