NBA Draft 2012: Breaking Down Best Landing Spots for Every Kentucky Prospect
May 8, 2012

Jeff Gross/Getty Images
For the second time in a three year span, it looks like the Kentucky Wildcats will dominate the first round of the NBA draft.
Just three years ago, the likes of: John Wall, DeMarcus Cousins, Patrick Patterson, Eric Bledsoe and Daniel Orton all were selected in the first round of the 2012 draft.
As the 2012 draft approaches in June, it looks like we could see another five Wildcats go in the first round once again. Coming off a national championship, their stock is very high and even though this promises to be a very deep draft, it should without a doubt be dominated by the five Kentucky players.
With that being said, let's take a look at the ideal landing spot for each and every member of the 2011-12 Kentucky Wildcats national championship team.
Anthony Davis
Davis is the top player on the board and will certainly be the top pick in the draft. His game changing abilities, especially on the defensive end, will be a great fit on any team, but especially in Charlotte where the woeful Bobcats desperately need to win the lottery and draft Davis.
Best Fit: Charlotte Bobcats
Michael Kidd-Gilchrist
Every team in the NBA can use an athletic specimen like Kidd-Gilchrist, who will certainly go in the top five picks of the draft.
He's a high character guy with outstanding ability at both ends of the floor and can step in and make an impact right away. Kidd-Gilchrist would look real nice running alongside another former Wildcat in Wall in the nation's capital.
Best Fit: Washington Wizards
Terrence Jones
Jones is a rather intriguing prospect who some team could take a chance on in the top ten, but likely will be drafted between 10-20 when June rolls around.
He's a guy that can rebound and score on all three levels and while any team could use a talent like Jones, I especially look at a team like Dallas who will draft at No. 17. The Mavericks need to get younger and more athletic, while adding some talented pieces for Dirk Nowitzki to make another run at a championship.
Best Fit: Dallas Mavericks
Doron Lamb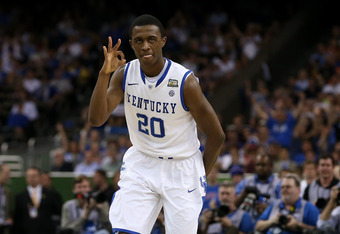 Jeff Gross/Getty Images
Every team in the NBA could use some more shooting, especially a guy that knocked down 47 percent of his three-point attempts on the season.
When Lamb is shooting well, he's assassin-like at the offensive end and there's a team out there that is going to have to replace a future Hall of Fame shooting guard in Ray Allen. Lamb and Boston looks like the perfect match, although so do teams like Minnesota and Atlanta.
Best Fit: Boston Celtics
Marquis Teague
Teague got better throughout the season and had a very good NCAA tournament as the floor general of the national champions.
He will have to mature his game a little to become a starting point guard, but Teague is lightning quick and sees the floor very well. He definitely has the talent to become a good NBA guard within time.
Plenty of teams could use a point guard for the future and while he will be selected between the middle and the end of the first round, Disneyland seems like a very good fit.
Best Fit: Orlando Magic
Darius Miller
The forgotten man of Kentucky's title team, Miller won't be selected in the first round but could make himself into a productive wing player in the NBA.
Miller will likely be selected with the top handful of picks in the second round with Sacramento picking at No. 36 an ideal fit. He could immediately serve as a nice bench piece to what could turn into a solid, young Kings team within time.
Best fit: Sacramento Kings