15 Most Clutch Performances in U.S. Summer Olympic History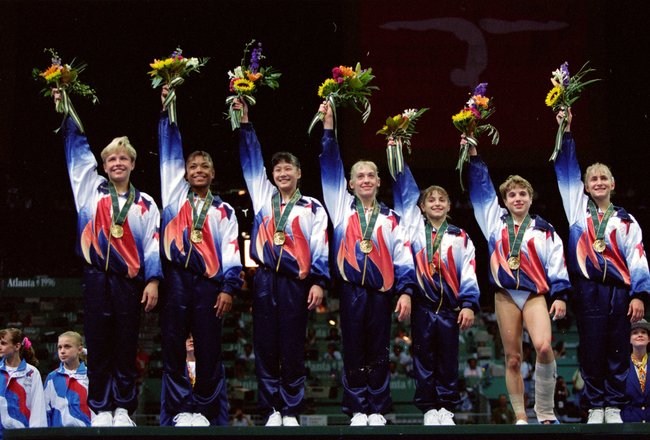 Doug Pensinger/Getty Images
Olympic glory is a one-shot deal and, as such, the Games make a perfect stage for clutch performances.
For most athletes, the Olympic career arc looks something like this:
You go. You take your result, good or bad. You accept that four years from now someone younger, faster and stronger will have relegated you to competitive obsolescence.
Imagine then the strength of mind it takes to perform at one's best in the context of such finality.
Consider what the following American athletes had to overcome, both within and without, to become their very best selves when the moment demanded it.
15. Pablo Morales, 1992 (Swimming)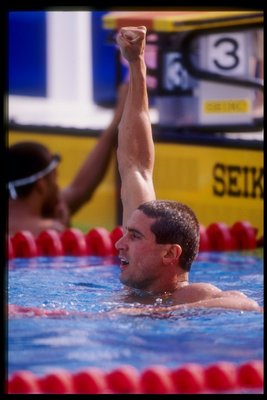 Simon Bruty/Getty Images
After squandering golden opportunities in his younger years, Pablo Morales had one more chance at the 1992 Barcelona Games to rewrite his Olympic history.
He made it count.
Before Barcelona, Morales' career had been marred by disappointment and heartbreak.
At the 1984 Olympics, Morales took silver in a 100-meter butterfly final he was expected to win. In 1988, he shockingly failed to qualify for the U.S. team.
Barcelona was a chance to put things right, and pay tribute to his mother, who had passed away a year earlier of cancer.
The 27-year-old team captain—racing with an urgency and focus befitting that age and that title—finally conquered the 100 butterfly that had crushed him eight years earlier.
Of course, the finish wasn't without drama.
Morales withstood a late rally from Poland's Rafal Szukala, besting the 21-year-old by just three-hundredths of a second to take gold.
And in those three-hundredths, the narrative of failure in Morales' star-crossed career dissipated, replaced by a remarkable comeback and one truly legendary performance.
14. Gail Devers, 1992 (Track)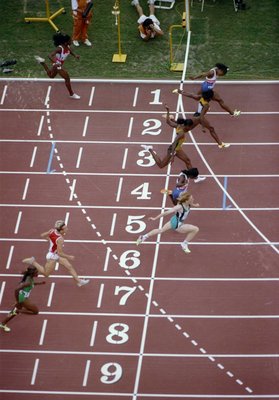 Simon Bruty/Getty Images
Most wouldn't equate Gail Devers with clutch, especially not at the 1992 Barcelona Games.
If you remember anything of Devers that summer, it's probably the image of her clipping the final hurdle in the 100-meter hurdle final and stumbling across the finish line.
But it was five nights earlier at those very same Games that Devers delivered one of the most spectacular performances in U.S. Olympic history, winning an exhilarating 100-meter dash that still ranks as one of the all-time greatest sprints.
Matched against a deep field, in a race she hadn't even entered during the 1991 World Championship, Devers surged to a quick lead.
The competition closed.
Devers let loose a final kick.
Five women crossed the finish line in seeming unison.
In the photo finish to end all photo finishes, it was Devers, the 100-meter newcomer, who emerged victorious.
Just 0.06 seconds separated her from fifth place.
13. Laura Wilkinson, 2000 (Diving)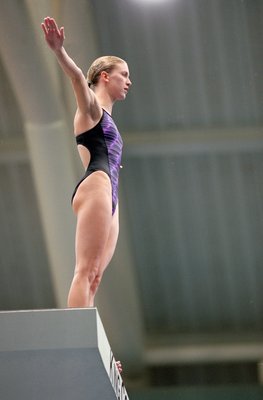 Otto Greule Jr/Getty Images
Laura Wilkinson entered the 2000 Sydney Olympics having never medaled at a major international event and just six months removed from breaking her right foot.
It was no surprise, then, that she entered the finals of the women's 10-meter platform event in eighth place. Had she progressed no further, it would have been a commendable effort.
The calculus changed as Wilkinson began hitting dive after dive in the final, the subtle confidence of her ever-present grin growing more prescient with each passing round.
Upon nailing her final attempt— a two-and-a-half somersault with a one-half twist—Wilkinson raised her fist to the crowd in a rare show of bravado.
She knew she had done all she could, elevating her performance when the stakes were at their highest.
When Chinese challenger Li Na missed badly on her last dive, the upset was complete and Wilkinson was an Olympic champion.
Wilkinson leapt into her coach's arms and finally, after modeling such stoicism through an improbable gold-medal push, began to cry.
12. Ben Sheets, 2000 (Baseball)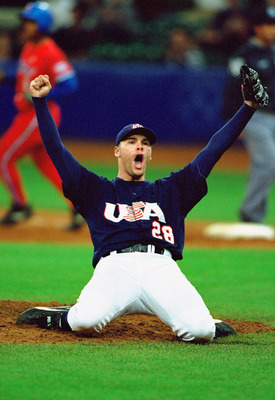 Jed Jacobsohn/Getty Images
The mighty Cuban National Team had won each of the first two Olympic baseball gold medals and looked destined for a third at the 2000 Sydney Games.
That is until they ran into Ben Sheets.
In a performance reminiscent of Jack Morris, Mickey Lolich and the Game 7 heroes of yore, the Milwaukee Brewers farmhand threw a complete-game shutout in the gold-medal game.
Three singles were all the mighty Cubans could muster, and Sheets didn't allow a single runner past second base. It was on the strength of his powerful right arm that this unheralded group of minor leaguers had beaten the greatest international baseball team on the planet.
It would turn out to be the pinnacle of both American Olympic baseball and Sheets' career.
By 2010, injuries had hounded Sheets into retirement and baseball had been eliminated as an Olympic sport.
11.Rafer Johnson, 1960 (Decathlon)
espn.go.com/sportscentury
After a seesaw battle with Taiwanese rival (and close friend) C.K. Yang through the first nine events, decathlete Rafer Johnson needed one more great performance to win gold at the 1960 Rome Olympics.
Little did he realize, it would take the run of a lifetime.
In to the final event, the 1,500-meter run, Johnson needed to stay within 10 seconds of Yang's time in order to win gold.
As the race started, Yang, the stronger runner, pushed forward with relentless abandon. Johnson refused to cede ground.
As they struggled, those 1,500 meters became a microcosm for perhaps the most thrilling and hard-fought decathlon in Olympic history.
Yang would cross the line first, but Johnson was just a few paces behind with the fastest 1,500 time of his career, an effort that earned him gold.
In a spontaneous overture that captured both the event's physicality and the close relationship between its top competitors, Johnson stumbled across the final meters of red clay track and collapsed onto Yang's shoulder.
10. Michael Johnson, 1996 (Track)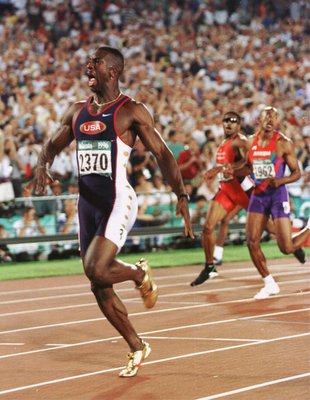 Mike Powell/Getty Images
The gold shoes said it all.
Michael Johnson didn't just come to Atlanta to win, he came to dominate. With those Midas-touched Nikes he embraced, and perhaps compounded, the pressure that came with being a predominate favorite on home turf.
Michael Johnson had to be great, in large part because his gestures said he would be.
And he was.
After cruising to an easy victory in the 400, Johnson smashed his own world record in the 200, sealing one of the greatest Olympic performances in track history.
In front of a home crowd that wanted everything, after pre-race antics that promised greatness, Johnson somehow delivered more.
9. Mark Spitz, 1972 (Swimming)
Tony Duffy/Getty Images
"I know I say I don't want to swim before every event but this time I'm serious. If I swim six and win six, I'll be a hero. If I swim seven and win six, I'll be a failure."
Those were Mark Spitz's words to ABC reporter Donna de Varona moments before taking the pool in the 100-meter freestyle.
Spitz knew the race was no gimme, and without a victory, his six-gold-medal, six-world-record performance at the 1972 Munich Olympics would be diminished.
He needed seven.
He got seven.
Spitz won the race by a half-stroke over fellow American Jerry Heidenreich, setting his seventh world record in the process.
It was Spitz's smallest margin of victory in Munich by a full half-second, and the final bit of drama that cemented his preeminent place in Olympic lore.
8. Greg Louganis, 1988 (Diving)
If you type Greg Louganis' name into Google, it's still the first suggested auto search:
"Greg Louganis hits head."
No one had seen anything like it, a premier diver like Greg Louganis banging his skull on the three-meter springboard. And no one has seen it since.
As Sports Illustrated's Craig Neff would later write:
"It was as if Baryshnikov had fallen off the stage or Rodin had slipped with his chisel and The Thinker's chin had plopped into his lap."
Louganis emerged from the pool shaken, but not defeated. Four sutures and 35 minutes later he took his tenth and final dive, earning the highest score of any diver in the preliminary.
At the next day's final, Louganis was near flawless. Less than 24 hours after the horrifying accident, Louganis aced the very same dive that had nearly derailed his Olympic hopes and earned a second consecutive gold medal in the three-meter event.
7. Paul Hamm, 2004 (Gymnastics)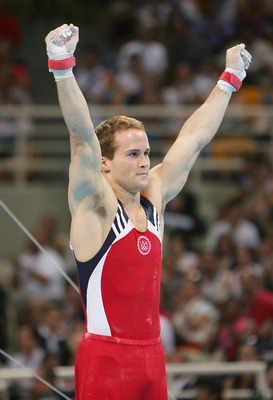 Ezra Shaw/Getty Images
Although it has been obscured in later years by the scoring controversy over his gold medal, there's no denying Paul Hamm's resolve in the most crucial moments of the 2004 men's gymnastics individual all-around competition.
After a spectacular fall on the vault, Hamm stood 12th with just two rotations left. The podium was a long shot, much less Olympic gold.
Hope resurfaced after Hamm nailed his parallel bar routine. Perhaps Hamm could somehow manage a bronze.
Entering the final apparatus, NBC play-by-play announcer Al Trautwig set the stakes.
"If he could pull a medal out of this, it would be an amazing comeback."
It was an ambitious hypothetical, one Hamm would soon render into an understatement.
With a sterling 9.837 on the high bar, he shot past South Koreans Yang Tae-Young and Kim Dae-Eun, winning the all-around title by the smallest margin in Olympic history.
Later documentation would reveal that judges had misdiagnosed the difficulty of Yang's parallel bars routine. With the added points Yang, not Hamm, would have been champion.
The controversy opened a Pandora's box of added questions.
What if Hamm, who performed after Yang, had known Yang's true score? Would he have adjusted the difficulty of his routine? Would he or Yang have performed differently knowing the new stakes?
All that buzz, however, misses the point.
Hamm had pulled off the two greatest routines of his career mere moments after his most public and painful failure.
Gold medal or not, that right there deserves some love.
6. Jason Lezak, 2008 (Swimming)
Adam Pretty/Getty Images
Entering the anchor leg of the 4x100-meter freestyle relay, American Jason Lezak was a full body length behind French dynamo Alain Bernard.
For all his guile, it seemed the 32-year-old veteran of three Olympic Games had no chance of catching the 6'5" Frenchman.
Bernard was the world-record holder in the 100-meter freestyle, the man who earlier crowed that he and his French teammates would "smash" the Americans in Beijing.
The all-but-certain defeat was set to deliver a double blow, validating Bernard's bombast and ending Michael Phelps' quest for a record eight gold medals in one Olympiad.
And then this happened...
Dan Hicks (NBC play-by-play announcer): "Lezak is closing a little bit on Bernard. Can the veteran chase him down and pull off a shocker here?"
Rowdy Gaines (NBC color commentator): "Well there's no doubt he's tightening it up..."
Hicks: "Bernard is losing some ground...Here comes Lezak! Unbelievable at the end. He's done it! The U.S. has done it!"
Gaines: "He did it! He did it, he did it!"
5. Marjorie Gestring, 1936 (Diving)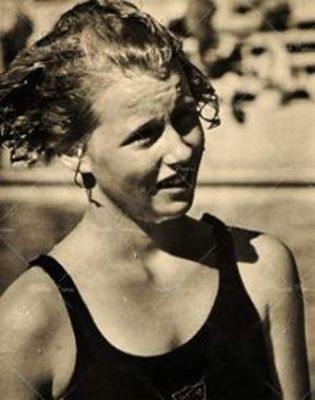 The moment should have been too much for Marjorie Gestring.
The 13-year-old diving sensation from Los Angeles was plenty talented, but Olympic finals are supposed to crush the young and uninitiated.
No way was this "tiny tot," as the Milwaukee Journal described her, capable of toppling fellow American Katherine Rawls and winning Olympic gold on the three-meter springboard.
Yet she did, overcoming an "almost insurmountable" deficit on the final dive of competition to clip Rawls at the wire.
More than simply neutralizing the pressure, Gestring embraced it, winning over a crowd that mere moments earlier had, according to Boston sportswriter Harold Kaese, conceded victory to Rawls.
With that dramatic triumph, Gestring became the youngest Olympic champion ever.
The International Olympic committee has since instituted a 14-year-old age minimum, securing Gestring's place in history for the foreseeable future.
4. Mary Lou Retton, 1984 (Gymnastics)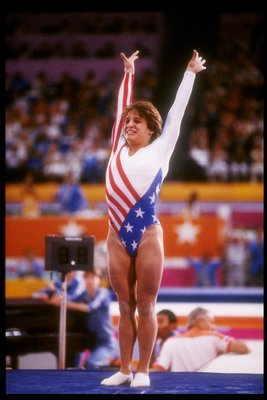 Steve Powell/Getty Images
With two events remaining, Mary Lou Retton—the power-packed pixie from West Virginia—trailed Romanian Ecaterina Szabo by 0.15 points in the women's individual all-around competition.
America's sweetheart was in trouble, and the hometown fans in Los Angeles knew it. Still in recovery from a knee injury, it seemed her dreams of becoming the first all-around women's champion in U.S. gymnastics history were fading fast.
Needing brilliant performances in the final two exercises, Retton, who had never appeared in a major international competition to that point, was even better.
She was perfect.
Retton scored a 10 on the floor exercise and a 10 on the vault. Then, for good measure, she took a second vault and landed that one, too.
The arena exploded, a mixture of release, relief and jubilation.
America had its champion and women's athletics had a new icon.
3. Michael Phelps, 2008 (Swimming)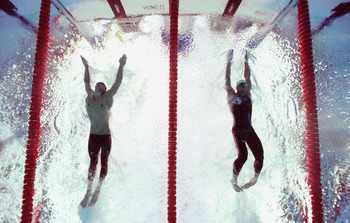 Adam Pretty/Getty Images
In order to win an unprecedented eight gold medals in one Olympiad, Michael Phelps was going to need some magic.
Phelps would need to find victory in places which seemed all but lost. He would need to defy laws of athletics, physics and even optics.
Great a swimmer as Phelps is, one simply doesn't make history going away. There must be some struggle.
All of that came to a head in Phelps' seventh event final, the 100-meter butterfly.
Chasing Serbia's Milorad Cavic the entire race, it didn't look like Phelps was closing fast enough to take gold.
I'm still not sure how, or if, he did.
The margin of victory was razor thin, and no number of video replay seemed to confirm that Phelps touched the wall first.
One angle had Cavic. Another had Phelps. Another looked like a virtual tie.
But the touch-pad said Phelps, by 1/100th of a second.
The greatest swimmer ever pounded the water in jubilation, and, one night later, won his record-breaking eighth gold.
2. Kerri Strug, 1996 (Gymnastics)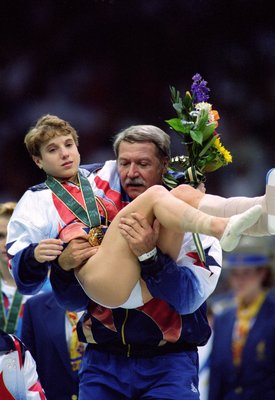 Mike Powell/Getty Images
You may not recall that Kerri Strug's heroic triumph at the 1996 Atlanta Games was a derivative of her own failure. I certainly didn't.
With the women's team gold medal on the line, Strug missed badly on her first vault attempt and injured herself in the process. It was that decidedly un-clutch performance that set the stage for Strug's dramatic turnabout.
On wounded leg—spurred on by coach Bela Karyoli's shouts of "You can do it!"—she summoned enough adrenaline to take a full-speed sprint toward the apparatus.
She shot through the air. She stuck the landing on one foot. She crumbled to the ground in pain.
The vault received a 9.712, securing first place for the Americans in front of a raucous home crowd. As it would later turn out, a poor routine by the Russians at the end of the competition rendered Strug's contribution irrelevant. The Americans would have won anyway.
Of course, history never stops for details.
As we remember it, the U.S. women's gymnastics team danced off with its first ever team gold medal.
And Strug limped into Olympic lore.
1. Jesse Owens, 1936 (Track)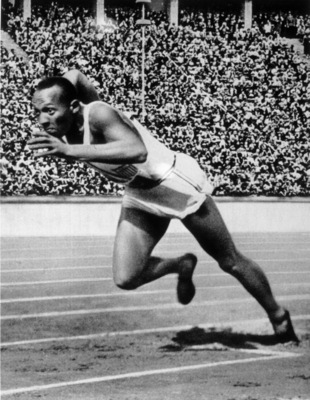 Getty Images/Getty Images
It feels trivial to call Jesse Owens' performance at the 1936 Berlin Olympics "clutch."
This was so much bigger than a buzzer-beater or a walk-off home run. This was so much bigger than the games people play.
German dictator Adolf Hitler intended the Games as a showcase for his theories of Aryan superiority.
It was Owens, an African-American from rural Alabama, who would prove Hitler's foil.
Owens won a U.S. track and field record four gold medals in Berlin, sweeping the 100- and 200-meter sprints, taking gold in the long jump and heading America's victorious 4x100 relay team.
That he did it in an environment so hostile, on a stage so layered with ulterior meaning, makes Owens' accomplishments all the more remarkable.
More than 75 years later, his performance still resonates as one of the most impressive and meaningful individual achievements in modern Olympic history.
Keep Reading