Thomas Robinson: Highlights, Analysis and Pro Projections
June 6, 2012

Andy Lyons/Getty Images
Thomas Robinson was my choice for college player of the year in 2011. I mean that with no disrespect toward John R. Wooden Award winner Anthony Davis, of course, but in my opinion no player meant more to his team than Robinson. The 6'9" forward from Kansas helped lead his team to the national title game, where they fell short to Davis' Kentucky squad.
Robinson was dominant in his junior season. He averaged 17.7 points and 11.9 rebounds for the Jayhawks.
He made himself eligible for the NBA Draft on April 9, with head coach Bill Self and his own 9-year-old sister Jayla accompanying him at his press conference.
Robinson is considered by Chad Ford of ESPN to be a top five pick. I would agree, as I believe he is the third best prospect in the draft.
I expect him to solidify his spot in the minds of general managers as pre-draft workouts progress. He is a workhorse who is set to impress scouts even more now than he did during the season.
Here is a scouting report on Robinson that highlights his strengths and his weaknesses (height, weight and stats per statsheet.com):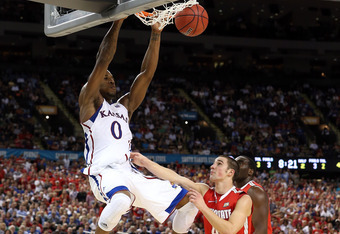 Jeff Gross/Getty Images
Profile:
Height: 6'9" 
Weight: 237 pounds 
School: Kansas
Date of Birth: March 18, 1991
Best NBA Position: Power Forward
College Stats: (Key Stats Underlined) 17.7 PPG, 31.8 MPG, 50.5 FG%, 50 3FG% (7-14), 68.2 FT%, 1.8 APG, 11.9 RPG, 0.9 BPG, 1.1 SPG 
Skill Grades:
Athleticism - B+
Size - B-
Intangibles - A+
Rebounding - A
Ball Handling - B-
Defense - B
Shooting - B
Passing - B-
Post Game - A-
Basketball IQ - B+
Upside - B
Strengths:
Robinson is built like an NFL tight end. He has broad shoulders and the quintessential NBA body with regard to muscularity.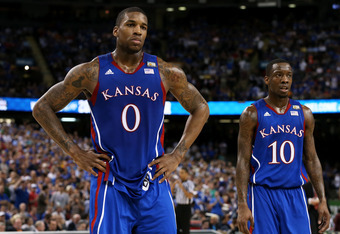 Jeff Gross/Getty Images
He uses that muscle and a solid first step to get to the rim. Robinson is not an elite leaper, but he is above average in this department. Considering his bulk, he certainly possesses good explosiveness.
Take a look at Robinson at work in this highlight reel:
One of the areas in which Robinson has improved the most during his time at Kansas is in the post. His footwork is good, and most of all, he has a plan. 
Though he does depend on his bullish strength, there is also some finesse to his post repertoire. 
He displayed a dependable baby hook and a developing jump shot in the 2011-2012 season. To maximize his offensive effectiveness, Robinson needs to continue to work on his three-point shooting. He took only 14 three-point shots this year, and was successful with seven of them. 
Making three-pointers a part of his arsenal could be huge for him in the NBA.
Robinson is an absolute savage on the glass. He is tireless worker, and that serves him well as a rebounder. 
His personal story is both gut-wrenching and inspirational. He and his sister lost their mother to a heart attack in January of 2011. The siblings had lost their grandparents just three weeks before their mother's passing.
Robinson has shown that he has the perseverance and strength to endure real hardship. He is a high character kid that many will be rooting for in the NBA.
Weaknesses:
My biggest issue with Robinson is his height. He is currently listed at 6'9". This is just barely at the size that most NBA teams would want their franchise power forward to be. 
I fear he may measure out even shorter when the prospects' heights are officially recorded.
If he's closer to 6'8", then his stock could fall a bit. Teams will have legitimate concerns about his ability to finish close to the basket in the NBA.
If his measurements from Draft Express are correct, then he should be OK. His wingspan is reported there at 7'1". That is solid, but I still see him as a bit of a tweener forward.
He may not be quick enough to guard small forwards, and he could face some challenges against long and athletic power forwards.
NBA Player Comparison: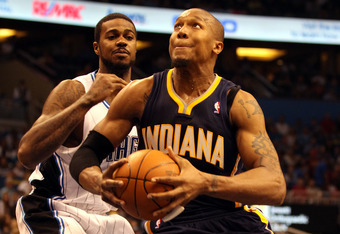 Marc Serota/Getty Images
More Athletic David West
Both Robinson and West had productive collegiate careers. At Xavier, West's numbers are similar to Robinson's at Kansas. 
In West's final year in college, he averaged 20.1 points and 11.8 rebounds. In the NBA, West has been selected to two All-Star teams (2008 and 2009) and has averaged 16 points and seven rebounds in his nine year career.
Both players are listed as 6'9" and around 240 pounds. Robinson is more chiseled and has a little more bounce in his legs, but their styles are similar.
The best thing West added to his game in the NBA was a solid mid-range jump shot. If Robinson does the same, he could have similar or better success than even West has enjoyed.
If he adds the three ball, then he becomes a more dangerous inside-outside threat.
Robinson should not drop below the third pick in this draft. If he does, some teams may ultimately be sorry they passed on him.
Draft Projection:
Top Five
Follow Brian Mazique and Franchiseplay.net for reactions, analysis and news from the world of sports and sports Video Games
Brian Mazique
Franchiseplay