Neftali Feliz: Why the Rangers Should Move Him Back to the Pen for Good
May 8, 2012

Abelimages/Getty Images
Taking one of the top closers in the American League over the past two seasons and moving him into the rotation is a move that will always come with risks and Neftali Feliz is no different.
When the Texas Rangers moved the former All-Star closer their hope was that he would have a greater impact pitching more innings and ultimately develop into a top of the rotation pitcher.
Feliz had an excellent first start to the season giving up zero runs in seven strong innings while striking out four and walking just two. But since that time he has given up 11 earned runs in three starts, has struck out just 14 and walked 11.
While this doesn't mean that Feliz is going to be a bad starter it does raise a lot of questions about whether or not he can become a viable starter for the Rangers.
I say the time is now to put Feliz back in the pen for good.
Not because he doesn't have the stuff to be a good starter, because he does and down the road he could turn into one, but because he has the chance to be an incredible closer. 
The New York Yankees loss of Mariano Rivera for the year is an excellent example of the power of a shutdown closer.
For over a decade when teams played the Yankees they knew that if they trailed going into the ninth inning the game was over. In 681 save opportunities Rivera converted all but 73.
It sounds like a lot of blown saves when in fact his save rate was 89 percent one of the highest in baseball history.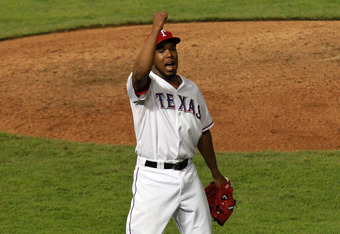 Ronald Martinez/Getty Images
Feliz and Rivera also have something else in common. The Yankees at one point tried to make Rivera a starter.
During his rookie season in 1995 Rivera started 10 games before being put into the pen. In those 10 games Rivera had a 6.12 ERA and a SO/BB ratio of just 1.7. Feliz has had a similar issue with his SO/BB ratio, which is an abysmal 1.28.
Ultimately he was moved into the pen and then to closer and went on to become only one of the greatest closers in the history of baseball.
It is always said that a starter is more valuable than a closer, but is that really the case?
A top of the line closer has an effect on every game whether he pitches or not. Teams know he is back there waiting and know they have to push to get runs and a lead before you get to the ninth because if they are down in the final inning they will lose.
Starters only have an effect in games they pitch in.
Feliz has a similar save rate over the last two seasons and has the ability to use more than just one pitch now that he has developed his off-speed stuff. 
Neftali Feliz is not Rivera, but if you have a chance at a closer who can have that kind of a reputation you should take it.
Starters maybe more "valuable," but they are also easier to find. A closer with the potential of Feliz is a rare thing in baseball and Texas should take advantage of that.