Arsenal Transfers: What the Yann M'Vila Deal Means for Arsenal's Midfield
May 8, 2012

Arsene Wenger, the rotten turncoat!
After making us Gooners wait for what seemed like an eternity during the previous summer transfer window, he does the exact opposite this time around: He didn't even wait for the window to open!
First he signed Lukas Podolski from FC Koln in Germany at the end of April, in a move that shocked Arsenal fans in terms of the timing of the announcement.
And now, although it has yet to be confirmed by the club, it appears as if the club have sealed another fantastic early coup, with the £17.7 million signing of the France and Rennes midfielder, Yann M'Vila. The rumor was first reported by French football journalist Julien Laurens via his Twitter feed and has subsequently been reported on several websites, including London's Telegraph and goal.com.
While the signing of a fantastic young talent—one who has already been capped 18 times by Les Bleus—by Arsenal is always good news, it gives rise to a problem of plenty. Believe it or not, Arsenal now have a serious surplus in midfield.
Assuming that the Gunners will stick with Arsene Wenger's preferred 4-2-3-1 formation next season, let's take a look at the team's needs and present resources. For this, I'll divide the midfield into two parts: three central midfielders in one group; two wingers in the other.
Central Midfield
In this position, we will need three players on the park at all times, and probably another four or five in reserve. Sounds fair, I think.
Our present incumbents are Abou Diaby, Tomas Rosicky, Mikel Arteta, Aaron Ramsey, Alex Song, Jack Wilshere, Emmanuel Frimpong, Francis Coquelin and, hopefully, Yann M'Vila. That's nine in all. In addition, we have Denilson and Henri Lansbury on loan, making it 11 players fighting for three positions.
It goes without saying that of the above, Rosicky, Arteta, Song, Wilshere and M'Vila will definitely be here next season. Diaby, in spite of his season being restricted to five sporadic and unspectacular substitute appearances, is a Wenger favorite—mine too—and seems set to stay based on the manager's interview soundbites.
Coquelin has looked a fantastic young prospect and given his additional ability to do a more-than-useful job at right back, I think he will stay as well.
Denilson and Lansbury are almost certain to be sold or loaned out again. I don't foresee either of them having a bright future at the Emirates Stadium.
Which leaves us with Ramsey and Frimpong. The former will be happy to have had a full season back after his horrendous injury, but he will be the first to admit that three goals and six assists from 43 games does not represent a good season. What disturbs me the most about Ramsey is that he doesn't seem able to produce those special moments, as he regularly did before he was Shawcrossed.
With the return of Wilshere—fingers crossed—his playing time will be severely restricted, and I think a loan spell at another Premier League club—or even abroad—will do him a world of good. I definitely don't think he should be sold, especially when you consider that Rosicky and Arteta don't have many years of top-level football left in them.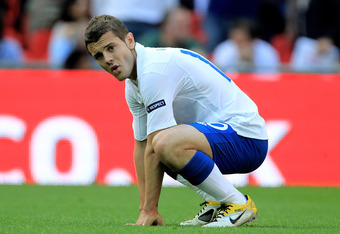 David Cannon/Getty Images
And now for the curious case of Frimpong. He is surely the one to be most impacted by the M'Vila signing.
He will almost definitely go on loan next season, because he is last in the defensive midfield pecking order and injuries have severely restricted his career thus far. It's just a hunch, but I feel Wenger could be losing patience with his constant Twitter antics, especially since they are not being matched by on-field performances.
In conclusion, I can see Song, M'Vila and Wilshere being the preferred trio in midfield, with Arteta and Rosicky on priority standby. I sounded like an airline official there. Abou Diaby has the potential to upset this applecart, but he needs to get and stay fit first.
Wingers
Arsenal will need two wide players at any given time; present resources include Theo Walcott, Alex Oxlade-Chamberlain, Gervinho, Yossi Benayoun and Lukas Podolski, with Andrey Arshavin and Ryo Miyaichi out on loan.
I believe Benayoun will not be here next season, because he wants more playing time at the end of his career. He will surely know that with the arrival of Podolski, he isn't going to get much. He will also be aware that "The Ox" will not be restricted to 10-minute cameos for much longer.
Andrey Arshavin, too, has played his last game for the club. I can't see him wearing red and white—and blue stripes, of course—ever again.
Miyaichi will be back at Arsenal next season, and I'm looking forward to watching his speed and trickery on the wings.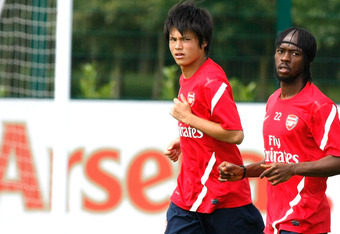 Tom Dulat/Getty Images
That leaves us with Walcott, Oxlade-Chamberlain, Gervinho, Podolski and Miyaichi, with both Rosicky and Santos to provide additional backup in case the dreaded injury curse strikes with a vengeance.
There is also the Walcott contract situation to sort out. Theo has one year left on his current deal, and it is all but obvious that if he does not choose to extend his stay at Arsenal, he will be shipped out and replaced by a new signing, much like Nasri was.
Don't expect a £25 million windfall this time around, too.
The Final Picture
So what do we end up with? A starting central midfield base of Song and M'Vila; Wilshere playing behind the striker; Walcott and Podolski out wide. With Rosicky, Arteta, Diaby, Gervinho, Oxlade-Chamberlain, Coquelin and Miyaichi in reserve.
Looks good, Gooners. I'm excited!
I just hope the M'Vila story is not some silly journalist spinning a "Yann"...
Follow me on Twitter, in spite of that terrible pun, @ratanpostwalla