Phil Mickelson Reflects on His Hall of Fame Career
May 8, 2012

"Since I was a kid and first picked up my golf club, I've been living my dream," Phil Mickelson said Monday night in his World Golf Hall of Fame induction speech.
It's easy to boil down Mickelson's career to numbers. PGA Tour victories, 42. Majors, four. Ryder Cups, eight. Presidents Cups, nine. Plus, 19 years, six continents and who knows how many golf courses.
But life is not a numerical list. For Mickelson, like most of us, his memories are filled with personal snapshots of friends and family.
When he lost the 1999 U.S. Open to Payne Stewart, Stewart told him he'd have other chances to win the major and that it was more important that he was going to be a father. Then, Mickelson's first child, Amanda, was born the next day.
"She'll be 13 next U.S. Open. That's how I think about it, next month," Mickelson explained.
After his first Masters victory,  the one where he had a vertical leap of about six inches to celebrate the win, what he recalls most is daughter Sophia.
"What I remember about that Masters was that blond curly hair, the binky in her mouth, the two‑year‑old Sophia waving to the camera as CBS panned out from the scorer's tent. That's my memory of the '04 Masters," he said. "She's 10 now, and we've had a lot of other great experiences." 
When his victory in the 2005 PGA Championship at Baltusrol was secured, 35 or so New Jersey state troopers lined up as a protection detail. "My son ran around high-fiving them like Hale Irwin did in the 1990 U.S. Open."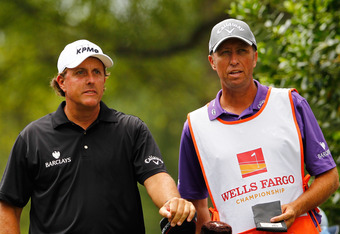 Mike Ehrmann/Getty Images
So while the rest of the world may cite stats and remember him hoisting trophies, Mickelson treasures the personal memories, the little things in his life at the time.
There are also special people who qualify as "near family," like Steve Loy, his former college coach, now business partner and business manager, and caddie Jim "Bones" Mackay.
Loy was quick to point out that Mickelson is 41 years old and has been winning tournaments for 36 years. "His first was a putting contest, and it was one of his greatest victories";  Mickelson said Loy had been with him through "everything."
The other Mickelson confidante is Mackay
"Bones is such a great man," Mickelson said. "He's a great caddie. He's a most loyal friend."  
Mickelson paused and smiled, and you knew a funny story was coming.   
"In the mid‑'90s, we were playing a tournament in Las Vegas and there was an earthquake at two in the morning. The chandelier was swaying from side to side hitting the ceiling," Mickelson explained. "His roommate told me the next day that Bones leaped out of bed, grabbed the clubs and ran outside. He didn't want anything to fall on them and hurt them."
What was particularly interesting about Mickelson's induction is that it was preceded by remarks from PGA Tour commissioner Tim Finchem, who enumerated Mickelson's many off-course contributions.
Mike Ehrmann/Getty Images
"I have said so many times over the years that our image, the athletes in the PGA Tour and the LPGA, their No. 1 asset is the image that they have and the image of the game. And Phil's contributions to that image have been numerous, many and impactful," Finchem said."His prioritization of his family, a hallmark of his career ever since he started playing, and his commitment with Amy and his family to charitable causes."
He cited the Mickelson's Birdies for the Brave program and his focus on education as two of those causes.
"I would like to thank him in addition for being a role model," Finchem added, "because you've never seen Phil Mickelson on or off the golf course that he wasn't showing the proper professionalism and comportment that you want to see in any athlete, particularly an athlete in our sport."
Finchem also mentioned the Mickelson fanbase.
"I think only Arnold Palmer maybe could be classified as better at enthusing our fans and having the fans fall in love with him," Finchem said. 
Mickelson also gave credit to his fans, mixed with the Mickelson needle. This time, directed at himself.
"There have been a lot of highs and a lot of lows that we've shared together. There have been a lot of times where I've struggled, and it's been their energy that's helped pull me through," he explained. Then he paused, and again you knew he was up to something. "I've tried to reciprocate by launching drive after drive in their general direction."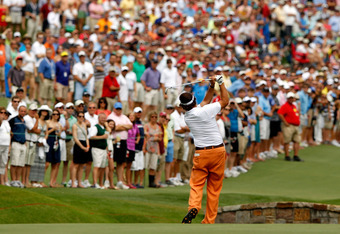 Streeter Lecka/Getty Images
Mickelson's family was essential in his progress from youngster to junior to collegian to professional.  Most know that he learned the swing by patterning it after a mirror image of his father. And when, serendipitously, his father constructed a putting green and chipping area in the backyard, it led to one of the most creative short games in professional golf.
"I would hit balls in our backyard over and over for hours on end. I would sleep with those clubs at night, and I would dream about the game of golf," Mickelson insisted.  
When he was eight, he got a job at a range, picking up balls.
"I wanted to advance up and be able to hit balls on a real range, play a real golf course," he said.   
As with most talented youngsters who take up the game seriously at a young age, there were plenty of adults willing to give him an assist. In Mickelson's case, it included Rick Thompson, Gary Griggs, Scott and Barry Mahlberg and Dean Reinmuth, and he credits them with honing his early skills.
"They would give me instruction that I needed," he said. "They would play with me. They would teach me the etiquette of the game."
Later, it would be Rick Smith, Dave Pelz and, eventually, Butch Harmon. 
Though he is now in the World Golf Hall of Fame, Mickelson's career is not over. He still looks forward to contending in The Players and in other upcoming tournaments. He wants to win 50 PGA Tour titles, at least, and he would like to win the two majors he has yet to capture, the elusive U.S. Open and the British Open.
Kathy Bissell is a Featured Columnist for Bleacher Report. Unless otherwise noted, all quotes were obtained first-hand.