Braves Lose to Cubs as Tensions Run High at Wrigley
May 8, 2012

David Banks/Getty Images
After sweeping the Rockies, the Atlanta Braves came to Chicago on no rest  to face a once struggling Cubs squad.  
Chicago had just managed to beat the first-place Dodgers in an extra-innings game before starting a three-game series against the surging Braves on Monday.
Jeff Samardzija gave up only one run on five hits in seven solid innings of work.  His only major mistake was a second-inning solo blast off the bat of Jason Heyward.
Tommy Hanson only allowed two runs on five hits, both of which were homers, but the Braves' bullpen gave up another three runs, including another long ball.  
Things started getting a little chippy as early as the second inning when Hanson struck Reed Johnson in the shoulder with a pitch that narrowly missed the side of his face.  
By the seventh, the Cubs were ahead a run on the Braves, whose only score had been Heyward's solo homer in the second inning.  Samardzija, who was still on the mound for his last half inning of work, struck Heyward with a pitch in the back.  
Heyward gave the Cubs' pitcher a long look as he took a slow trot to first base, but no bench warnings were issued to either team.  
In the bottom of the seventh, reliever Eric O'Flaherty tagged outfielder David DeJesus, which drew a series of warnings to the players involved and both benches. This sparked an argument by Freddie Gonzalez that led to his ejection.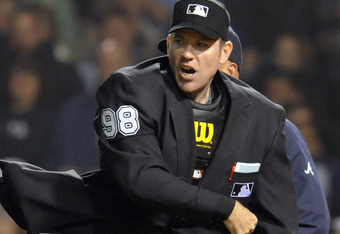 David Banks/Getty Images
As the top of the eighth inning came to an end with Carlos Marmol's strikeout of Dan Uggla, the Braves' second baseman seemed to be annoyed with Marmol's enthusiasm, which involved chest thumping and emphatic yelling, but did not result in a confrontation.  
High tensions or not, the once red-hot Braves' offense will have to find a way to get back on track in the final two games of the series, taking on a Cubs team that may have found its stride after a tough start to the season.  
After several weeks of offensive magic by the Braves, a 1-5 loss to a last place team certainly won't sit well in the clubhouse.  With Atlanta still leading the majors in runs, the Braves will need to find a way to spread the productivity evenly to continue to win series.  
Tuesday's game is set for 8:05 p.m. ET, when Ryan Dempster will face Randall Delgado in the second game of a three-game series.