Dan Henderson and 7 Fighters Who Most Deserve a UFC Title Shot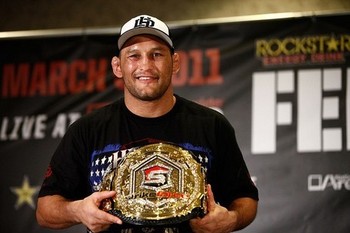 Photo via bloodyelbow.com
Dan Henderson is among the most qualified fighters on the UFC roster to fight for a title. After months of waiting for his shot at defending light heavyweight champion Jon Jones, he should get his opportunity at some point in 2012.
Henderson has put in a lot of work since his last title shot with the UFC in 2008, when he lost to Anderson Silva at middleweight. As a fight fan, it is always nice to see the guys that have worked so hard and truly earned a title shot finally get their shot to wear UFC gold.
Henderson isn't the only fighter that has paid his dues and paved his way to a title shot—there are fighters in each weight class that are deserving of their shot. Due to the UFC's knack for scheduling great matchups, many of these fighters are either scheduled to get their shot or are engaged in No. 1 contenders' matches.
Here are the UFC's most-deserving title contenders.
Bantamweight: Renan Barao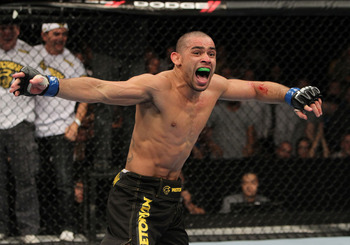 UFC.com
Renan Barao is the owner of one of the most impressive records in all of MMA.
At 28-1 (1 NC), Barao is no stranger to dominance. While Barao's record has been primarily built through questionable competition in his home country of Brazil, he has proven to be legitimate since coming to WEC in 2010.
He is a combined 5-0 in the now-defunct WEC and UFC. He holds notable wins over Chris Cariaso, Brad Pickett and Scott Jorgensen. Currently he is set to fight Ivan Menjivar in what could serve as a No. 1 contender's bout.
However, if the UFC is forced to create an interim championship in the bantamweight division due to Dominick Cruz's torn ACL, Barao could find himself in luck. With his undefeated record in the Octagon he becomes a logical choice to take on Urijah Faber for the interim belt.
Featherweight: Hatsu Hioki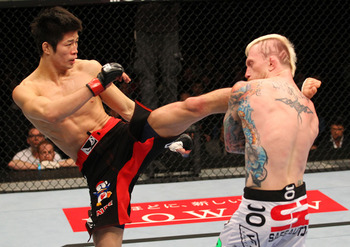 UFC.com
The featherweight division is quickly running out of contenders for the title.
Champion Jose Aldo has run through challengers faster than the division can create them, so the bar isn't too high right now. Even so, Hatsu Hioki still has an impressive resume that includes a six-fight win streak and a 2-0 record inside the Octagon.
Hioki is an international star who has won titles in the Sengoku, Shooto and TKO organization and holds notable wins over Mark Hominick (twice), Marlon Sandro and Jeff Curran.
Hioki's UFC debut—a split decision win over George Roop—made Hioki look quite average. Hioki's sophomore effort in the organization was much better as he consistently outpointed Bart Palaszewski on his way to a unanimous decision victory.
Hioki is the featherweight division's most deserving title contender, but don't tell him that. He recently turned down a shot at the belt, citing his desire to take one more fight before fighting for the title.
Lightweight: Nate Diaz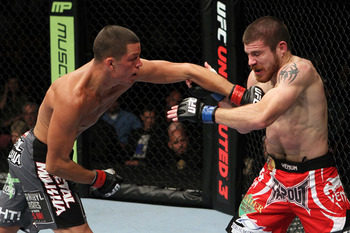 UFC.com
It's hard to believe Nate Diaz now finds himself closer to a title shot than his older brother, Nick Diaz.
While Nick was making a name for himself as a welterweight, Nate struggled in the division and was beaten by Dong Hyun Kim and Rory MacDonald consecutively in convincing fashion. However, a drop to lightweight has changed Nate's fate and he looks better than ever.
After a "Submission of the Night" performance against Takanori Gomi, Nate pulled off upsets against Donald Cerrone and Jim Miller.
Against Cerrone, we saw the textbook boxing that has been Nick's trademark for years as he picked apart Cerrone for the duration of the three-round fight. Diaz showed he was a legitimate title contender with his win over the always game Miller with a second-round submission victory that once again netted him "Submission of the Night" honors.
Title shots are often given to the fighters that are riding the best streak. Diaz has come out on top as the underdog recently and it's time to see if he can do it once again when he takes on the winner of the Frankie Edgar and Benson Henderson rematch.
Welterweight: Johny Hendricks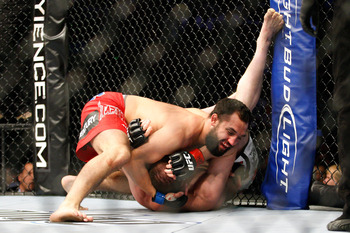 Richard Wolowicz/Getty Images
Johny Hendricks has proven himself worthy of a title shot after his split decision victory over Josh Koscheck at UFC on FOX 3.
The welterweight division has quite the logjam atop the division, but Hendricks' resume is just a bit better than his fellow contenders. Hendricks is extremely well-rounded and suited to make a run at the title.
A former national champion collegiate wrestler, Hendricks can be dominant on the mat. However, it's his powerful and ever-improving stand-up that has him standing out after his last two victories over perennial welterweight contenders Jon Fitch and Koscheck.
After those two victories, Hendricks can make the claim that he is the best welterweight in the division today not named Carlos Condit or Georges St-Pierre. That can only mean that he is the most deserving to get the first crack at the winner of the eventual title unification match between Condit and St-Pierre.
Middleweight: Mark Munoz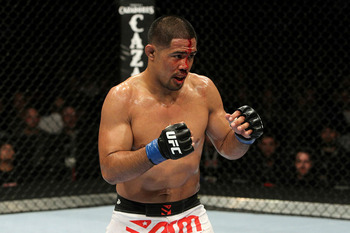 UFC.com
Mark Munoz could have easily foiled the much-anticipated rematch between Chael Sonnen and Anderson Silva.
Munoz was scheduled to fight Sonnen in a No. 1 contender's match at UFC on FOX 2. The fight would have featured two of the best wrestlers in the division and Munoz's knockout power could have been the determining factor.
We may never know who would win between the two fighters because Munoz was forced off the card with an injury and replaced by Michael Bisping. Sonnen went on to punch his ticket to rematch Silva for the title after narrowly winning by decision over the Brit.
Now that Munoz is on the mend, he is expected to take on up-and-comer Chris Weidman at UFC on Fuel TV 4 on July 11. The fight will happen just four days after Silva and Sonnen lock up at UFC 148 on July 7. With a win over Weidman, Munoz will have established himself as the most deserving middleweight contender.
Light Heavyweight: Dan Henderson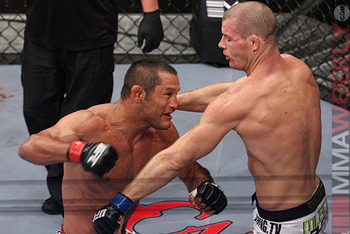 mmaweekly.com
Dan Henderson is the most deserving light heavyweight contender if only because he has achieved nearly everything one can accomplish in the sport without actually winning a UFC championship.
Henderson made his UFC debut all the way back in 1998 when he won a middleweight tournament at UFC 17 by defeating Allan Goes and Carlos Newton in one night. Since then, he has gone on to become the PRIDE welterweight champion, PRIDE middleweight champion, PRIDE welterweight grand prix champion and given us one of the most brutal knockouts in UFC history when he knocked out Michael Bisping at UFC 100.
Henderson's last shot at UFC gold came four years ago when he took on Anderson Silva at middleweight. Despite a competitive first round, Henderson was the victim of a rear naked choke in the second round.
Henderson has since went 7-1 over the last four years. He holds wins as a middleweight, light heavyweight and heavyweight.
Henderson's last outing—a five-round slugfest with Shogun Rua—is one of the greatest fights in UFC history. With everything that Henderson has done in the sport and his recent performances, he definitely deserves to be next in line for a crack at Jon Jones.
Heavyweight: Cain Velasquez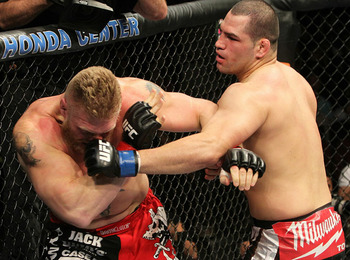 UFC.com
Some nights just don't go your way. After being knocked out in just over a minute in his first title defense, no one knows this better than Cain Velasquez.
Velasquez looked like an absolute force in making his claim to a UFC title shot. Once there, his dominance continued as he took his record to 9-0 with a lopsided beatdown of Brock Lesnar.
Velasquez's brutal combination of technical wrestling and devastating power makes him one of the most well-rounded and dangerous heavyweights. His fight with Junior dos Santos was expected to be a tightly contested matchup but dos Santos had other plans. One overhand right that landed right behind Velasquez's ear left him wobbly and dos Santos swooped in and finished the job with follow-up strikes to get the early finish.
Instant rematches should be used sparingly. However, the heavyweight division is largely devoid of top-tier contenders. If Velasquez can get past Antonio Silva at UFC 146 he could find himself with a rematch against the man that took his belt.
Keep Reading