Baron Davis: A Look Back at the Man Who Helped Redefine the Point Guard Position
May 9, 2012

Aubrey Washington/Getty Images
When you're eight years old, it's easy to be impressionistic.
It has yet to register for you—in that painful footfall of cognizance—that your favorite players will one day be forced to bow to the inexorable force of time. Age takes no prisoners, after all.
When you're eight, greatness looks like it could go on forever, undimmed as the day it first set foot in the pros.
Or maybe even before that.
Baron Davis came into UCLA in 1997 as one of the first marquee freshman recruits of the Steve Lavin era. (Lavin took the reigns from Jim Harrick before the 1996-97 season.)
I was eight in '97, and I had a dull notion of my allegiance to the Bruins. It was implicit at that stage; not yet readily defined.
I'd cheered when they'd won the NCAA title back in '95 because my father, an alum, had cheered. It was just one of those things you did, taking up the supporters' mantle passed down through generations, so to speak.
But Baron gave me the opportunity to put my own stamp on my UCLA fanhood.
Here was a player who captivated on a nightly basis and made me want to follow UCLA basketball. It was the first time I could say that about any player in any sport.
And follow I did, with near-religious zeal. I was beside myself when Davis blew out his knee against Michigan in the 1998 NCAA tournament, and I cheered when he made his comeback for the next season.
His transcendent athleticism came back to him, slowly at first, then as if it had never left him. The Baron Davis of the 1998-99 season was one of the most entertaining I'd ever seen.
It was also the perfect encapsulation of him as a basketball enigma. Baron, and the UCLA team to a greater extent that season, could hang with the best in the land and do it in a captivating manner.
But they could also be maddeningly inconsistent, as we saw when the Bruins were upset by 12th-seeded Detroit in the first round of the NCAA tournament, 56-53.
It would prove the last game Davis ever played at Pauley Pavilion, as he announced soon after that, that he would be entering the NBA draft.
Many wondered if he was ready. When the Charlotte Hornets made him their third pick, some of those reverberating doubts began to fall flat.
They were nearly eviscerated once his NBA career got going. It has not stopped since, either.
For all his faults, Davis has averaged 16.1 points and 7.2 assists to just 2.8 turnovers over 13 seasons, many in which he was deemed one of the best point guards in the game.
It's a testament to the man's pioneering traits that so many glowing reflections about his career have surfaced since the weekend when Davis went down hard on a fast break against the Miami Heat.
His knee buckled menacingly on that play, resulting in the sort of stomach-churning, throat-constricting pain that accompanies any disgusting injury. The unnatural—a knee twisting in a manner it never should—never fails to put us off guard.
An MRI on Monday would reveal "a partial tear of the patella tendon and complete tears of the anterior cruciate and medial collateral ligaments in his right leg," according to a Yahoo! Sports report. That's on top of a dislocated kneecap, mind you.
Davis's knee, for lack of a better word, is kaput. It will take at least 12 months of rehabilitation for him to make a return to full-time basketball.
At his age—a just-turned 33—that is tantamount to your body handing you a severance check. Davis is likely done.
The news threw me into one of those funks that simply sticks, as if it were a permanent addition to your mindset.
Something would be lost were Davis to finally retire, I thought.
Baron had a habit of drifting in and out of games, but that only made me an even bigger fan.
Because when the prime-time Baron showed up, there was little you could do but stand and applaud, mouth agape.
That airtight handle, that ability to fly past defenders and throw himself at the rim with such reckless abandon.
Few players in the game's history have packed the power Baron had coiled in his 6'3", 225-pound frame. (He's since whittled down his weight to 212.) He was a linebacker who'd decided to play basketball. And he made many a would-be shot blocker pay for trying to check his flight.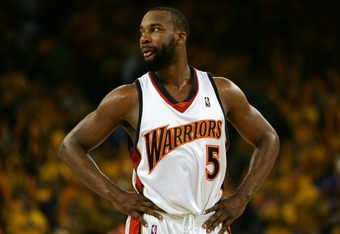 Jed Jacobsohn/Getty Images
When he was at his best—the 2001-02 postseason for example, where Davis averaged 22.6 points, 7.9 assists, 7.9 rebounds and 3.6 steals while leading the then-Charlotte Hornets to the Eastern Conference semifinals, where they would fall short to the New Jersey Nets—there were few defenders who could hope to slow him down, let alone contain him.
If you were an opposing defender, you had little choice but to get out of his way.
Davis's flaws were on display during those nine postseason games—the turnovers (3.0 a game), the iffy shooting (37.8 percent from the field, including 33.9 percent from three and 59.7 percent from the free-throw line)—but to linger too long on his faults would be to miss his overall effect on games. It could be revelatory.
This was a man who could galvanize his team, and the game for that matter, like few in the NBA's history. That type of high-risk, full-tilt approach could end badly of course, but it more often than not proved scintillating.
Long before LeBron, we witnessed another high-powered act. And this one was under 6'5".
That dunk on Kirilenko will live on forever, but many forget that Davis averaged 25.3 points on 51 percent shooting from the field during that postseason. He could be far more than highlights and flash. There was a substance that people rarely appreciated amidst the high-flying dunks and eye-popping assists.
In that '07 postseason, Davis made good on that world of potential we'd always seen but perhaps worried he might not tap.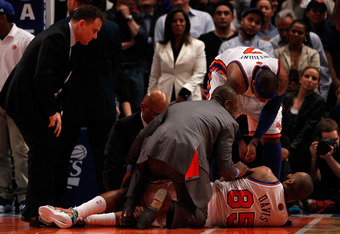 Jeff Zelevansky/Getty Images
But like any work of genius—and there are few greater personal exploits than Davis and the Warriors taking down the No.1-seeded Dallas Mavericks in the first round—Davis was always going to come back down to earth after that postseason of exploits.
Peaks and valleys. Ebbs and flows. Nature will always get you in the long run.
And come back down he did. Though he was good for the Warriors the following season, it just wasn't the same dynamic as that "We Believe" side from the spring of '07.
Then like one of his vintage crossovers, he was gone from Northern California as if in a flash, back home to Los Angeles by way of the Clippers so he could be near his ailing grandmother.
He has floated around the periphery of the NBA's inner circle since then, making headlines more for endorsement deals than his play on the court.
Injuries decimated his play, none more severe than the most recent, which looks to have put a premature end to his career.
Rest assured, however, that Davis will be OK without basketball. His interests have always extended beyond the court, sometimes to his NBA employers' chagrin (they wanted him 100 percent focused on basketball), but to his personal and long-term benefit.
Competitive sports provide a nightly surge of endorphins not unlike the effects of consistent exposure to a drug. Retirement—forced removal from that wonderful feeling, wrecks some more than most.
Some never quite recover from the nightly binging on stardom and acclaim.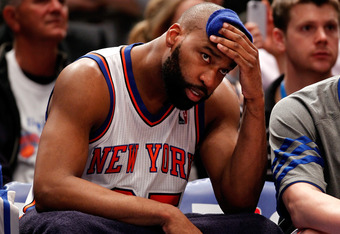 Jeff Zelevansky/Getty Images
They simply can't recreate that flooded feeling of enjoyment.
Davis appears to have the personal wherewithal, and variety of interests, to escape that trap. Maybe those interests deviated some of his attention from basketball and kept him at times from being truly great.
Maybe, maybe. Conjecture is a game that can go on forever.
What we know is that as Davis moves on from the game, it's important to remember what he gave us. We were able to witness a visionary grow from baby-faced assassin to bearded vet. He may not have gotten the glory we might have hoped for—scoring titles, NBA championships—but he served the game well nonetheless.
And it's heartening to think that, while we'll mourn the loss of a great, he'll be just fine.