Washington's Natitude No Match for Cole Hamels' "Attytude"
May 8, 2012

Greg Fiume/Getty Images
This weekend Gnats fans reclaimed their nest.
That's their story, and they're sticking to it. Team management hung banners, fans carried signs, it all looked impressive on ESPN. 
So too did the thousands of Phillies fans that managed to sneak in, despite the ban imposed to prevent their entry.
But why quibble? 
Gnats fans are giddy. They took back their park.
From who? Phillies fans are pretty content with their own. They travel south to follow their team and to occupy otherwise vacant seats.
Gnats fans can have their park. It will be interesting to see if they keep it. 
The Phillies don't return to Washington until the end of July. Wonder what Gnats fans will be doing between now and then? 
For Phillies fans, more unsettling than a made for television Occupy the Park movement is what occurred on the field. 
The Phillies dropped two of three. They managed to score only four runs in the twenty innings they played over the course of Friday night and Saturday afternoon.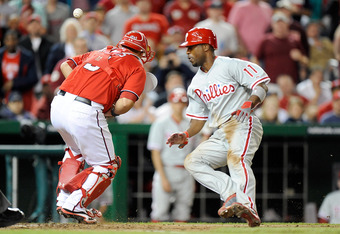 Greg Fiume/Getty Images
Forget small ball. This was dull ball. And it was hardly new. The Phillies have looked flat for weeks.
There are reasons for this; Roy Halladay has been human. Injured reserve is at capacity. The regulars are pressing.
Manager Charlie Manuel shook up the lineup, again, on Friday. Seeking to shake things up further, Manuel then got himself tossed by arguing over a Bryce Harper check swing in the first inning.
No matter. Phillies right fielder Hunter Pence told phillies.com on Saturday that it felt like the Gnats, not the Phillies, "have a chip on their shoulder."
Enter Colbert Michael Hamels. The Phillies left-hander took the ball on Sunday night. Seven pitches in, Hamels nailed Gnats phenom, Bryce Harper, in the small of his back.
That's the kind of "attytude" that marketing campaigns just can't manufacture. It is the kind that comes from the heart. Just ask somebody at the corner of 9th and Catherine. Trust me, you'll understand.
In the short run, the drilling cost Hamels. To his credit, Harper shook it off, made it to third and then timed a Hamels pickoff move perfectly to steal home.
It was the only run Hamels surrendered all night. The Phillies went on to score nine, resulting in a 9-3 Phillies victory that prevented a sweep.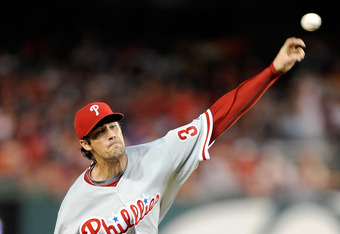 Greg Fiume/Getty Images
Coincidence? It was if you believe Hamels. After the game, he admitted to hitting Harper intentionally. He said it had nothing to do with recapturing his own team's swagger. 
It was done simply out of respect for the old school way of welcoming the young Gnats star into the big leagues.
Maybe that's true. 
What is certain is that Hamels' admission has earned him a five game suspension.
What is also certain is that talk goes only so far. 
Colbert Michael Hamels walks the walk of a fierce competitor, and of a champion. 
That is more contagious than even the slickest of marketing campaigns.   
But that will be apparent during the "Take Back Our Ballpark, Again" campaign that likely will kick off in late July.   
But don't take my word for it.  Talk is cheap.