Philadelphia 76ers: Ranking the Sixers' Most Clutch Players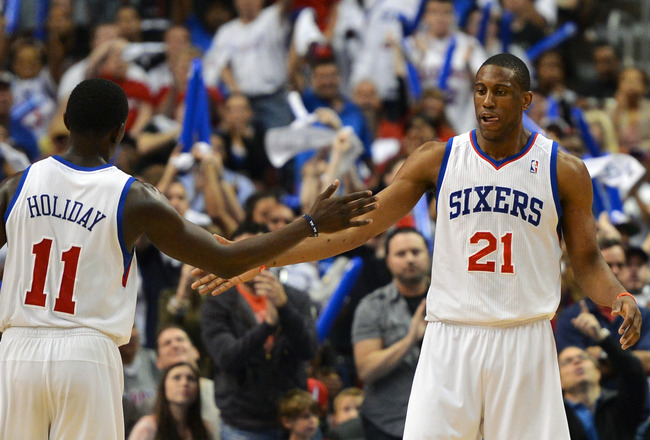 Drew Hallowell/Getty Images
The Philadelphia 76ers are not known for having superstars or clutch players. But at this point in the playoffs, it's important to know who to give the ball to when it comes down to crunch time.
Typically, the Sixers are known for going with the guy who is hot because there is no "number one" guy. It's definitely a disadvantage, but they do their best to work around it.
Although some have not necessarily had the opportunity to play big minutes in crunch time, it's safe to conclude that some of these more inexperienced players will appear at the lower end of the list.
However, let's not forget that clutch doesn't always mean crunch time. It can be showing up when the team needs you, and that's just what many of them have done this playoff series.
Lavoy Allen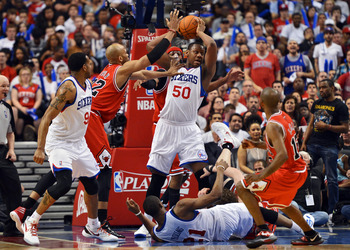 Drew Hallowell/Getty Images
Lavoy Allen just has to go on the bottom of the list because he really hasn't had the chance to prove himself yet.
As a rookie bench player with not a lot expectations, Lavoy can very likely turn out to be a reliable bench player.
Nikola Vucevic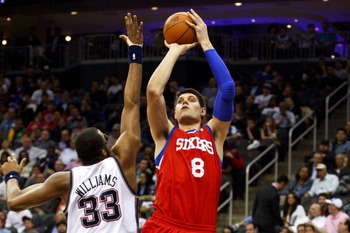 Chris Chambers/Getty Images
The same thing can be said about Nikola Vucevic.
Vucevic has a chance to be a more-than-serviceable player with his size and jumper for a big man. Once he bulks up and acquires a better post game, he's looking at a positive future.
Jodie Meeks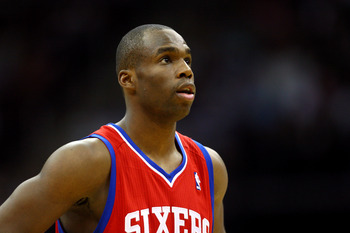 Chris Chambers/Getty Images
I really liked Jodie Meeks last season, and still do like him. However, it appears that his three-point shot isn't so valuable as it used to be for the Sixers.
Meeks isn't really called on much to bring the team up from its downs so it's hard to picture him any higher.
A quick sniper from beyond the yard, yes indeed, but Meeks doesn't really provide a clutch factor.
Andre Iguodala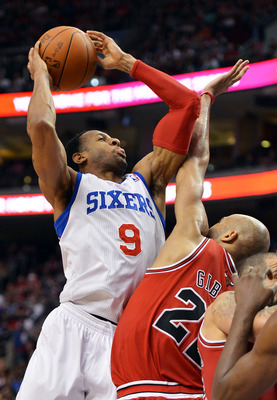 Drew Hallowell/Getty Images
I know a lot of fans do not want to see him any higher and many have been frustrated with his late-game performances.
Andre Iguodala is infamously known for not being able to hit free throws late in the game or big shots. There have been very few times where he has and this is definitely where he sees the most criticism.
Having said that though, Iguodala isn't meant to be that type of player. But even then it doesn't matter how you look at it. Either way, he still isn't very clutch.
Spencer Hawes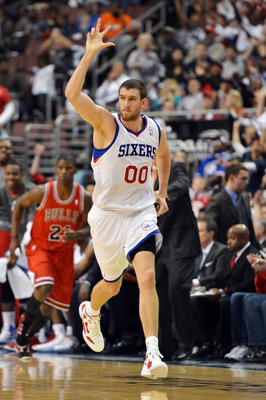 Drew Hallowell/Getty Images
Although he missed some time this season, Spencer Hawes has showed up when the Sixers needed him.
In fact, Hawes became the first Sixers center since Moses Malone to record over 20 points consecutively in the playoffs. That's pretty impressive.
I think it's hard in general for a center to be ruled as "clutch" because they generally do more rebounding than scoring. Nonetheless, Hawes has came through numerous times this year.
Elton Brand
Jonathan Daniel/Getty Images
People can keep saying he's old, and he'll keep showing them up.
Elton Brand is automatic from mid-range, an ability the Sixers can rely on offensively. Now that he is getting older, Brand has focused more on the fundamentals rather than his athleticism.
As a veteran player on this team, Brand has served as great veteran presence for the young guys.
Perhaps he isn't one to hit a big fourth-quarter shot, but he will come through when they need him to.
Thaddeus Young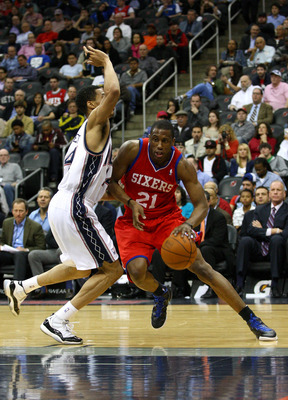 Chris Chambers/Getty Images
True, he may not put up the most flashy stats but I can assure you every time he is on the floor, he is doing something productive or something the benefits the team.
I like to think of Thad as the player who always does something right. He is always hustling and doesn't take any play for granted. It's admirable.
Even though he isn't a guy who needs to pull the load, he'll almost always accomplish what is asked of him.
A tough player who fights for every ball on every play is a valuable one, and there are few in the league. Fans should realize the Sixers are lucky to have a player like him.
Lou Williams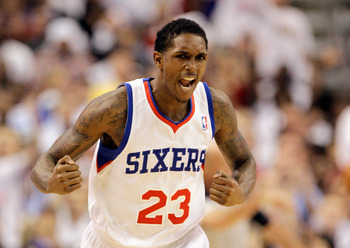 Rob Carr/Getty Images
Out of any Sixers player, Lou Williams is mostly associated with coming up clutch.
Not only this year, but also last year in the postseason especially, Lou came through for Philadelphia late in games.
The crazy factor about Williams is you never know when he will go off on a scoring spree.
If clutch only meant crunch time, then Sweet Lou would land the No. 1 spot.
Evan Turner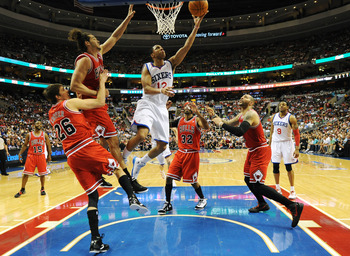 Drew Hallowell/Getty Images
Evan Turner does not nearly get all the credit he deserves.
And remember, clutch doesn't always mean down to the wire. It can also mean coming through in a big game. Turner has showed up in every playoff game averaging 14 points and over six boards per game.
Through inconsistencies in playing time, you will always see Turner give it his all. He wants to take over the game when he has the ball. It's something good to see from a young player.
Jrue Holiday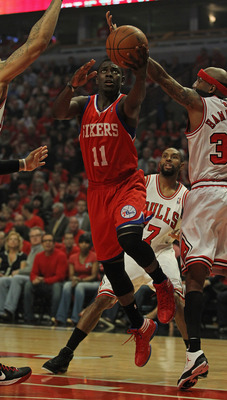 Jonathan Daniel/Getty Images
Jrue Holiday has been nothing but clutch during the playoffs.
The young point guard has averaged 20 points, five rebounds and nearly five assists per game against the Bulls in the playoffs.
But Jrue goes further than the stats. He has done a great job of orchestrating the offense and taking initiative at the point. Fans can argue Derrick Rose is out, but it cannot be ignored how well he is playing.
Out of any player on this team, Jrue has stepped up the most.
Keep Reading

Philadelphia 76ers: Like this team?