5 Players Houston Astros Should Deal at the Deadline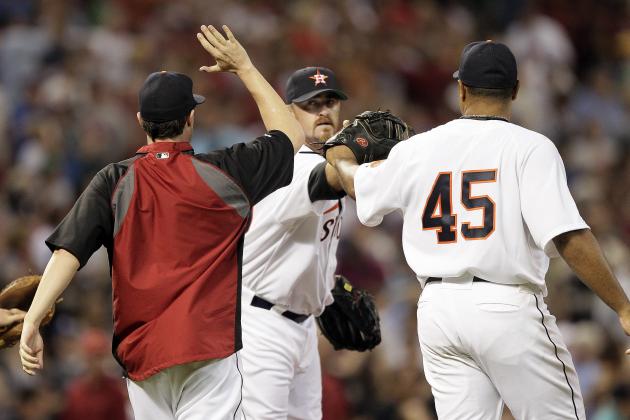 Bob Levey/Getty Images

The Astros have won five of six and pulled themselves up to third in the NL Central. They currently rank fourth in the National League in runs scored and have been playing quality ball to start the season.
While there have been some bright spots this year it is still important for the organization to keep their focus to next year and beyond. They have a couple of quality pieces who could bring back quality prospects that would be in line with the organization's focus.
These are five players that the Houston Astros should trade before the deadline this year.
Begin Slideshow

»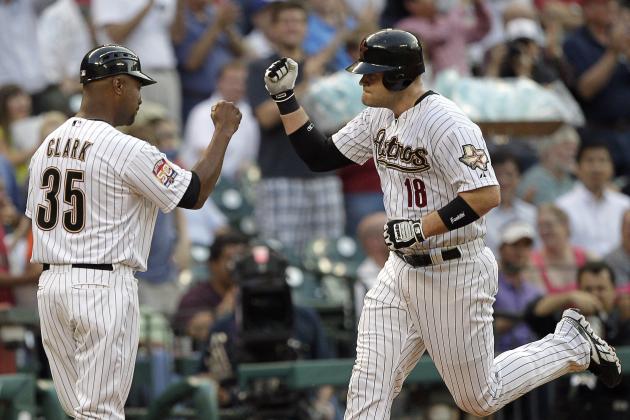 Bob Levey/Getty Images

Chris Snyder signed with the Houston Astros this offseason as a backup plan for Jason Castro. He has surprised some with his play and has worked his way into a platoon with Castro.
He doesn't have much to desire at the plate, hitting only .154 and one home run, but he plays quality defense and handles a pitching staff pretty well.
He probably won't bring back much in terms of top prospects but he could generate some interest from playoff teams looking for a backup veteran catcher.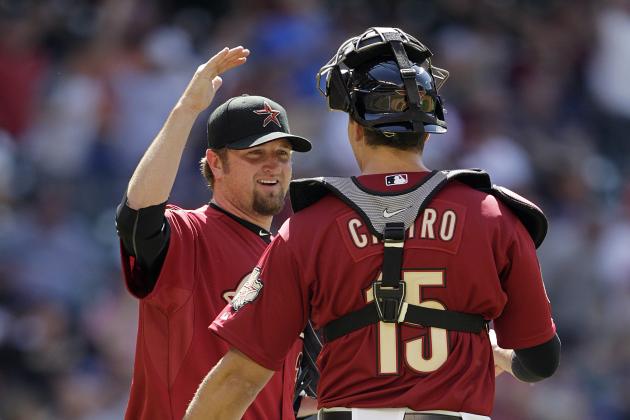 Bob Levey/Getty Images

Brandon Lyon has really bounced back from a nightmarish 2011 season and is off to a good start. He has made 11 appearances giving up three earned runs for a 2.89 ERA. The best stat is nine strikeouts in those 9.1 innings of work but only two walks.
Teams are always looking for quality bullpen arms as the playoff races start to heat up and with Lyon being in his final year of his contract, he should generate considerable interest.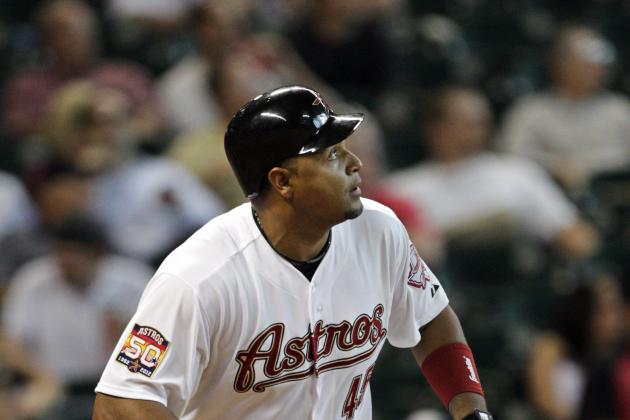 Bob Levey/Getty Images

Ask any Astros fan who the team should trade the past few years and I bet more times than not Carlos Lee's name would come up. He had a monster contract, was a liability in left field and wasn't producing at the plate.
That has changed in the past year and half with Lee moving to first and starting to swing the bat better. Now there is a number of hurdles in the way of a possible trade, mainly his large salary and the no-trade clause.
However, the fact that he is in the final year of his contract and is hitting almost .290 with 14 RBI may make him attractive to some teams. Astros management would just need to create a great sales pitch to make a trade happen.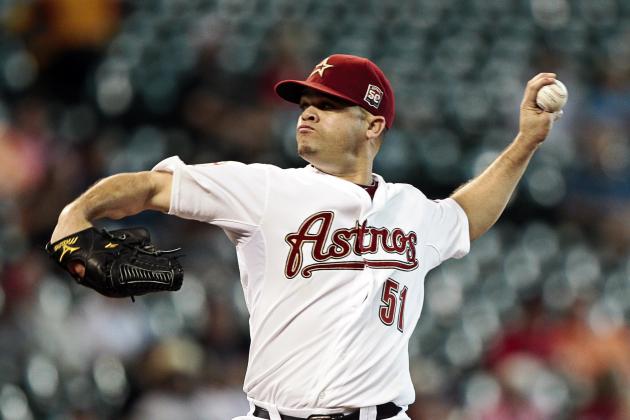 Bob Levey/Getty Images

Don't let his 3-2 record fool you, Wandy Rodriguez has been pitching like an ace in the early part of this season. He has a 1.64 ERA and holding opponents to a .221 batting average. He has struck out 27 batters in 38.1 innings of work and only walked 10.
The 33-year-old lefty does have a pretty big contract that will hurt his trade value but he should generate a great deal of interest. If he is able to keep up this production, he should even bring back a quality package of prospects for Houston.
Bob Levey/Getty Images

I don't know if the Astros could ask for a better trade market for closer Brett Myers. A number of teams who had playoff aspirations have seen their closer go down with serious injuries. Brian Wilson, Andrew Bailey, Kyle Farnsworth and now Mariano Rivera have all been bitten by the injury bug.
Brett Myers on the other hand has been lights out to start the season. He is a perfect seven for seven in save opportunities has given up only one earned run and walked one person in 8.2 innings of work.
This is one player the Astros absolutely need to trade before the deadline because his value has not, and probably won't, be any higher than it currently is.