Pacquiao vs Bradley: Bout Won't Live Up to Mayweather vs. Cotto
May 7, 2012

Stephen Dunn/Getty Images
Floyd Mayweather Jr. and Miguel Cotto gave us a tremendous fight on Saturday at the MGM Grand, but Timothy Bradley Jr. is gravely overmatched against Manny Pacquiao, and it will make for a disappointing bout.
Despite a 28-0 career record, Bradley has never fought anyone even close to Pacquiao's caliber, and he's in for a rude awakening come June 9.
Bradley's last fight was against 40-year-old Joel Casamayor. He predictably scored a TKO in the eighth round. The fact of the matter is, he may be an impressive boxer, but he's outmatched in virtually every category against Pacquiao.
Pacquiao is faster, stronger and is a one-of-a-kind boxer. Boxers like Pacquiao come around once in a blue moon. His combinations will prove to overwhelm Bradley down the stretch.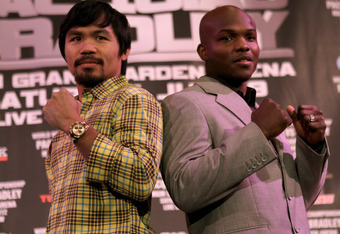 Stephen Dunn/Getty Images
Now, it must be said that Pacquiao hasn't been dominant in his past two fights. He was expected to pick the older Shane Mosley apart last May, but he didn't do anything particularly earth-shattering. Against Juan Manuel Marquez, you could make the case that he lost that bout.
But the fact of the matter is, Marquez was always a boxer who gave Pacquiao trouble. Just because Pacquiao didn't assert his dominance against Marquez, doesn't mean he's necessarily in free-fall mode. Marquez is a longtime rival who fared far better against Pacquiao than most boxers.
In that sense, Pacquiao is still head and shoulders above anyone else not named Floyd Mayweather Jr. It's still he and Mayweather, and then everybody else. He's incredibly skilled, and his warrior's mentality makes him virtually impossible to beat.
I would like to think Bradley will test Pacquiao like Cotto tested Mayweather, but he's not the warrior Cotto is and he's vastly overmatched against the eight-division world champion.
If Pacquiao doesn't run away with this one, I'd be shocked.
Follow me on Twitter. We can talk about boxing together.