Philadelphia Phillies: Cole Hamels' Next Contract Will Have Plenty of 0's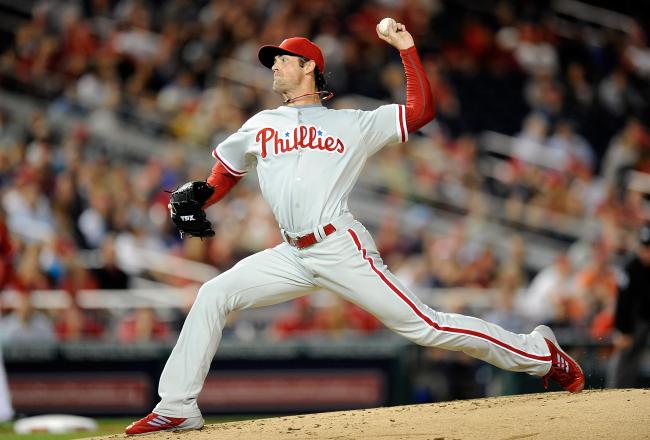 Greg Fiume/Getty Images
Cole Hamels is one of the top five pitchers in the National League, and he is one of the top four left-handed starters in the game today (with Clayton Kershaw, Cliff Lee and CC Sabathia).
With a World Series MVP award and an expiring contract, Hamels is doing everything right to make his next paycheck as big as it can be.
When the San Diego native becomes a free agent this offseason, teams will line up to bid for his services. He will be smart to test the waters, as the Dodgers, Cubs and others will have the resources and aggressiveness to drive up his price.
And other teams will be able to drive the price far beyond what he would get if he had extended with Philadelphia, especially if that extension had come during Spring Training when negotiations seemed to have the most momentum.
Every time Hamels has toed the rubber this season, he has shown why he will likely be made the highest paid lefty in baseball history. A pitcher who finished fifth in Cy Young voting last season, he looks much improved, and the numbers back it up.
He is 4-1 with a career best 2.45 ERA. He leads the National League with 44 strikeouts, and he has walked just six batters in 40.1 innings. His 7.33 SO/BB ratio is, also, the best in baseball, and his strikeout percentage (27.7 percent) and walk percentage (3.8 percent) are both career bests.
For a guy with an already accomplished career, posting career numbers is a big deal.
Sunday night, on national television, Hamels befuddled the division leading Washington Nationals, surrendering one run on five hits and striking out eight in eight innings.
Who will sign Cole Hamels next offseason?
But you had to look at the "HBP" part of the box score to see where Hamels made the biggest statement—a statement, I think, answered as many questions as his dominant performance.
Nationals' GM Mike Rizzo can say whatever he wants. So, too, can Curt Schilling, and Stephen A. Smith and whoever else wants to pick on Hamels for drilling Bryce Harper.
Hamels—not only throwing at the phenom, but doing it as brashly and matter-of-factly as he did—was a welcome sight to fans sick of hearing about the Nationals and their young star.
It goes even beyond that, though, for people who have been around this team and paid close attention to them since Hamels joined the big club.
He has earned labels of aloof and nonchalant in this city, for his relaxed attitude on the mound, his off-field demeanor and some of the questionable things which he has said in the past.
Following Game 3 of the 2009 World Series, Hamels had one of those questionable slips of the tongue.
"I can't wait for [the season] to end," he said after he was pounded by the New York Yankees.
Things like that can really irritate fans. What's more, it can give a guy a label that might not be fair, as it's based on a quote uttered out of frustration.
Channeling your inner Bob Gibson is a good way to convince the baseball world that you are committed to both competing and winning. For someone like Hamels—who, at times, looks to just be going through the motions—making a statement of a competitor means a lot to the perception about him.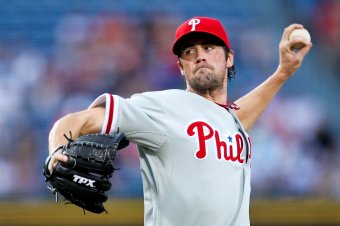 Daniel Shirey/Getty Images
To me, throwing at the former top overall pick and claiming it the way he did just screams, "I don't care who you think you are, but this is my division. And when you're in the box against me, you're in my world, kid."
That kind of action is important in making a name for yourself as a force on the mound—someone to be feared. It's something Hamels has never had.
Do you think Theo Epstein and Brain Cashman would get in a bidding war over a guy with questions about his competitiveness? Or would the Dodgers and Red Sox shell out big bucks for a man who doesn't always stand his ground?
Hamels has done a lot this year to maximize his value as a pitcher. But what he did Sunday maximized his value as a baseball player.
This article is
What is the duplicate article?
Why is this article offensive?
Where is this article plagiarized from?
Why is this article poorly edited?

Philadelphia Phillies: Like this team?