20 Best Matchmaking Moments of Joe Silva's Career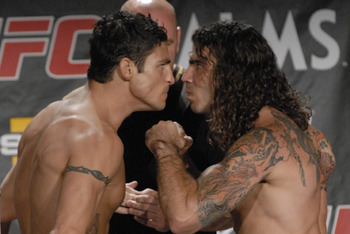 Sherdog
The UFC has created one memory after another for MMA fans over the years, and a lot of credit is due to UFC matchmaker Joe Silva.
Silva is simply brilliant. Scouting the world for talent, he always seems to make the right fights at the right times. Styles make fights, and Silva always seems to match-up two compelling styles to give fans a show they won't soon forget.
Whether it's matching-up two elite strikers, two legends, two ground specialists or just an all around compelling fight, Silva has delivered time and time again.
This is his best handy work over the years.
20. Roger Huerta vs. Leonard Garcia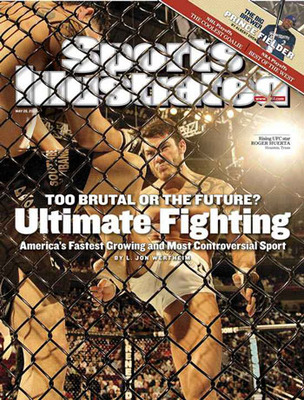 The fight between Roger Huerta and Leonard Garcia at UFC 69 was so great that it made the front cover of Sports Illustrated.
The highly-acclaimed magazine was there for the Matt Serra and Georges St-Pierre main event, but it was the war that Huerta and Garcia put on that led them to change their cover art.
All too often in the UFC, fights on the undercard overshadow the main event fights, and it's because of Silva's knowledge of fighters' styles. Silva did it once again with this clash.
19. Edson Barboza vs. Anthony Njokuani
Edson Barboza's spinning wheel kick knockout against Terry Etim wasn't the first time he landed that kick cleanly inside the Octagon.
He first landed it in a fight against Anthony Njokuani during the prelims for UFC 128, but it didn't have the same effect it had on Etim in the video embedded on this slide.
As for the fight itself, it was a beautiful display of Muay Thai. Two of the better strikers at lightweight went toe-to-toe, and the fight delivered exactly what fans envisioned it would.
Better yet, it turned out to be exactly what Silva envisioned.
18. Nick Diaz vs. Diego Sanchez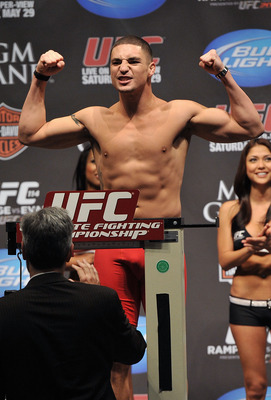 Jon Kopaloff/Getty Images
Matching-up fighters like Diego Sanchez and Nick Diaz is kind of a no-brainer.
These guys are two of the most entertaining fighters in MMA history, so who in their right mind wouldn't want to see this fight? Still, you have to give Silva and the UFC props for putting it together.
The best part of this fight was when they hit the ground and went from one transition after another. It showcased just how exciting jiu-jitsu could be to watch on cable television in 2005.
17. Wanderlei Silva vs. Quinton "Rampage" Jackson III
Though Wanderlei Silva had a grip on his series with Quinton "Rampage" Jackson, fans still wanted to see them go at it one more time.
Thanks to the "matchmaking extraordinaire" fans would get to relive those first two classics at UFC 92 in an all out grudge match.
Already holding two victories over Jackson, Wanderlei entered the bout with a mental edge over Rampage. But that didn't matter. Jackson would win this fight in the first round with one of the most vicious knockouts of his career.
16. Junior Dos Santos vs. Gilbert Yvel
If you're going to bring a striker into the UFC, match him up against another stand-up fighter in his debut.
That's exactly what the UFC did with Gilbert Yvel when they had him fight Junior dos Santos at UFC 108. This was pure genius.
Matching-up two quality strikers who are willing to engage is a recipe for excitement, and no matter who wins, they're going to be carrying a lot of momentum. That turned out to be the case for dos Santos as he won via technical knockout in the first round and is now your heavyweight champion.
15. Rampage Jackson vs. Dan Henderson
The stars aligned at UFC 75, and every hardcore fan was overly excited about the possibility of seeing champion vs. champion.
After recently becoming the new UFC light heavyweight champion, Jackson was going to defend his title against the Pride champion Dan Henderson.
Both fighters are strong wrestlers with tremendous power and granite chins, so an all out brawl was pretty much guaranteed. It was a great fight, and Jackson unified the belts with his decision victory.
14. Matt Hughes vs. Royce Gracie
At the time, this fight was monumental.
You had a legend in Royce Gracie who paved the way for every MMA fighter, and you had another legend in Matt Hughes who looked absolutely unbeatable at welterweight.
Silva and UFC president Dana White worked their magic, and they were able to put together a blockbuster-type main event at UFC 60. Hughes dominated the fight and finished Gracie in the first round, which let fans know that this sport has evolved.
13. Forrest Griffin vs. Tito Ortiz
The whole idea of matching up Forrest Griffin with Tito Ortiz and calling UFC 59 "Reality Check" was superb.
Griffin was riding high off of three straight UFC wins, including his brutal war with Stephan Bonnar in the Ultimate Fighter Finale, while Ortiz was recognized as one of the best fighters in the world.
You had a striker facing a powerful wrestler, and more importantly, you had everyone on the edge of their seat wondering if Griffin was good enough to hang with the elite of the division. Though he lost a close decision, Griffin answered those questions with a resounding yes.
12. Pat Barry vs. Mirko Cro Cop
There's just something about knowing where a fight will take place.
As unpredictable as MMA can be, you never truly know. But fans knew they would see a lot of great stand-up action between Mirko Cro Cop and Pat Barry at UFC 115.
Both fighters are fantastic kickboxers, and considering that Cro Cop was Barry's idol, the matchup couldn't have been any more appetizing.
Unfortunately, this fight would hit the ground because Barry broke his hand and foot in the bout, which backs up my statement about the unpredictable aspect of MMA.
11. Sam Stout vs. Spencer Fisher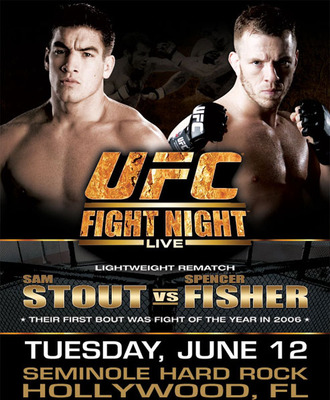 If you've never seen either of the Sam Stout/Spencer Fisher fights, then you don't know what you're missing.
Both fighters have always been around the middle echelon of the lightweight division, but they usually have entertaining fights.
Silva decided to match these two together on a fight night card in 2007 that saw Fisher and Stout tear the house down.
10. Chuck Liddell vs. Randy Couture
The UFC couldn't make the dream fight between Chuck Liddell and Tito Ortiz at this time, so Silva did something even better.
Silva matched up Liddell with one of the greatest fighters of all time, Randy Couture, and he set up a fight between the two at UFC 43 for the interim championship belt.
At the time Liddell looked unstoppable, but Couture's wrestling and fool-proof game plan allowed him to dominate the fight and stop Liddell in the third round with some ground-and-pound.
9. Wanderlei Silva vs. Cung Le
When fights are first announced, I like to picture Joe's face as he puts the fight together. For certain fights that have about a one percent chance of not being a barn-burner, I imagine him grinning from ear-to-ear and saying "wait 'til they get a load of this."
This is exactly what I was imagining when Wanderlei vs. Cung Le was announced for UFC 139.
The fight didn't disappoint, either. Both men engaged in a technical brawl that lead to Wanderlei stopping Le in the second round with a brutal knee followed by punches.
8. Forrest Griffin vs. Shogun Rua
I have to admit that I thought matching up Griffin with Mauricio "Shogun" Rua was a bad idea at the time.
Rua was a killer and one of the best fighters in the world, while Griffin was more of an underdog-type fighter. Obviously, Silva knew something that I didn't know.
When this fight went down at UFC 76, Griffin surprised everyone and pulled off a rear-naked choke in the third round to upset Rua.
7. Nate Diaz vs. Donald Cerrone
You know those fights that are announced months ahead that you simply can't wait to see?
The fights that build excitement the second they're announced and waiting for them feels like waiting for Christmas Day as a kid. That's how I felt when Nate Diaz and Donald Cerrone were announced for UFC 141.
Diaz and Cerrone are fighter's fighters—if that makes any sense.
They are highly-respected by their peers for their willingness to go out there, bring the fight to their opponent and try to force a stoppage. When it was all said and done, this fight would go to a decision, but the fight was action-packed.
6. Joe Stevenson vs. George Sotiropoulos
When you look at Joe Stevenson and George Sotiropoulos on paper, you wouldn't think it to be an overly exciting bout.
That obviously wasn't the case at UFC 110, which gives me reason to believe Silva's matchmaking abilities are unparalleled. What ensued between Sotiropoulos and Stevenson was a clinic on the ground.
Making transition after transition on the ground, both guys showcased beautiful jiu-jitsu. It's one of the better fights you'll ever see taking place on the ground.
5. Clay Guida vs. Roger Huerta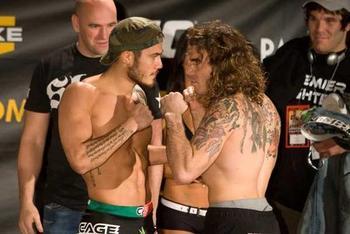 Roger Huerta vs. Clay Guida is one of the greatest UFC fight night main events in history.
Guida and Huerta are both well-rounded fighters who went at it for nearly three full rounds. Guida controlled the bout and was winning the fight up until a minute was left.
That's when Huerta treated the fans with a brilliant comeback.
Huerta turned the tide, took Guida's back and forced him to tap out via rear-naked choke. Because Huerta would go on to leave the UFC, Silva was unable to schedule a rematch between the two, but hopefully some day down the road these two men will cross paths again.
4. Chris Leben vs. Wanderlei Silva
Just in case you haven't noticed, matching up "The Axe Murderer" with another great striker is obviously the way to go.
Wanderlei is beloved by so many fans for his epic wars in Pride. Knowing this, Joe capitalized by putting him in great fights in the UFC.
So when the UFC announced that Wanderlei would fight a fighter who shares his same brawling mentality, fans had reason to get excited.
The fight wouldn't last long, though. Wanderlei came charging in against Chris Leben, and Leben put him down in 27 seconds.
3. Chuck Liddell vs. Wanderlei Silva
Thank the good Lord above that this fight finally took place.
For years, fans debated back-and-forth about which light heavyweight champion was better—Chuck Liddell or Wanderlei Silva? Fast forward and both fighters are getting out of their prime, and it's do or die for this fight.
I'm happy to say that at UFC 79, the UFC made it happen. It was one of the best fights in the company's history.
The fight turned into a slugfest and both men had their moments.
Late is better than never, and this fight was worth the wait.
2. Dan Henderson vs. Mauricio "Shogun" Rua
Kudos to Silva for finally putting together Dan Henderson vs. Mauricio "Shogun" Rua.
It's a fight that long-time MMA fans have yearned for, and at UFC 139, the two legends finally faced off.
What followed their stare down that night was something magical. Henderson and Rua went toe-to-toe in a back-and-forth war for the ages. It was the greatest fight in UFC history, and such an event wouldn't have taken place, if it weren't for Silva putting this whole thing together.
1. Clay Guida vs. Diego Sanchez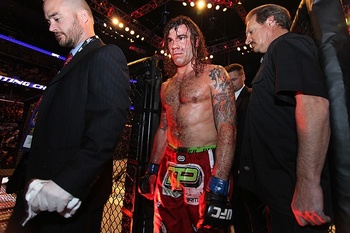 Dave Mandel (sherdog)
This is Silva's masterpiece.
Making Sanchez and Guida fight in the Octagon is basically the same as putting two pitbulls in a cage and locking the door.
Those dogs are going to go for each other's throat in a relentless fashion, and that's exactly what Guida and Sanchez did against one another. I never will forget the first minute of that fight when both fighters were throwing countless hay-makers and beating the crap out of each other.
Silva's made a lot of great matches in his day, but this turned out to be the most compelling of all.
Keep Reading