John Cena: WWE Has Plenty of Options with John Laurinaitis and Lord Tensai Feud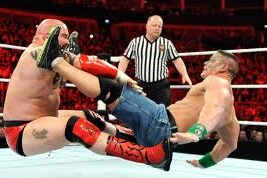 Photo via wwe.sify.com

The WWE needed to build John Cena back up after a month of getting crushed, and the first step was beating Brock Lesnar. The next step is John Laurinaitis and Lord Tensai.
The very end of last week's episode of Monday Night Raw gave us a brief glimpse of what's to come, and you can expect it to be fleshed out in much greater detail over the next two weeks, starting tonight. Last week, Laurinaitis and Tensai absolutely pummeled Cena and his injured shoulder in one of the more brutal beatings WWE has given us in a while.
Payback of some sort is in order. WWE.com is telling fans it's going to be Cena vs. Laurinaitis later this month at Over the Limit.
Obviously, Laurinaitis isn't going to be the guy wrestling Cena at Over the Limit for any extended amount of time, but he can provide the mic work. When it comes down to it, that's all the raspy villain can provide for the company. He'll handle the promoting and trash-talking portion of this feud.
The actual wrestling will be completed by Lord Tensai, the big monster that apparently is unable to speak. He communicates in grunts, and that's about it.
It's all set up for a month-long feud that can take plenty of turns. Maybe Laurinaitis actually does get in the ring for a bit, with Tensai there to help him out in a tag team-like situation. Or how about a handicap match where Cena is forced to take on both of them at the same time?
Laurinaitis is the hype man that may get in a few more cheap shots over the coming weeks, but ultimately it will be Cena vs. the rather new Tensai character that WWE is clearly putting on the fast track to superstardom.
Laurinaitis has made it clear that he doesn't want Cena to be the face of WWE, and beating him in some fashion will surely prove his point. One loss, and Cena recaptures his spot as the face of the sport.
Cena will win at Over the Limit and complete his comeback as the best wrestler in today's WWE. Tensai will get his first PPV match against the premiere wrestler in the sport and widen his fanbase.
It's a win-win all the way around and another example of how the WWE is always looking ahead to further enhance the sport.
Consider it mission accomplished.
This article is
What is the duplicate article?
Why is this article offensive?
Where is this article plagiarized from?
Why is this article poorly edited?