New York Rangers: 10 Most Important Factors in Stopping the Capitals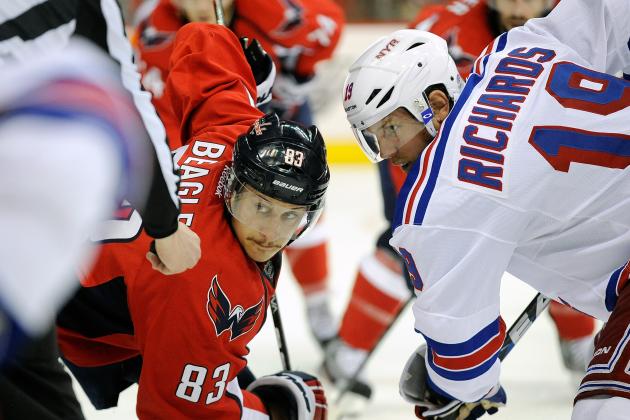 Greg Fiume/Getty Images

The New York Rangers and Washington Capitals series has been a true nail biter, but it sure makes for some great hockey.
That and the fact that unlike many of the other series (especially within the first round) the two teams have been playing very clean.
The Rangers and Capitals seem to be pretty well matched, making it difficult to predict the outcome from game to game.
For the Rangers to progress to the Eastern Conference Finals, there are 10 ways that I believe they can achieve this goal and beat out their tough opponents.
Begin Slideshow

»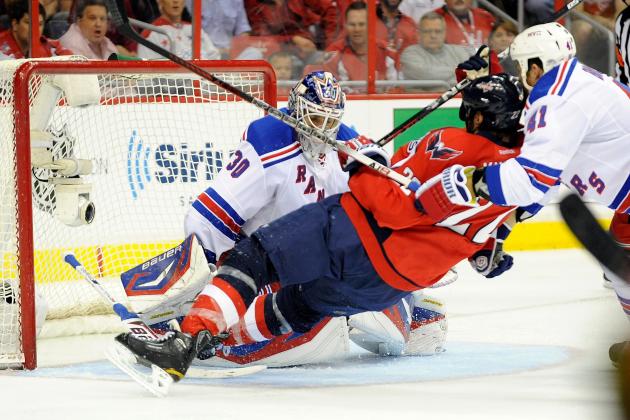 Greg Fiume/Getty Images

Rangers goaltender Henrik Lundqvist has been phenomenal all season, as well as the postseason, which is why he is a finalist for both the Vezina and Hart trophies.
That being said, however, his teammates need to get back to their shotblocking tactics, which has been such a strong point for them all season and not allow the Capitals to dominate them in this area.
In Saturday's Game 4 loss to the Capitals, the Rangers blocked seven shots to the Capitals 26. That is not what we are used to seeing from the Blueshirts.
While the two teams have similar mentalities when it comes to their defensive play and style of coaching, the Rangers have been allowing the Capitals to beat them at their own game.
In Game 5, even Ovechkin was buying into the system and blocking shots with his body, (which is one reason why we have been seeing more ice time from him).
As of Game 5, the Rangers appear to have regrouped and focused more on this area which has proved so beneficial to their success all regular season, because it is a key component in denying the Capitals a chance to score on them.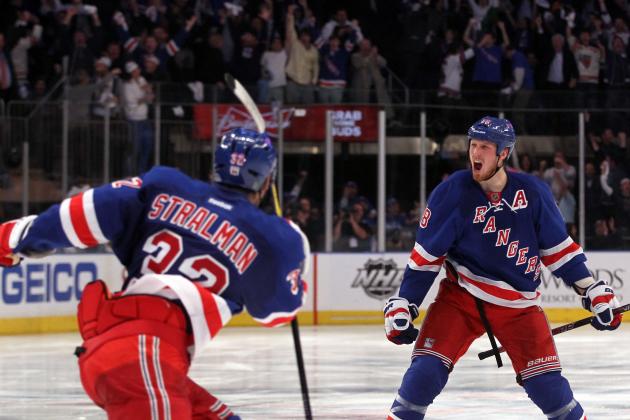 Bruce Bennett/Getty Images

This point is crucial to the New York Rangers, because they cannot afford to take stupid penalties and give the Capitals a shift in momentum.
While the Rangers have one of the best penalty kills in the league, it still is very risky to give the opposing team the advantage of an extra player and it cost them Game 4 on Saturday afternoon.
Rangers rookie Carl Hagelin received a slashing penalty with just under six minutes to play in the third period.
Capitals defenseman Mike Green was left wide open for a shot on Rangers goaltender Henrik Lundqvist, scoring on the power play and basically handing the game over to the Capitals.
Also in Game 2, Brad Richards had received a holding penalty late in the third period, which Capitals captain Alexander Ovechkin capitalized on, also cost them that game.
These type of calls (especially so late in a game) end up being the deciding factor in who wins.
If the Rangers could have avoided getting this type of unnecessary penalty at such a pivotal point in the game, they would have had the opportunity to score a goal of their own and/or take it in to overtime.
Mistakes like these are how games are won in such a tight series, so they need to be much better about staying out of the sin bin at all costs.
A perfect example of how easily a penalty can sway the game was in Game 5 Monday night when the Capitals Joel Ward took a double minor for a high-sticking call on Carl Hagelin with 22 seconds left in regulation.
Brad Richards saved the day for the Rangers and scored on the power play with 6.6 seconds left in regulation to tie the game 2-2 and then just 1:35 into overtime Marc Staal scored again on the same power play to win the game 3-2.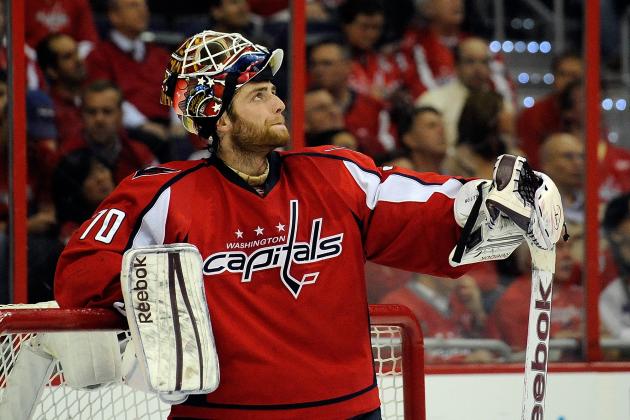 Patrick McDermott/Getty Images

Capitals goaltender Braden Holtby has been playing well for his team, but he is nothing compared to Rangers netminder King Henrik.
The Rangers aren't getting the shots on goal they need to score on Holtby, because the Capitals are given them a taste of their own medicine with shot blocking.
In a Larry Brooks article in the New York Post from Monday May 7th, he pointed out the obvious that,
"The Rangers will have to find a way around the Caps' bodies. You would think that a team so reliant on blocking shots would be able to come up with an antidote to the tactic, but not yet, the Blueshirts too unable to get the puck through when attempting to play against the equivalent of three goaltenders, and most noticeably so on the power play."
The Rangers only had 20 shots on goal in Game 4. That is clearly not generating enough offensively to win a game and they need to improve upon that stat and quickly.
The more shots they take on the young Holtby, the better their chances that they will score a goal.
And, the quicker they get their shots off, the less prepared he will be for their attack.
In Game 5 Monday night, the Rangers seemed to fix this problem and look how well it worked out for them?
They outshot the Capitals 38-18 and had 17 shots in the first period alone (the most by either team in the series thus far).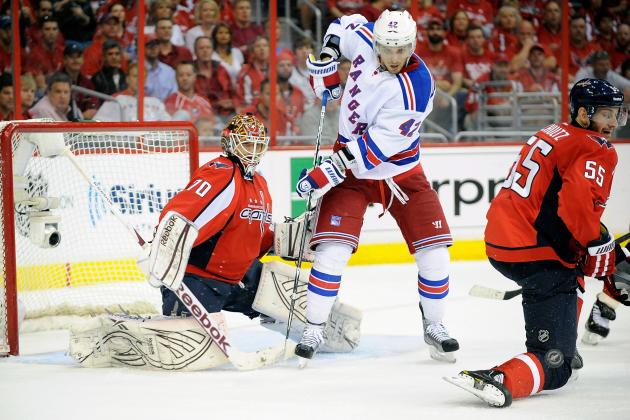 Greg Fiume/Getty Images

Taking more shots on goal, however, isn't enough. The Rangers need to capitalize on the rebounds, because that is where they will get their best opportunities.
Holtby has simply had to stop most initial attempts on net (which are often directed right into his pads).
The Rangers will not and haven't scored goals that way. What they need to do is to get aggressive and act quickly after the first shot attempt and attack right back with a rebound.
If they do this, they will get into Holtby's head and get the one-up on him and the Capitals, but they have really struggled with getting the rebounds in this series.
In a NHL.com article written by Dan Rosen on Sunday, he commented that,
"Save for a few, the 111 shots that have gotten through to Holtby haven't been all that dangerous."
That needs to change and getting rebound chances are a good place to start.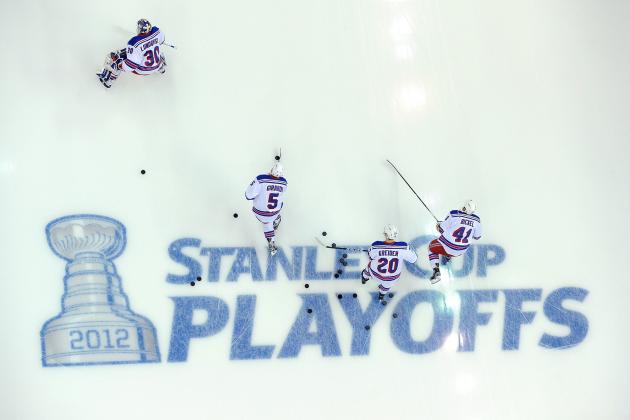 Greg Fiume/Getty Images

The fancy passes and plays are great and all for show, but keeping things simple (particularly against a team like the Capitals) is a true secret for success.
If the Rangers can hit hard, be aggressive and get the shots on net (all components to keeping the game simple), they can beat the Capitals and any other team in the league.
That has been a key strategy for the Rangers all season and when they adhere to it, they win.
The best advice that Rangers head coach gave to Chris Kreider when he debuted last round in the playoffs was to remember to just play hockey and keep it simple.
That advice incidentally works just as well for a rookie as it does for a veteran.
If the Rangers can employ this tactic (simple as it sounds), they can dominate the Capitals.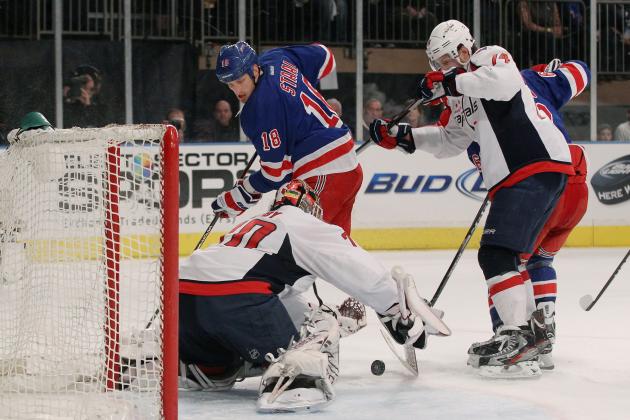 Bruce Bennett/Getty Images

In another article by Larry Brooks of the New York Post, he quoted Brad Richards after Game 4 stating:
"We're getting a good number of attempts, but they're blocking a lot and we're missing the net."
From that same article Rangers defenseman Marc Staal also commented about the need to crash the net more saying:
"I think we can always get more shots, more traffic, things like that. I think we need to get in the goalie's face more."
I couldn't agree with either of them more. They know what they need to do, so just go out there and do it for God's sakes.
If they crash Holtby's net, he will crumble. They just need to intimidate him, because he lacks the finesse and polish of a veteran goaltender.
Look at Game 1 for example when the Rangers won 3-1.
They totally psyched Holtby be out to the point where the NHL commentators on NBC Sports were questioning if he would be put back in goal for Game 2.
By planting a seed of doubt in Holtby's head, they will soar this series and they proved how well that can work for them in Monday night's Game 5 match-up.
The Rangers planted that very seed with 6.6 seconds left in the game, leaving the Capitals deflated going into overtime and scratching their heads as to how they blew the win.
Then, they were able to score on Holtby again with just under two minutes played in overtime.
Holtby had been resilient for most of the game, but crumbled when the pressure really came on.
This is an important lesson to learn from and utilize going into Game 6 on Wednesday night.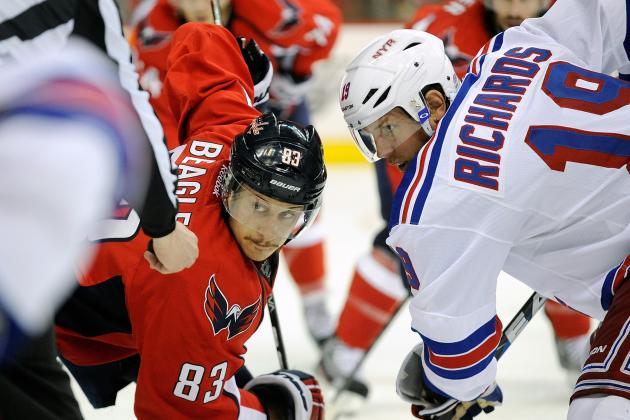 Greg Fiume/Getty Images

This may seem like a very obvious point, but winning the face-off means winning puck possession and when you do that, you can control the mood and tempo of the game.
When the Rangers have possession of the puck, they can create opportunities and vice versa.
It can mean the difference between scoring a goal and getting scored against and it can also determine the win.
The Rangers have struggled however on two counts this season. First, on the power play and second in face-off wins.
It is a huge boost to have Brian Boyle back in the lineup the last few games, because he is one of their go-to guys on the face-off.
Brandon Dubinsky is another, but he has yet to play in this series against the Capitals.
In Game 1 without either Boyle or Dubinsky, the Rangers won 26 face-offs and lost 24.
The Capitals also happen to be very strong on the face-offs, so if the Rangers can take that away from them, they are at a huge advantage.
A shining example of how important winning the face-off is was during Monday night's Game 5 overtime.
Rangers' John Mitchell won the face-off in the Capitals zone, caused a perfect pass to defenseman Marc Staal the result was the game winning goal.
I couldn't agree more with Ron Duguay in the postgame when he said that "face-offs win games".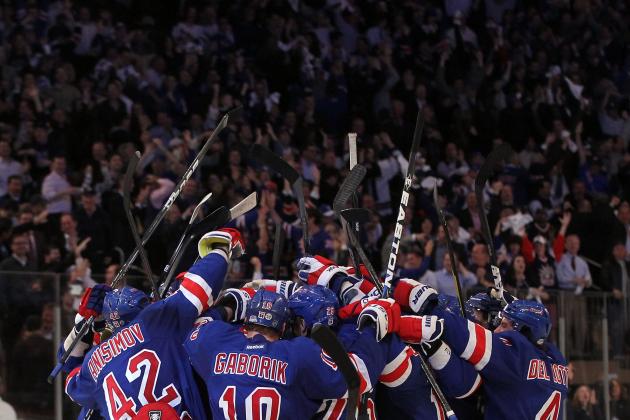 Bruce Bennett/Getty Images

According to Game 5's pregame notes on the New York Rangers official website,
"The Rangers did not tally a goal in two power play attempts in Game 4, and are now 7-for-45 (15.6 percent) in 11 playoff contest."
While this series may not be seeing as many penalties as the prior one, the few chances the Rangers do get on the power play they have to score on-plain and simple.
They truly don't have the luxury to do otherwise.
Also scoring on the power play gives the Rangers team that much needed boost going forward in the game (especially considering they have had such trouble in that area all year).
They have to create chances, particularly when they have the extra manpower, because it is a tight scoring series and they have to use whatever opportunities they can to get ahead.
And create chances they did Monday night in Game 5 when a desperate Rangers team were given 22 seconds and a double minor high-sticking gift of a penalty on Capitals Ward that led them to score, not once, but twice on the power play.
If they can create those kind of offensive opportunities during every power play opportunity, they make themselves an ever more lethal opponent then they already are.
That never give up mentality needs to be employed all throughout the game and not just at the most desperate of times.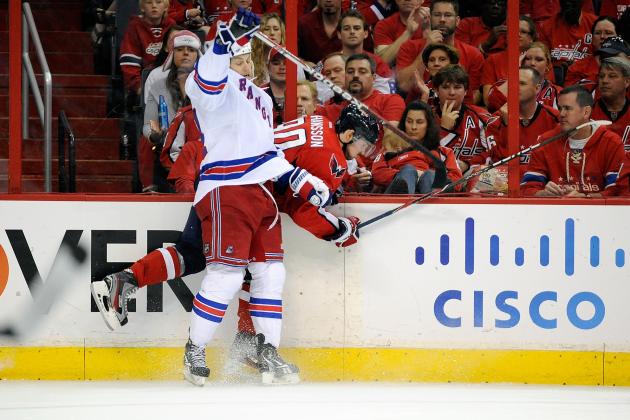 Greg Fiume/Getty Images

This is one area that has been especially notable against the Washington Capitals.
The Rangers are a very aggressive, but clean team and they aren't afraid to pound their opponents on the forecheck. In fact, it is kind of one of their signature traits.
I think the Rangers have even upped their game in this department since heading into the playoffs and is one of the main reasons they defeated the Ottawa Senators in the first round.
Additionally the Rangers outhit the Capitals in both Game 1 (35 to their 28) and in Game 2 (45 to their 35).
In a Washington Post article written by Katie Carrera on May 2nd she noted that,
"The Capitals' defensemen have become quickly reacquainted with New York's punishing style and the physical repercussions of failing to make quick, smart decisions with the puck."
This style of play is very different for the Capitals and the Rangers need to employ it more in the latter part of this series if they want to continue to progress in the postseason.
Another quote from the same Washington Post article sums it up for the Rangers forecheck by stating,
"If Washington had clear possession of the puck in their own end, New York attacks like a pack of rabid dogs. The Rangers will consistently bring two forecheckers down on Washington's defensemen, while their blueliners will pinch and cut off the options to send a pass to the wingers."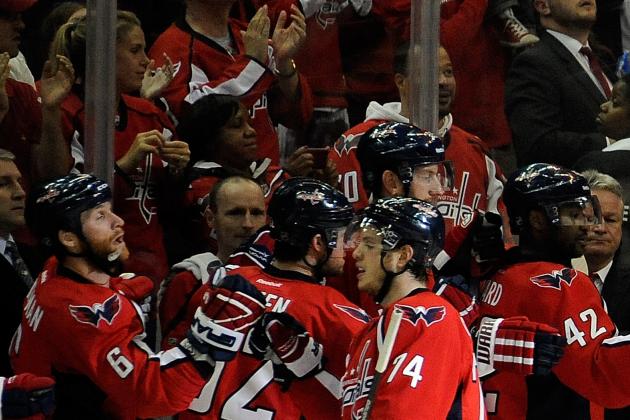 Patrick McDermott/Getty Images

This has been most noticeable in the last few games (and is where the Capitals have created scoring opportunities for themselves).
The Rangers cannot allow this to happen, because it is how they are losing games in the series.
I hate to bring up this goal again, but late in the third period of Game 4, Rangers captain Ryan Callahan was knocked down along the boards, Capitals defenseman Dennis Wideman seized the puck and passed it to a wide-open Green (who scored a slapshot past Lundqvist and won the game doing so).
When the post game commentators broke down the goal afterwards, you could see how out of position all the Rangers players on the ice were, giving Green a clear shot to an undefended Lundqvist.
Lundqvist is an excellent goaltender, but it is the defensemans' job to protect him and if they are out of position, these kinds of blunders will continue to happen.
The Rangers need to play a little smarter and hold their positions, so as to avoid this type of mishap.