10 Most Intriguing Players in Pac-12 Conference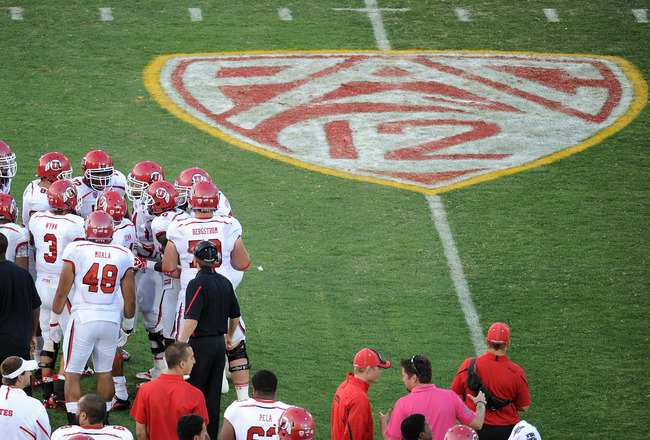 Harry How/Getty Images
The talking heads all agree that the Pac-12 Conference is all about Oregon and USC in 2012. I don't disagree with that assessment, but I do believe there are some very talented, interesting players on some of the other teams that might impact wins and losses this season.
Because football is a game of inches, and because the college game is played, in many cases, by teenagers, one kid having an outstanding or stinky game can make a difference in the entire season.
Here are some of the players in the Pac-12 that I find intriguing. I'm not saying these are the 10 best players in the Pac-12; rather, these players have the potential with their performance on any given Saturday to impact their team, their division and the national standings.
Whew! Talk about pressure.
No. 10: Marquess Wilson, Washington St.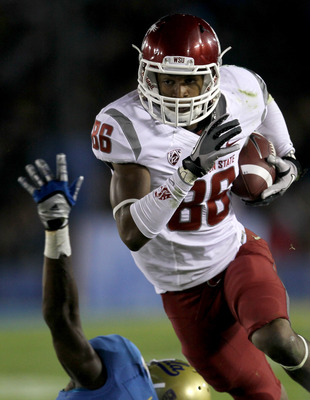 Stephen Dunn/Getty Images
If Marquess Wilson played for any other team in the Pac-12, you would all recognize his name. The 6'4" junior, however, plays in the Palouse and has not received the attention he deserves.
Wilson set Washington State's single-season records in 2011 with 82 receptions and 1,388 yards. He led the Pac-12 in total receiving yards in 2011 with 1,388—Robert Woods of USC had 1,292 total receiving yards.
What we don't know is who will be throwing to Wilson in 2012. New head coach Mike Leach is taking a hard look at both Jeff Tuel and Connor Halliday at the QB position.
What we do know is that Leach loves to air it out. If Wilson has an even stronger year than 2011 when he scored five TDs of more than 50-plus yards, he has the potential to put down some big, nasty plays on unsuspecting teams.
No. 9: Markus Wheaton, Oregon St.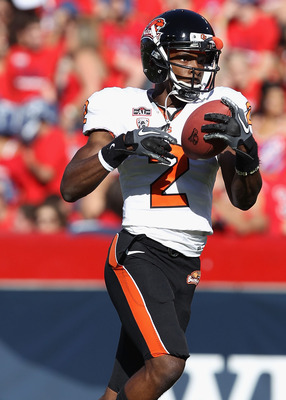 Christian Petersen/Getty Images
Markus Wheaton is a promising player for the Beavers to build around this year as they attempt to regroup. The senior wide receiver is probably the overall best athlete on OSU's squad, and one of the best in the Pac-12.
Wheaton will be the go-to target for Sean Mannion this year and I expect him to get a lot of action. The running back situation at OSU is still a question mark, and both Mannion and his competitor at the QB position, Cody Vaz, can sling the ball downfield.
If Mannion-to-Wheaton gets hot early in the year, there might be a game or two where the combo does some serious damage.
I hope like heck it's in the Wisconsin game.
No. 8: Cameron Marshall, Arizona St.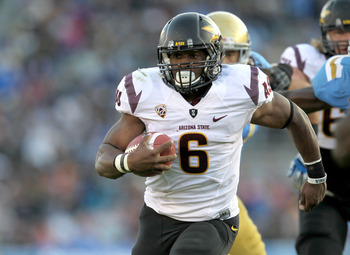 Stephen Dunn/Getty Images
Running back Cameron Marshall is one ornery Sun Devil for an offensive player. Not as unpleasant as the thank-God-he's-gone Vontaze Burfict, but still not a guy to mess with.
The USC Trojans found that out last September when Marshall burned them for 141 yards on 25 carries with three touchdowns as the Sun Devils beat the then-23rd-ranked Trojans.
With Brock Osweiler off to the NFL, look for Marshall to pick up even more of the slack offensively. Marshall's 18 rushing touchdowns in 2011 was second only to Oregon's LaMichael James and gave him ASU's single-season rushing TD record.
If ASU is to have any success as it rebuilds under a new coach, it will be on Marshall's back.
No. 7: Robert Woods, USC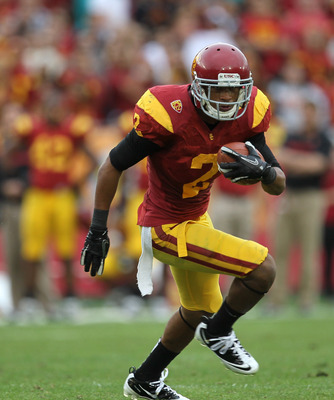 Stephen Dunn/Getty Images
Robert Woods is intriguing to me not because of his undeniable talent, but because of his surgically repaired right ankle.
Woods missed most of spring practice because that ankle was inflamed and not healing as fast as perhaps it should be.
So the question is, can Woods improve upon his 2011 stats (111 receptions for 1,292 yards and 15 touchdowns)?
Can he continue to be part of the 1-2 tandem with Marqise Lee on the other side, making it extremely difficult for opponents to cover?
If Woods goes down with an injury, USC is immediately more one-dimensional on the offensive side of the ball. If I were Matt Barkley, I'd show up at Woods' house every morning to help him ice his ankle.
No. 6: Keith Price, Washington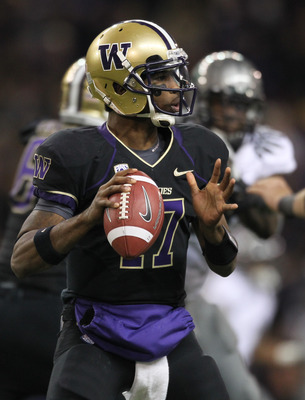 Otto Greule Jr/Getty Images
And while we're on the topic of injuries that could play a huge role, what's up with Keith Price's body?
After suffering through much of the 2011 season with nagging knee and ankle injuries, will we see a healthy Price in 2012?
At UW's spring game, Price looked lackluster, going 14-of-28, 168 yards and only one touchdown in a game won handily by the defense. Did he just have a bad day, a la Oregon's Bryan Bennett, or is there something more sinister at work here?
While everyone knows the Huskies must improve on defense this year if they want to play with the big boys, a healthy and productive Keith Price is absolutely essential to this team.
With the loss of Chris Polk, Price will need to be extra effective for the Dawgs to improve in 2012.
No. 5: John Boyett, Oregon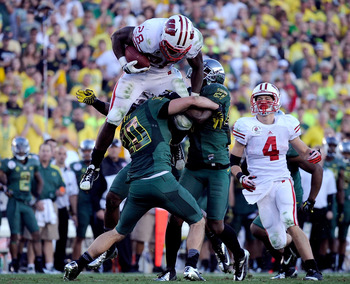 Kevork Djansezian/Getty Images
OK, so USC's Matt Barkley, Robert Woods and Marqise Lee are great. And Chip Kelly's Oregon teams are always loaded on offense. So what will be the difference in the game on Nov. 3?
It might be No. 20 on the green team, John Boyett (John Boyett for Heisman).
Senior free safety Boyett was the No. 1 tackler on the Ducks' team last year, and has been the No. 1 tackler two of the last three years. His game-high 17 tackles in the Rose Bowl may have been the difference for the Ducks.
The free safety is also a free spirit, much beloved by Duck fans. Many think Boyett will have an All-American year.
I think Boyett will make Barkley's life miserable and end his Heisman campaign on a probably balmy November night in L.A.
No. 4: John White IV, Utah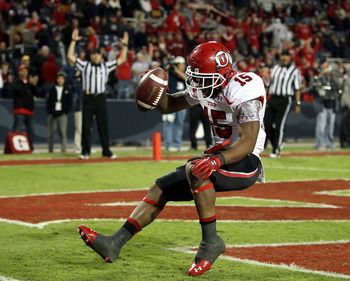 Christian Petersen/Getty Images
Who is this guy and why is he ranked so high on this list?
John White IV, Utah running back, was the second leading rusher in the Pac-12 in 2011, behind some guy named LaMichael James.
It kinda makes me wonder who John White I, II and III were.
Kevin Gemmell and Ted Miller on ESPN.com called White one of the most dynamic running backs in the Pac-12. The junior RB has a new offensive coordinator pushing him and a healthy QB in 2012.
Someone should tell him that LaMichael left.
No. 3: Stepfan Taylor, Stanford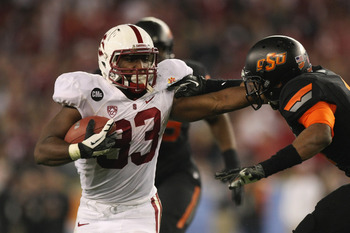 Donald Miralle/Getty Images
At a recent Bleacher Report writer's meet-up at the San Francisco headquarters, a local employee and long-time loyal Stanford fan took me aside and said: "Why the heck aren't you writing about Stepfan Taylor?"
Turns out he was right—why the heck haven't I written about Taylor? His stats are through-the-roof amazing. Could be we were all focused on that Luck guy and not paying attention.
Toby Gerhart, the former Stanford RB who is now playing with a little team in Minnesota, had a pretty good career at Stanford. Like Heisman candidate good. During his Stanford years, Gerhart rushed 671 times for 3,522 yards and 44 TDs.
Taylor enters his senior year at Stanford with 521 rushes for 2,770 yards and 27 TDs. He rushed 242 times for 1,330 yards and 10 TDs in 2011 alone. That's a 5.5-yard average, folks, while playing on the same team with the No. 1 QB pick in the NFL draft, who has been known to throw the occasional pass.
It is not inconceivable to think that Taylor will run even more on a Luck-less team. I see Taylor being the heart and soul of this team, and probably passing Gerhart's totals this year.
If teams want to stop Stanford, they will have to stop Stepfan Taylor.
No. 2: Matt Barkley, USC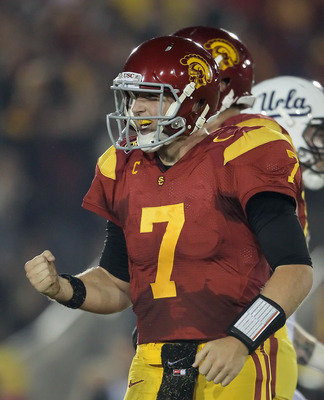 Jeff Gross/Getty Images
USC is loaded with talent in spite of its recent scholarship limits and will field a good, possibly great, team in 2012.
However, if Matt Barkley goes down, I don't like the Trojans' chances nearly as much, do you? Now, it could be that one of the other seven (!) QBs listed on the USC roster is a superstar waiting for his curtain call, but Barkley is the unquestioned leader of his team. He has the experience, the talent and, especially, the leadership qualities that separate the good from the great.
I'm intrigued because while we have all bought into Barkley's magic, he apparently struggled some in spring practice. If his halo slips even a little bit, the rest of the conference will begin to lick its lips.
No. 1: De'Anthony Thomas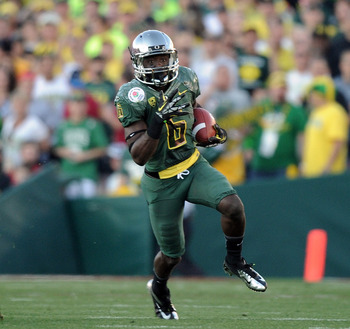 Harry How/Getty Images
What makes De'Anthony Thomas of Oregon the No. 1 most intriguing player in the Pac-12 is that we can hardly see him.
Thomas may very well be college football's fastest player. On the U of O's roster, even his bio photo is blurry, like he couldn't slow down long enough to get his picture taken.
I was at the 2012 Rose Bowl and was watching him when he took off on the Rose Bowl-record 91-yard touchdown run. Even though I was looking at him when he got the ball, he was still almost too fast to see.
As a freshman, Thomas was ranked 11th nationally in all-purpose yards with a 147.8 per game average. He was the only player in the country with 400 or more yards rushing, receiving and kick returning.
Thomas was the do-Offensive Freshman of the Year in the Pac-12. With Darron Thomas and LaMichael James gone, look for Thomas to really break out in 2012.
I'd better get new glasses.
Keep Reading

USC Football: Like this team?