WWE: Is Chris Jericho's Latest Run Ineffective Due to His Eventual Departure?
May 7, 2012

On the night following Survivor Series, vignettes began to air weekly on Monday Night Raw that featured a symbolic boy in a school, who was later joined by a girl claiming it was going to be the end of the world as we knew it. After weeks of anticipation, viewers had high hopes for the eventual blow-off, as well as the likely WWE return of Chris Jericho.
Sure enough, Jericho made his electric comeback on the premiere edition of Raw in 2012, parading around the ring before leaving in silence. This continued for weeks, before Jericho inevitably targeted CM Punk and his WWE Championship.
Although he claimed the Royal Rumble event would mark the "end of the world", he came up short in the main event against Sheamus. The losing trend continued at Elimination Chamber and later WrestleMania 28, where he was unsuccessful in capturing the prestigious prize.
That being said, many fans of the feud between the two icons believed that Jericho would finally retaliate at Extreme Rules and win the WWE title from Punk. Regardless, the Second City Saint still went over in his hometown of Chicago eight days ago, leaving Y2J and his character absolutely irrelevant.
Additionally, he was also unable to beat the clock on the subsequent edition of Raw in order to challenge Punk once again at Over the Limit. Given this loss, it remains unclear where this leaves Jericho going forward.
However, a report was released last week from Lordsofpain.net last week that indicated the inaugural Undisputed Champion will be leaving in the foreseeable future to fulfill his Fozzy commitments this upcoming summer. The statement read: 
It was announced early this week that Chris Jericho's heavy metal band will be performing on the upcoming Rockstar Uproar Tour, which takes place from August 15th through September 30th.

One of the tour dates is August 19th, the night of SummerSlam.

During a recent red carpet interview at the Revolver Golden Gods Awards, Jericho revealed that he'll be taking a break from WWE soon to tour with Fozzy this summer. 

While WWE's live events page still lists Chris Jericho on the SummerSlam preview page, it remains to be seen if he will appear on the card.

Jericho is not currently advertised for any shows (with the exception of SummerSlam) from August until the RAW Supershow on October 1st from the Chesapeake Energy Arena in Oklahoma City, OK. He is also advertised for the WWE overseas tour which starts in late October.

That said, there's a good chance that Chris Jericho will be written off prior to August 15th and eventually return to WWE full time this fall.
If the past has taught us anything, it's that the WWE has a tendency to book departing Superstars in a losing fashion. This was the case with CM Punk (before his mega-push), John Morrison last year, and even Jericho during his second tenure with the company in 2010.
Unless a possibly rivalry with former tag team partner Big Show comes to light tonight on Raw, I don't see much for Jericho to partake in before he takes another leave of absence. Personally, I think there's no better time than the present to have him feud with The Miz, who has also been feeling a bit obsolete as of late.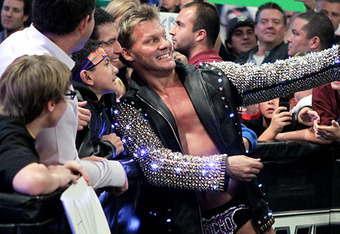 Upon his return to the company in January, there were initial beliefs that Chris Jericho would not be staying long due to his constant participation with Fozzy on the road and such. Could this have been the reason that Jericho has been booked so poorly in recent months?
In my opinion, I believe Jericho was only back to make Punk look good, which is a mindset most veterans of the business should have. It's been said that he met with Vince McMahon last August to plan this entire angle out, especially the finish with the Straightedge Superstar going over strong.
Of course, it irks me to see Jericho not come off as a legitimate threat to the title, but his pure entertainment value to the company is enough to keep him around and make him feel fresh. If the report is indeed accurate, we'll be seeing much more of Y2J when he returns this fall season after his gigs with Fozzy are done with for the time being.
Regardless as to when he'll be leaving the company for a third time, I've learned over the years as a wrestling fan to appreciate every appearance a Superstar makes before they're gone and you're regretting it later.
Do you believe Chris Jericho's latest WWE run fell flat due to his inevitable departure? Drop a comment below with your thoughts on the situation and what you believe the future holds for the nine-time Intercontinental Champion.
GSM out.
Listen to internet radio with Spoilerspodcast on Blog Talk Radio