Kentucky Derby Results: Power Ranking Preakness Favorites After the Derby
May 8, 2012
Rob Carr/Getty Images
The 2012 Kentucky Derby was one of the wildest in history, with I'll Have Another stealing the show late in the race. Now he has his sights on the 137th Preakness Stakes, Saturday May 19.
As if the 138th edition of the Derby wasn't enough for horse racing enthusiasts, we're already preparing for the second leg of the Triple Crown. The days are flying by!
While all eyes will be on I'll Have Another, the rest of the field will be running in what should be an even more wide open race than the Kentucky Derby. All of these factors make for one wild Saturday.
No. 1: Bodemeister
After a great start, Bodemeister had the 2012 Kentucky Derby locked up before I'll Have Another made the dream run down the backstretch.
While some may question Mike Smith's race, the horse just seemed to tire out in the last 300 yards and just couldn't finish. If Bodemeister can save enough in the tank for that last haul, there is no reason he can't steal the Preakness.
With legendary trainer Bob Baffert calming everyone down and keeping the situation light, there will be no residual effects from the second-place finish; the defeat will only breed success.
No. 2: I'll Have Another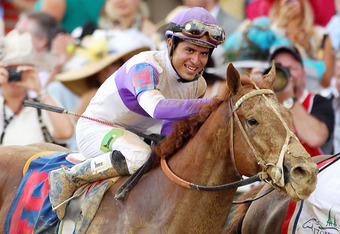 Andy Lyons/Getty Images
After another upset like we had last season with Animal Kingdom, I'll Have Another shocked Churchill Downs to become the only horse to ever win the Kentucky Derby from the 19th post.
I'll Have Another was a long shot at the Derby, but will come into the Preakness as one of the favorites. I will be interesting to see how the horse and jockey react to the added pressure.
While this horse is amazing, there are too many strong horses that could run perfect times for me to ride with I'll Have Another. As much as I want a Triple Crown winner, it won't be this year.
No. 3: Dullahan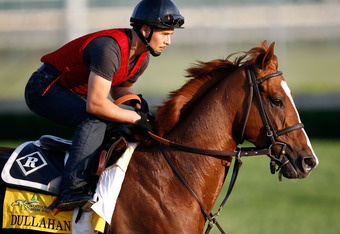 Rob Carr/Getty Images
After a surprising third-place finish at Churchill Downs, Dullahan could be the surprise horse to steal the spotlight at the Preakness.
Dullahan came from a very favorable post at No. 5, but he kept his momentum going and showed that he can be dangerous on the longer tracks.
With a wide open field this season, there is a good chance that Dullahan is another long shot in this race. While we don't condone gambling, if the odds get high enough on this horse it may be worth it.
Check back for more on Horse Racing as it comes, and check out Bleacher Report's Horse Racing Page to get your fill of all things from the ponies.