NBA Playoffs 2012: Why the Philadelphia 76ers Will Go Deep
May 7, 2012

Jonathan Daniel/Getty Images
With the 2012 NBA playoffs in full swing, there are several contenders that have fallen already in the first round.
That may have been enough to help clear the Philadelphia 76ers a path to the Eastern Conference Finals.
Once the Sixers knockoff the injury-plagued Chicago Bulls—whom they lead 3-1 in their first-round series—it will be time to turn their attention to the winner of the Atlanta Hawks vs. Boston Celtics series.
This is what makes them so good.
The Talent
With veteran stars like Andre Iguodala and Elton Brand giving big minutes through the heart of the game, the Sixers have mixed their veteran players in well with their young stars.
While Brand hasn't played as great as he can, Iguodala has been the stat stuffer that the team has come to depend on. Add in the stellar play of youngster Evan Turner and the starting lineup is as dangerous as they come.
If Philadelphia can get this trio going offensively, there is no stopping the Sixers.
Jonathan Daniel/Getty Images
Bench Depth
The reason the 76ers even made it to the postseason in the first place was because of the sheer depth and stellar play of their bench.
Every spot on the floor has three guys that could step in and play, but it's the play of Thaddeus Young and Lou Williams that will make or break Philadelphia.
Williams and Young have to find their rhythm offensively for the team to pull off the upset in the second round. The eighth-seeded Sixers have nothing to lose and enough depth to make life hard for whomever they play.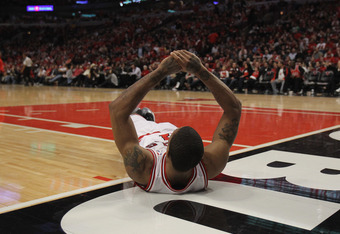 Jonathan Daniel/Getty Images
Players Roles are Defined
With the injury to Derrick Rose and Joakim Noah, the Bulls have regressed into a team that doesn't have clearly defined roles. Philadelphia's roles are very much defined and they will succeed because of this.
The scorers know who will be shooting and when while others focus on clamping down at the defensive end.
With everyone sticking to plan and doing a certain job, the Sixers could beat Boston.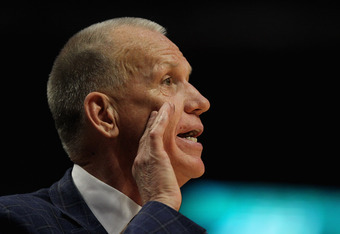 Jonathan Daniel/Getty Images
Doug Collins
Sixers head coach Doug Collins is an old-school basketball mind, and he believes first and foremost in playing smart team defense.
From that defense will come the team's offense.
When it comes to playing teams like Boston and Miami in the playoffs, a pressuring defense that leads to easy baskets is the style needed to achieve greatness.
While there is no doubt the Sixers can sustain the defensive pressure against the older Celtics, their ability to beat a team like the Heat in a seven-game series is being questioned by many.
Check back for more on the National Basketball Association as it comes, and check out Bleacher Report's NBA Page to get your fill of all things basketball.