Is NY Mets' Terry Collins Getting More out of Less Than Any Other Manager?
May 8, 2012

Nick Laham/Getty Images
The New York Mets have gotten off to a pleasantly surprising 16-13 start. Manager Terry Collins has the team sitting at third place in the National League East, three games behind the 18-10 Washington Nationals.
That begs the question, is Collins getting more out of less than any other manager?
In short, the answer is no. That honor would have to go to Buck Showalter of the Baltimore Orioles. Showalter has led his team to a 19-9 record, good for tops in the American League East. The "Fighting Showalters" have something interesting going on and it will be exciting to see how they fare in the next few months.
That leaves Collins as the second-best manager at getting the most out of less-than-All-Star players. That's a mouthful to say, I know,  The Mets cut their payroll from $134 million in 2010 to $119 million in 2011 and all the way down to $93 million this season.
Plenty of big-name guys have left for greener pastures. Jose Reyes is with the Miami Marlins. Carlos Beltran is leading the St. Louis Cardinals with seven home runs.
Even with those two players in 2011, the Mets could muster just a 12-17 record through 29 games in 2011.
Take a look at the Mets' lineup right now. It's not exactly Murderers' Row.
Ike Davis is hitting six percentage points higher (.173) than Mike Pelfrey did before we found out he needed season-ending Tommy John surgery. Davis was supposed to be the second coming of John Olerud but that vision has yet to be realized. He has a .276 slugging percentage. That's eight points lower than Josh Thole's average.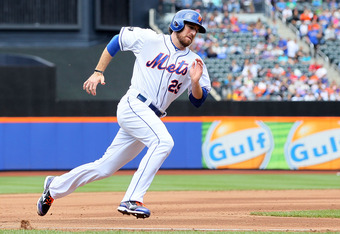 Jim McIsaac/Getty Images
Lucas Duda is hitting at a .236 clip this season, about 35 to 40 points lower (at least) than Collins thought he'd be hitting. However, he did put together a nice string of games at the end of April, registering 10 hits in 26 at-bats.
Jason Bay has found himself on the disabled list again,and was only hitting .240 before his rib injury.
Those three players are the reason why the Mets haven't gotten off to an even better start, but Davis and Duda should turn it around. I wish I could say the same for Bay, but he's a lost cause and will never return to his pre-New York form.
Let's move on to the positives and the serendipitous events that have led to the current situation of the Mets.
Torres' injury gave rookie Kirk Nieuwenhuis a chance to get regular playing time in center field. Bay got injured before Torres came back, giving Nieuwenhuis the opportunity to move over to left field upon Torres' return. The Flying Dutchman has become a fan favorite thanks to his ability to get on base and a reckless disposition in center field. He has a .370 on-base percentage and scored 13 runs, good for third on the team. His strikeout propensity is a cause for concern, but only time will tell if that is due to inexperience, lack of discipline or if it is here to stay.
Here's to hoping the Mets don't make a huge mistake and send him back to the minors. Ever.
One of the most relieving occurrences has been Ruben Tejada's ability to assume the starting shortstop role with great poise and success. He's hitting .305 through 105 at-bats. (Guess who's hitting .234? You guessed it, Jose Reyes is.) Tejada has 10 doubles, good for third in the majors, and has displayed his vacuum-like fielding skills at short through 29 games.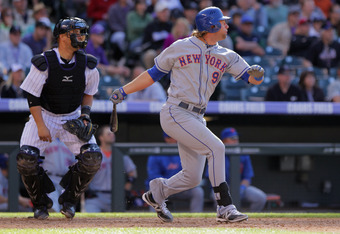 Doug Pensinger/Getty Images
Unfortunately, he fell victim to a strained quad, sustained during a nasty fall at first base.
Daniel Murphy has become one of my favorite players on the team since he came up in 2008. He's hitting .315, leads the team with 35 hits and hasn't missed a game. He's had some issues at second base—to say the least—but he's looked more comfortable at the position in the last few weeks, especially his double-play turn.
Thole, whom I seriously doubted when I first saw him in 2009, is rapping off singles at a .284 clip. He only has five extra-base hits but the crop of catchers in the MLB today sees a huge drop-off after the top-tier guys at the position. If he can continue to hit at that rate, the Mets will be in good shape with him in the lower third of their lineup.
And what if I told you the combined 2012 salary of Nieuwenhuis, Tejada, Murphy and Thole is under $2 million?
And what if I told you, that as of today, none of the Mets' starting position players will make more than $1 million this season (except David Wright and Torres, who has played in just seven games)?
Now that's economically sensible.
Collins has done an impressive job of connecting with his players. It was easy to tell this would be the fiery manager's method of operation as early as when Tejada didn't arrive to spring training early due to a visa issue.
Despite the above-.500 start, Collins said this the other day: "Let's be realistic here, this is a work in progress," Collins said. "Let's not get down. Let's stay positive. Let's continue to work."
He's honest and isn't afraid to address the team's issues in public, nor is he afraid to question the state of the team. He didn't come to the press and say he's happy with everyone's play. And he most certainly doesn't believe his team is anywhere near its collective potential.
He's the captain of this ship and the Mets will sail only as far as Collins will take them.
There's no way anyone can make an argument that Collins isn't getting more bang for his buck out of his players than any other manager (minus Showalter, of course).