Kentucky Derby 2012: Top Horses We Want to See Run in the Preakness
May 8, 2012
Rob Carr/Getty Images
We know I'll Have Another is going to be at Pimlico on Saturday, May 19th, but who else is going to join him?
The classic race at Pimlico is a 1/16th of a mile shorter than the Derby at Churchill Downs, and that means the faster horses, such as runner-up Bodemeister, are likely to run again.
So who do we want to see the most? Bodemeister is certainly atop the list, along with a few others.
Bodemeister
The near-winner of the Derby, Bode set a ridiculous pace out in front of the pack on Saturday and came up just short of holding on for an unprecedented gate-to-wire win in the Run for the Roses.
His pace was brutal, bordering on insanity even, but trainer Bob Baffert said that is the way the horse loves to run and he wasn't going to rein him in.
If he enters the race, he's likely to be the odds-on favorite. If he harnesses his speed just a bit more, he's likely to win too.
Hansen
This speedster disappointed at the Derby by finishing ninth, and it seems the distance was just a bit too much.
The Preakness is right up his alley though. He can fire out and run just off Bodemeister and work toward a good finish.
The juvenile champion is a solid bet on Preakness Day.
Dullahan
A solid third-place performance from Dullahan on Derby Day means he's likely going to run in the Preakness too.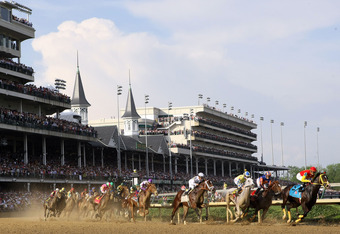 Elsa/Getty Images
He'll need to up his tempo earlier if he wants to catch the speedsters this time around, but he was a little bothered by the size of the field at Churchill Downs and could fair much better at Pimlico.
Creative Cause
Like Hansen, the Derby's distance was just a bit too much for this colt.
That said, he'll fair better at the shorter distance with a smaller field. He'll certainly be someone to keep an eye on should he draw a favorable post position.