The 20 Funniest Old School Athlete Commercials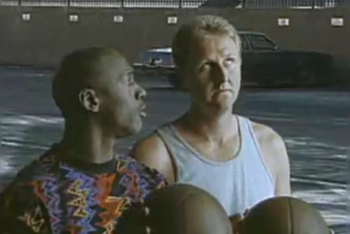 Image via sneakhype.com
Acting and athletics rarely go hand in hand. But that hasn't stopped many superstars from fashioning several fake smiles and singing figaro, figaro, figaro. Or perhaps spitting some lyrics about Nike shoes.
Either way they were fearless on camera, seemingly following one motto...Show me the money!

Old school athlete commercials often had a sitcom-esque flavor to them that reeked of class and innocence, and we're here to research the hysterical phenomenon even further, retrace sports history if you will.
Time to reach for those old cassettes, blow the dust off and enjoy the funniest old school athlete commercials.
Nipple-high trousers have yet to cloud this rich past.
20. Lanny McDonald's a Hungry Man in '78
His epic 'stache may prevent viewers from understanding anything uttered in the commercial, but Lanny McDonald kills it with this award-winning performance.
Although we're surprised the legendary winger didn't have the fridge door as an appetizer.
19. Pittsburgh Steelers Represent Uniroyal Tires in '79
First things first, L.C. Greenwood may need to tone down his extreme enthusiasm.
Next, strapping on some pads and tossing him the football would give this young tire a bit more screen time.
Let's not forget what a little love did for Twinkie the Kid.
18. Spike Lee and Tim Hardaway Wear Nike in '92
"I got skeeelz"—The line that made this commercial a masterpiece.
But let's appreciate the monstrously-bright colors that flooded the '90s.
17. Brooks and Frank Robinson Drink Miller Lite in '80
Two legendary careers tarnished before our eyes with this ridiculous performance. Ok...maybe just on camera.
Now, let's see these two Hall of Famers take a sip.
16. Bo Jackson Ties His Nikes in '89
While certainly informative, Nike's iconic commercial reeked of chaos.
Bo Jackson's opponents knew this feeling all too well.
15. Vote for Griffey, Vote for Pepper
For those unfamiliar with the historic intricacies of baseball, "pepper" is a pregame routine that features a batsman hitting sharp grounders and line drives to a group of fielders facing him.
But while signs of "no pepper" have been spotted throughout the sports world, Ken Griffey Jr. seems eager to promote the game.
If Griffey likes it, we like it.
14. Shaq Loves Pepsi in '93
Without rims shattering, opposing ballers screaming and pottery smashing, this commercial loses authenticity.
But a young Pepsi drinker turning down Shaq? Blame it on the sugar rush.
13. Barry Sanders and Nike Impress Jerry Stiller
We didn't envision Vince Lombardi as a cantankerous Brooklyn chatterbox, but we thank Jerry Stiller for adding an intriguing element to one of football's biggest icons.
Oy vey.
12. Wayne Gretzky and Mats Sundin Enjoy McDonald's
If people will "do anything" for a Big Mac, we can only imagine what they'd do for a Peter Luger's dry-aged porterhouse and mashed potatoes.
Want that backhanded? The legend lives on.
11. A Legendary Converse Cast in 1987
Loving Bernard King's swag, but letting Larry Bird dominate this All-Star rap cypher makes this crew a failure.
"You already know what you did for me, I walked away with the MVP."
10. Gheorghe Muresan's Snicker's Commercial in '97
You may recognize this 7'7" Romanian star from Billy Crystal's My Giant or from the NBA hardwood during the '90s, but either way he's got sweet teeth around the world fending for a Snickers bar.
Gheorghe Muresan's promotion of cologne...err, candy, is effectively brilliant.
9. Bruce Smith Is Ready for Bad Things Man
Imagine Matt Damon smelling Ray Lewis' shoes...bad things man.
The possibilities for a remake are endless.

8. Mean Joe Greene Makes a Memory in '79
Epic, iconic and historical.
While having a battle-worn football superstar drinking a chilled bottle of your product was obviously hilarious, Coca-Cola could have gone any direction with this one.
Tossing back the empty bottle—or his sweaty jock strap—would've made this ad even more legendary.
7. Ken Griffey Jr. Gets Cloned
The Kid. The man. The legend.
Cloning Ken Griffey Jr. was the greatest idea since the invention of the wheel.
And, yes, that's the slugger lingering behind the young fans he is serving at the end. Always making memories.
6. Larry Bird vs. Michael Jordan for McDonald's in '93
Maybe for the 20-piece nuggets, but a Big Mac is a sacred treat from the healthiest spot on Earth.
Hopefully Magic Johnson ate the entire meal while these two were completing their bet.
5. Wilt Chamberlain Needs Fletcher's Laxative
Forget Viagra, constipation continues to defecate optimism and ruin afternoons.
But don't fret. Wilt Chamberlain shows us that not even bowel-movement frustration can stop you from scoring 100 points in a game.
That was the message, right?
4. Chicks Dig the Long Ball
We admire the dedication and unique repertoire, but the former Atlanta phenoms forgot the main ingredient to Mark McGwire's prowess.
Juice. Oh that's right.
3. Yao Ming Uses a Visa Card in '03
This just in: Yogi Berra and Jerry Stiller are long-lost brothers. Not really, but the resemblance is clearly there.
Back to the commercial...culture shock at its finest.
2. Mike Ditka Is Krylon Rust Tough in '93 (One Coach Exception)
Easily the most ferociously entertaining human being ever to approach the gridiron (or the Earth), three-time Super Bowl champ Mike Ditka always keeps the crowd salivating for more slothful aggression.
Just don't ever call him the "juicebox guy."
1. SportsCenter's Big Buddy Program Changes Lives
"Play defense! Get on him! Powww!"
Only a Rob Riggle cameo could make this commercial any more epic.
Keep Reading