Horse Racing, American Sports and This Generation's Sport of Kings
May 7, 2012

Travis Lindquist/Getty Images
The prevailing sentiment with snarky online commenters after the Kentucky Derby this weekend was, and I'm paraphrasing, "great race, see you in two weeks and maybe two after that and then again in a year."
Subscribe to the Wide Left podcast on iTunes here.
Horse racing has become a three-event season, maybe four if you are particularly into the Breeders' Cup. What was once widely called the "Sport of Kings" has fallen out of favor with many American sports fans, save for three glorious afternoons every spring.
There are several reasons why horse racing is no longer as popular as it once was, but I'm not so sure any of them are particularly good reasons.
Sure, more and more people have taken issue with how the horses are bred—with all that muscle heaped upon four stick legs—but career-ending injuries and sports-related deaths aren't making us stop watching football, so it's far-fetched to think that's the reason why people stopped caring as much about horse racing.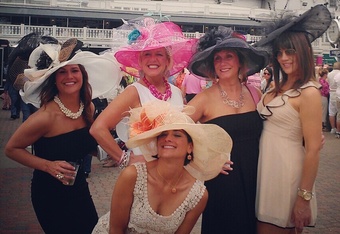 Jamie Squire/Getty Images
Many tracks around the country have closed over the last 30 years, relegating horse racing to off-track betting with the occasional TV appearance for big events. Spending a day at the track used to be an event. Let's face facts, "kings" aren't spending an afternoon at the corner OTB. 
The fact is, horse racing is still a sport for kings. Owning a thoroughbred horse is still a symbol of status and wealth around the world. I am trying very hard to avoid the suggestion that horse racing isn't as grand and exciting as it has ever been. The Kentucky Derby on Saturday was as thrilling as any major race in recent memory. It is still a great spectacle.
If I'll Have Another can win the Preakness, the Belmont Stakes will be the must-see sporting event of the season. If he loses at Pimlico, the Belmont will be a bust. To say horse racing is a three-event season is true, if only the same horse wins the first two events.
Horse racing, like boxing to some extent, is largely ignored unless there is a marquee event. They are sports for a day gone by, a sports world we no longer live in. On today's show, we posed a simple question with a difficult answer: What is this generation's sport of kings?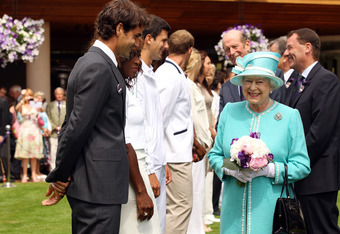 Oli Scarff/Getty Images
There are three possible answers. First, the sport we did not discuss but could be the best answer is tennis. 
For fans, tennis has a lot of the same characteristics as horse racing. The sport has sophisticated, "old-money" sensibilities. Heck, at Wimbledon, players must bow before royalty when leaving the court. If not the sport of kings, it's certainly still the sport of queens, dukes and duchesses. 
Yet much like horse racing, tennis has been hampered by a competitive sports calendar. As popular as tennis is in America, it has still been relegated to a four-event-per-year schedule. That's not exactly what we are looking for.
(Note: At this point, we should address golf, which is not on this list for one reason: The stars in golf are far more accessible than ever before and the sport has made great strides in the last 20 years to become more of an everyman's game. Golf may have once been the true Sport of Kings. Now it's the sport of guys like Bubba Watson, and we are better off for it.)
The obvious difference between horse racing and tennis—outside of the species of athlete—is that tennis players are not owned like horses. The sport of kings title was given to horse racing not just because the rich and royal liked to watch the ponies run, but because many of them—still to this day—owned the ponies that were running.
Owning a racehorse is quite regal, and you just don't have that in tennis. But you do have it in soccer, which is the next sport we considered.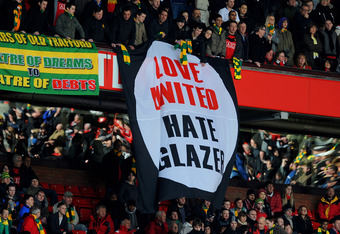 Michael Regan/Getty Images
More and more American billionaires are dumping their money into international soccer clubs. Soccer, like horse racing and a few other sports, is able to seamlessly combine the rich and famous fans who get dressed up to sit in box seats with shirtless degenerates who fill the bleachers (or infield).
There is an aristocratic quality to high-level soccer matches, right up until the bonfires begin. 
As stated before, soccer is more a sport of kings on the ownership side than the fans. In older times, owning a racehorse was the ultimate status symbol. Now, that status symbol may have become a soccer club.
That said, we are looking for the sport of kings for American sports, and as popular as soccer has become, more American billionaires are buying international clubs, not MLS teams.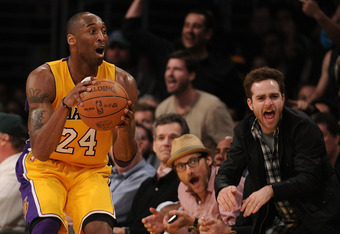 Harry How/Getty Images
Maybe it's the NBA that has become the new American sport of kings (as pointed out on the show by Nick Tarnowski).
Yes, the NBA.
For years, an NBA arena has been a place for celebrities to be seen, as more than ever, stars pour into courtside seats for big games in big cities. The playoffs have people lining up to be seen. Sure, an NBA sideline may not be a place for a julep and fancy hat, but it's probably just as expensive to sit on the floor of an NBA game as it is to, well, own a freaking racehorse at this point!
Seriously, how much money do you need to sit next to Doc Rivers or high-five Kobe Bryant as he's checking out of the game? Season tickets on the first row for an NBA team?
I guarantee we can find a champion horse for cheaper than that.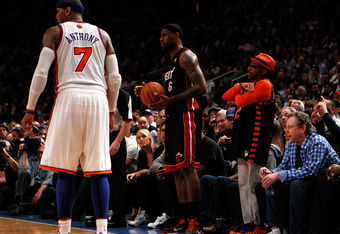 Jeff Zelevansky/Getty Images
The NBA athletes are total stars around the world, perhaps more than any other sport from superstar to last guy on the bench. The ability to have such intimate access to NBA players is unlike any other professional sport in America other than golf, but the fact that dozens of events are happening at the same time in cities around the country makes basketball far more accessible to the everyman.
Accessible, yet not. Great for rich elite and the everyman. That sounds pretty familiar.
The NBA is this generation's sport of kings. That's pretty fantastic. 
(NOTE: If you listen to today's show, embedded above, you will hear us chat about the Kentucky Derby, baseball fans bringing gloves to the game to catch foul balls, soccer's big upcoming weekend and a lot more. Thanks for reading and listening.)