Tennessee Volunteers Football: The Timeless Mystique of Neyland Stadium
May 7, 2012

I know a place where over 100,000 people can gather together to celebrate a common cause. They come to learn about courage, determination and loyalty.
I know a place that provides a medium for parents to pass on traditions to their children.
I know a place where the hue of the congregation's attire on a cool night in October sticks in the minds of newcomers for the rest of their lives. And on a few rare nights, the voices of the past can sometimes ring louder in your head than the thousands of people that gathered there just hours before.
No, I'm not talking about a sanctuary on Sundays. I'm talking about Neyland Stadium, home of the Tennessee Volunteers. That doesn't mean that fans don't come to worship. Indeed, they do.
But it's a different form of worship. It's about honoring the timeless mystique of Neyland. For some, they get a chance to remember the folks who brought them to their first game where the nobility of the checkerboard end zones was first bestowed upon them.
A glimpse of its walls can spark a rush of emotions that are second to none. They're indescribable unless you've had the privilege to feel them for yourself.
A Brief History
Neyland Stadium was built in 1921 and hosted its first football game on September 24th of that year. The Vols bested Emory & Henry 27-0, kicking off an incredible home-field advantage for the football team.
The Big Orange are 437-112-17 all time at home.
Neyland was named Shield-Watkins Field from 1921 to 1962. The field retains its name, of course, but the majestic structure that surrounds it is named for the great General Robert Neyland. General Neyland coached Tennessee from 1926 to 1952, which included two leaves of absence for military purposes.
The General also led the first expansion of the stadium in the early 1960s. In true General fashion, the plans were so thorough and had such terrific foresight that they are still being used today. Neyland Stadium currently seats 102,455—making it the fourth-largest stadium in North America and the biggest in the SEC.
While size is only one dimension to grade a stadium on, it is without a doubt a part of Neyland's grandeur. Its towering walls, now handsomely bricked and nicely lit at night, are a beautiful sight.
The Fortress That Will Never Fall
I was watching a great documentary on stadiums in sports earlier this week. Many of yesteryear's most famous and recognizable venues like Ebbots Field (Brooklyn Dodgers) and Old Yankee Stadium were demolished for various reasons, and I couldn't help but imagine the day that Neyland would realize the same fate.
Now I don't think that will actually ever happen, but the mere thought of it got my insides turning. How could anyone be so connected to an oval ring of steel and brick? What's more, I know I'm just one of millions of people that feels this way.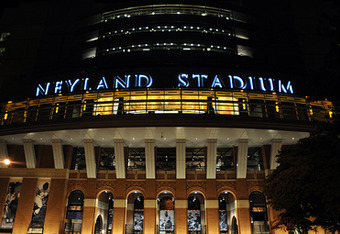 Neyland Stadium is home to only a handful of college football games per year, but the effect it has on its patrons runs much longer than that. The building means home, it means family and good times, it means college days for some and hot Septembers for all.
It signifies the tradition of the Volunteer State like no other structure in the South. It tells the story of over 100 years of competition and is home to dozens of nights of Rocky Top and The Tennessee Waltz.
I feel like when others talk about doing what it takes to defend your home, they are talking about Neyland Stadium. I know you feel the same.
Take your skyscrapers, your mansions, your resorts and your villas. I'll take Neyland Stadium with 100,000 of my closest friends any day.