Chicago Blackhawks Season Review, Part 4: How Loaded Is the Pipeline?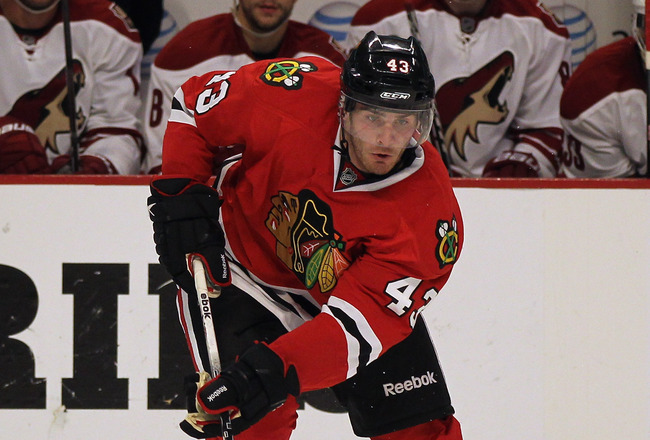 Jonathan Daniel/Getty Images
The Chicago Blackhawks have made it a point to amass a lot of young talent in their organization under GM Stan Bowman. If you don't believe it, ask him yourself.
It is possible that this summer will see the up-and-comers in the system make a difference one way or another. If they don't make the 'Hawks next season, some may be dealt to obtain veteran pieces for a possible Stanley Cup push next season.
Here is an overview of some of the names you may hear called in camp this fall or in an offseason trade. I won't include Andrew Shaw or Dylan Olsen in this part of my season review, as they have been addressed in previous segments.
1. Brandon Pirri
Jonathan Daniel/Getty Images
Pirri built on the hot second half he had last season and marked his second professional campaign with 56 points and an AHL All-Star Game appearance.
Pirri actually made the Blackhawks out of camp, but was sent to Rockford after the opener in Dallas in favor of Marcus Kruger, who stayed in Chicago all season. Pirri logged five games in Chicago with a pair of assists, but it's hard to say where he fits in Bowman's plans.
Pirri is not the defensive player Kruger projects to be. His place in the game is on a scoring line. He needs to be slotted into the second line to take advantage of his skills, but it was readily apparent that Joel Quenneville did not trust the 21-year-old to handle those duties.
Pirri is young enough, so another season in Rockford won't hurt him. He could stand to develop his consistency as well as his skating. However, with Kruger the heir apparent on the checking line, Pirri has to gain Quenneville's confidence.
With some talented center prospects behind him, Pirri could be moved to fortify another need. Right now, Bowman needs to decide if Pirri has a future spot in Chicago.
2. Jeremy Morin
Jamie Sabau/Getty Images
Morin is a player who could make a lot of noise this fall despite a kind of ho-hum season in Rockford.
The good news is that Morin returned in October from a concussion that kept him off the ice for ten months, and he didn't seem to lose his willingness to stick his nose into physical battles for the puck.
The bad news is that despite goals in his first two games back, the goal-scoring was not up to par for a player with Morin's skills.
Morin did see action in three games for the Blackhawks and another 69 for the IceHogs and came out of this season in good health. The ability to work out and compete in training camp could see his star rise in a hurry.
3. Pete LeBlanc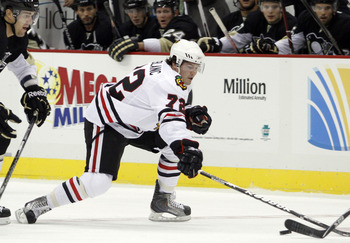 Justin K. Aller/Getty Images
LeBlanc was signed to a one-year deal by Chicago this spring. He was drafted by the 'Hawks in round seven back in 2006, but played four years at New Hampshire before turning pro.
LeBlanc is a stocky forward whose build is a lot like that of fellow prospect Ben Smith. LeBlanc led the IceHogs with 24 goals this past season and moved up the depth chart quickly.
The 24-year-old LeBlanc could come up for a few games next season and deliver some steady two-way play. The ceiling may not be as high for him as some of the other prospects in the organization, but he's a solid minor-league player who might see some action with the 'Hawks in the near future.
4. Brandon Saad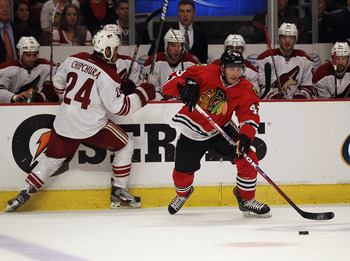 Jonathan Daniel/Getty Images
Two regular season games and two playoff games amount to a hill of beans when talks commence concerning Saad's chances of sticking with the 'Hawks next season.
If he is to play regularly in Chicago, Saad is going to have to come into camp and show Quenneville that he's the best option. After a big year dominating juniors, Saad needs to step up and play against better competition.
If that happens in Rockford for a while, it wouldn't be a surprise. The x-factor regarding where Saad ends up will be answered by what Bowman does in the offseason to address the top six forwards.
5. Ben Smith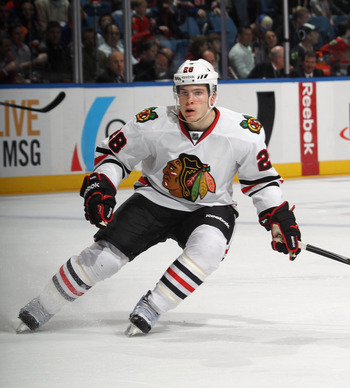 Bruce Bennett/Getty Images
Smith's season was spent shuttling back and forth between Chicago and Rockford after he recovered from a concussion suffered late in the preseason. The hit, coming against Detroit's Brenden Smith, probably cost Smith a full-time spot with Chicago this season.
Smith played 13 games for the Blackhawks, scoring two goals. He played another 38 games in Rockford, where he enjoyed a good season (15 goals, 16 assists in just 38 games) before his year was ended with surgery to correct a hip issue as well as a hernia.
For those wondering why we seldom saw the Smith of last year's effective stint late in the season, it's because of his injuries. The hip injury—which the team asked him to play with until deciding to shut him down this spring—and the concussion can be cited as hurdles for the hard-working forward.
Smith has missed portions of the last two seasons with concussions. It's something the organization has to be concerned about.
If all goes as scheduled and Smith is skating by July, he could make a bid to be on Chicago's opening day roster.
6. Jimmy Hayes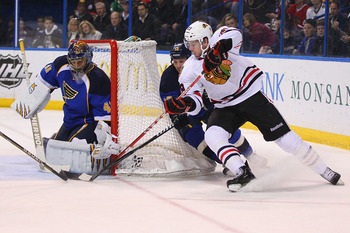 Dilip Vishwanat/Getty Images
Hayes is a player who was physical early and often when he came up, though he wasn't a guy looking to initiate contact in Rockford.
The shine wore off of Hayes a bit, though he had five goals and four assists in his 31 games of action. In Rockford, Hayes looked to receive the puck and look for his shot. The 'Hawks want another player to get in front of the net, and Hayes definitely has the size at 6'5" to do that.
I think Hayes if better off skating in Rockford to hone that style of play. Of course, if Hayes comes into camp knocking everyone around, that could change.
7. Kyle Beach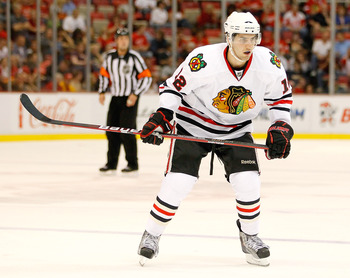 Gregory Shamus/Getty Images
Beach's season was derailed by shoulder surgery after being injured in a fight early this season. Beach appeared in 11 games after rehabbing the shoulder and wound up with five goals and five assists in 19 contests.
Beach also appeared to use the down-time effectively, getting himself into great shape and possibly growing up a bit. For a guy knocked for a lack or work in the gym as well as maturity issues, those are some positives.
Beach played to agitate in his brief time on the ice in 2011-12, but made better decisions. This offers hope that the highly-touted first-rounder is figuring something out.
Next season is going to be a turning point in Beach's pro career. He could be facing arrival in Chicago or a change of scenery by this time next year.
8. Philip Daunault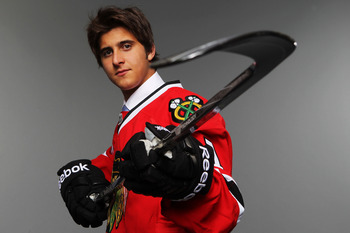 Nick Laham/Getty Images
Both of Chicago's first-rounders from last summer put in a season of juniors and got a brief sniff of AHL action with Rockford. Danault impressed far more than Mark McNeill, who seemed tentative in the face of the bigger and faster competition.
Daunault was the more comfortable of the two players, showcasing speed and a willingness to battle for the puck. I'd guess that both players return for another season of juniors, though Danault could be a fun player to watch in training camp.
9. Rob Flick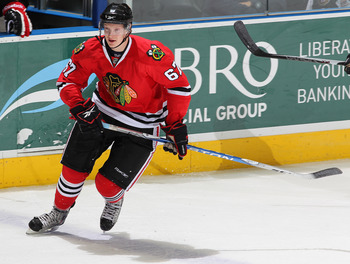 Claus Andersen/Getty Images
Flick is still only on an AHL contract in Rockford, but came on strong in the latter half of the season. He's a big center who enjoys getting under the skin of opponents.
Flick got into 45 games in Rockford, scoring seven goals and 13 points. Five of the goals and three of the helpers came in his last 14 games.
His season was notable for a March 24 Gordie Howe hat trick that he accomplished in the space of six minutes of the third period in a win over Houston. He also started the donnybrook in Milwaukee April 1 that saw the benches empty and resulted in a three-game suspension for the 21-year-old center.
Flick still has some seasoning to do in the minors, but he could earn a contract and recall from the 'Hawks in the same manner as Andrew Shaw. That's not to say he'll have a similar impact, but at 6'2" and 210 pounds, Flick could rattle some bones at camp.
10. Shawn Lalonde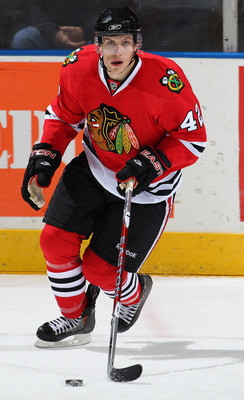 Claus Andersen/Getty Images
Lalonde took a firm step back in 2011-12. As an offensive puck-handling defenseman, he should have reaped the benefits from the departure of top defenseman Brian Connelly, who was dealt to Calgary for Brendan Morrison. He never took advantage.
Lalonde's scoring dropped from 32 to 13 points this season. He lost power-play time to prospects like Joe Lavin and AHL signee Ben Youds. Despite playing in 62 games, nine fewer than the previous season, his penalty minutes rose as he began showing more aggression on the ice.
At 22, Lalonde may have to get a fresh start in another organization. Chicago is short on the blue line, however, so he may get another season to fulfill his offensive promise.
11. Ryan Stanton & Joe Lavin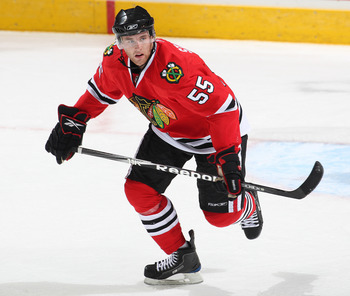 Claus Andersen/Getty Images
Stanton was consistent for the IceHogs, posting the same scoring totals from a year ago (three goals, 14 assists) and forming a tough defensive pairing with AHL veteran Brian Fahey. He was the only Rockford skater to appear in all 76 games.
Stanton earned the Top Defenseman honor in Rockford and might give the 'Hawks a place to turn if they are in need of some help on the blue line for a few games next season. He's turning out to be a pretty productive signing of an undrafted free agent.
Lavin started a little slow, but made the most of the extra ice time afforded to him once Connelly was traded. Most of his three goals and 14 assists came in the months of December and January, but Lavin definitely progressed in his first full season as a pro.
What to Expect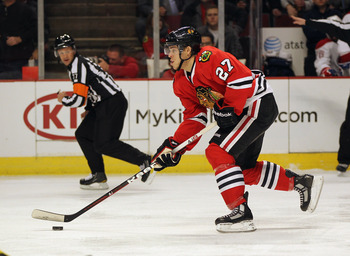 Jonathan Daniel/Getty Images
The 'Hawks employed several rookies in the 2011-12 season, and Bowman has collected young talent with the intent to replace more expensive role players in the future. Expect that trend to continue now that several one-year free agent contracts have come off the books.
Some of these players have a way to go before they become tried and true NHL players, but chances are we'll see more than a few taking the ice at some point next season.
My thoughts on Chicago's goalie prospects can be found in part three of my season review. Part one focused on the forwards and part two took a look at the 'Hawks defense.
I'll have a look at the Blackhawks management situation up soon.
Keep Reading

Chicago Blackhawks: Like this team?