Nebraska Football: Ron Brown Deserves All the Heat for His Anti-Gay Comments
May 7, 2012

Justin K. Aller/Getty Images
On March 6, Ron Brown, assistant coach for the University of Nebraska football program, told the Omaha City Council that he thought homosexuality was an abomination to God, and therefore the Council should reject an ordinance preventing people from being fired because they're gay. Brown is still being criticized for that decision, now from national columnist Rick Reilly of ESPN, who has called on Brown to resign.
And Brown deserves every bit of the heat he has brought on himself, the football program, and the university.
Brown has been a mainstay around the Nebraska Cornhuskers football program, joining the Cornhuskers in 1987 and serving as an assistant coach until 2003. Bo Pelini brought Brown back in 2008, coaching tight ends and now running backs. Brown's Christian faith has been central to his identity, as reflected in his official Nebraska biography.
Brown's faith has been a source of strength for him and the program, as witnessed most recently when he led a prayer before the 2011 Nebraska-Penn State game shortly after the Jerry Sandusky sexual abuse story broke. Participation in the prayer was voluntary, but people around both programs pointed to that prayer as a source of strength and healing during a very difficult time.
Brown's faith has also reached across religious barriers, as can be seen in Brown's relationship with Ameer Abdullah. Even though Abdullah (who was a freshman running back last year) is Muslim, Brown and Abdullah have formed a bond. According to Dirk Chatelain's story in the Omaha World-Herald, it was Brown that comforted Abdullah when a close friend of Abdullah's died, reassuring him that God had a plan and making Abdullah feel better.
So when Brown says his opposition to homosexuality is not based on hatred, but on a sincere conviction in his faith, I believe him. I share his faith, and do not draw the same conclusions from the Bible that Brown does. But I have no doubt Brown's position comes from a place of sincerity.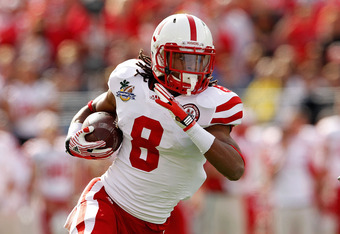 Mike Ehrmann/Getty Images
But that's not really the point. Brown has responsibilities to more than just himself. As a member of the Nebraska coaching staff, he must know that his actions will reflect on Pelini, athletic director Tom Osborne, and the Nebraska football program as a whole. It doesn't help when he listed his address as "Memorial Stadium" when ostensibly speaking to the Omaha City Council as a private citizen.
So when Brown goes out of his way to make a public statement that will be controversial—and Brown had to know that what he said would be controversial—then he has to bear the responsibility for that controversy. While Pelini is a big supporter of Brown's, I am certain Pelini would rather not have this distraction to deal with in preparation for next season.
Brown is an African-American, and his employer is prevented by law from firing him because of his race. Brown is also a Christian, and his employer is prevented by law from firing him because of his faith. Brown spoke his mind as a private citizen, and his employer is likely to be prevented from firing him for exercising that constitutionally-protected right.
Ironically enough, the entire controversy surrounds Brown's opposition to a law preventing people from being fired for being gay. While gay-rights opponents argue that homosexuality is a choice, there can be little argument that Brown's protections for his faith and for his speech involve more choice than someone's sexual orientation.
Brown has decided not to testify against Lincoln's proposed ordinance which would prohibit employment discrimination against gays. He has also released a public letter through the Lincoln Journal-Star trying to thread the needle, saying he "wholeheartedly agrees with" the University of Nebraska's policy against employment discrimination of gays, but opposes a city-wide or state-wide policy against employment discrimination of gays.
I have no idea how Brown can hold both positions, particularly since the University of Nebraska is a state-run entity. But if the letter is Brown's first step to extricate himself, the football program and the university from the mess Brown created, then I welcome the decision.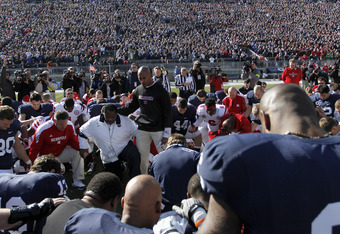 Justin K. Aller/Getty Images
In his public letter, Brown asserts that he has disagreed with players over a number of Biblical teachings, including cohabitation before marriage, and that no player has ever suffered consequences as a football player because of those disagreements. Of that, I have no doubt, and there is no evidence to suggest anything to the contrary.
Brown is free to hold his own faith and draw political conclusions from it, no matter how much I or anyone else may disagree with those conclusions. Brown has said he would be "honored to be fired" over his comments to the Omaha City Council. I believe it would be inappropriate (and, arguably, illegal) for Brown to be fired for his comments, and there does not appear to be any danger of the university doing so.
But Brown also cannot indulge himself with the luxury of making such controversial remarks when his head coach, his program, and, ultimately, his team will bear the burden of the controversy resulting from those remarks.
Given Brown's decision to refrain from testifying against the Lincoln ordinance, it appears that Brown has elected a different path to harmonize his faith and his role as a Nebraska football coach.
If you would like to contact me directly to schedule an interview, ask a question or to get my recipe for a killer peach cobbler, you can send an e-mail to patrickrunge@gmail.com. (Disclaimer: Peach cobbler recipe might not be all that killer.)
Or, you could always... Follow @patrickrunge