New Jersey Devils: Come 2012 Free Agency, Who Stays and Who Goes?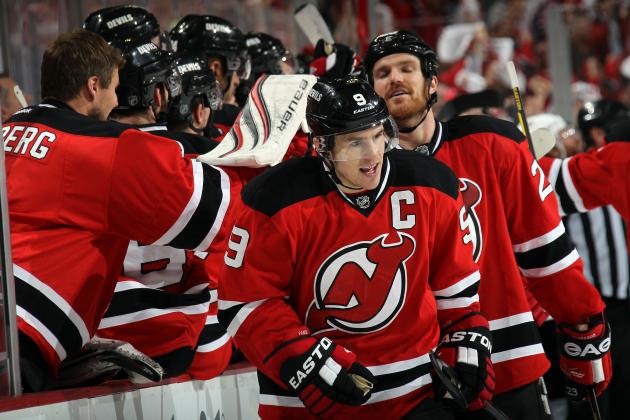 Bruce Bennett/Getty Images

The New Jersey Devils are hot! The team has won five of their last six games (including three overtime wins—and a loss) and are one win away from securing a spot in the Eastern Conference finals.
That may come as a surprise to many Devils fans who weren't sure what this season held for their favorite team, and it's surely satisfying for the players to see their hard work pay off.
That being said, this is all about the 2012 NHL season. No matter what happens, their hard work has been only for this season, and nothing they do will live past this season. Eventually, July 1 will come, and that means a lot of changes.
The Devils have more than a dozen players slated to hit free agency this off-season. Some are tremendously important players, some are prospects, and some are question marks. Still though, all will have to be dealt with.
With so many contracts coming off the books, the Devils will have more than $20 million in cap space to work with. However, they'll need to allocate that space as carefully as possible, taking into account players who will be due large raises as well as players who are worth less than when they signed their last contracts.
So how will things shake out? Here are projections for who will stay and who will leave the Devils come this off-season's free agency.
Begin Slideshow

»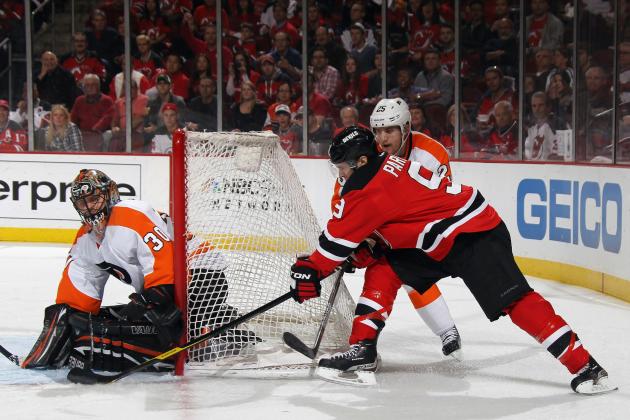 Bruce Bennett/Getty Images

2012 Stats: 31 goals, 39 assists, minus-five
Cap-Hit: $6,000,000
Zach Parise is the big fish. He's loaded with talent, smarts and intelligence, and there isn't a team in the league that wouldn't benefit from his presence on the roster.
Shea Weber, Alex Semin and Tuukka Rask are just a few names that will be hitting the free agency market (unrestricted or otherwise), but Zach Parise is as attractive an option as anyone available. Any team with the money to make an offer will likely try to do so, and it will ultimately come down to where Parise wants to play.
It was made clear early that a Cup was Parise's main concern. As I wrote late in the first round series against the Panthers, the Devils' ability to advance from the first round was a huge step in convincing No. 9 that he's already playing for a contender.
The fact that with the win tonight, the Devils have a firm grasp on their series against the Flyers (currently leading 3-1) and seem headed to the Conference Finals is an even stronger message.
GM Lou Lamoriello rarely makes mistakes. There have been some, certainly, but they are outweighed by his various masterful moves through the years.
I think that one has to consider the Devils a contender, and that Parise knows that. I also think that Parise truly does enjoy playing in New Jersey. He could be the next in a long line of great lifetime Devils.
Perhaps not long-term, but I think Lou and his captain will be able to work out a deal to keep the American superstar for at least another season.
Breakdown: I don't know how many players would turn down generous offers from the Red Wings, the Blackhawks, the Maple Leafs... and that's the problem: anyone could be in the mix for Parise. Ideally, Lou can lock him down before his contract expires; if not, he will be tempted by a lot of suitors.
Prediction: Re-signs medium-term (3-5 year) deal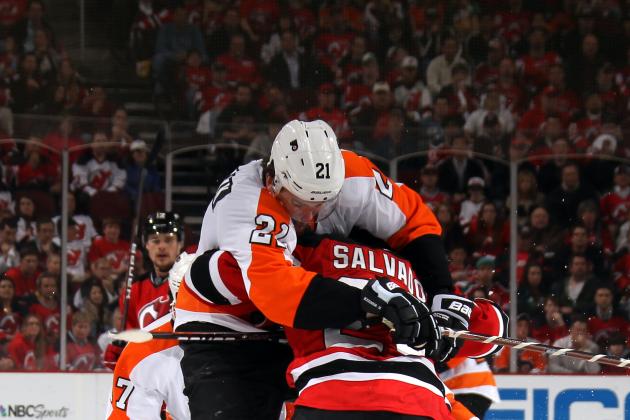 Bruce Bennett/Getty Images
I know I've used this picture before. It's just too good a picture.
2012 Stats: zero goals, nine assists, plus-18
Cap-Hit: $2,900,000
Bryce Salvador was a disappointment for much of his contract with the Devils. Finally, in the last year of his contract, Salvador stepped up and became a key member of the defensive corps.
While his inability to score is somewhat disappointing, he's never been particularly good offensively, so expectations were low. However, he averaged more than 20 minutes a game and his plus-18 rating led the team by a large margin.
He was also second on the team in blocked-shots and fifth in hits.
And he's been even better in the playoffs. In 10 games, he has a goal and three assists to go with a plus-seven rating, again leading the team. And yes, maybe his lone goal—a shorthanded one at that—was an empty-netter, but it came as the result of good, hard play.
Breakdown: Salvador isn't the best defender, but he's what the Devils have got right now. At 35, he shouldn't be looking for a long deal, and a two-year deal at less than his current salary would benefit the team.
Prediction: Re-signs short-term deal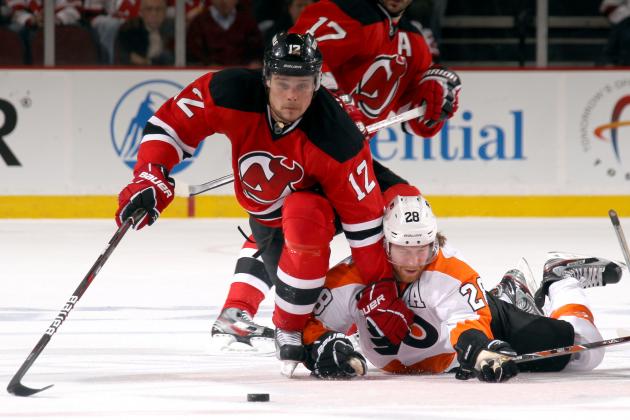 Bruce Bennett/Getty Images

2012 Stats (with the Devils): seven goals, 11 assists, plus-nine
Cap-Hit: $1,500,000
Ponikarovsky was acquired by the Devils in late January, and he enjoyed a pretty good ride with the Devils. He posted 18 points in 33 games (compared to 15 points in 49 games with Carolina pre-trade). He also proved himself to be a great all-around player: His season totals put him at third on the Devils in hits (143) and fifth in takeaways (33).
In the postseason, Poni's been just as successful. In 11 games, he has three assists and a goal—an overtime goal—to go with a plus-three rating. His goal came in Game 3 against the Flyers, a game that helped the Devils to gain an advantage in the series. He's also fourth on the team in hits with 32.
Breakdown: Poni's played for five teams in the last three seasons, but he spent the first eight years of his career with Toronto. If he's willing to settle down, he's a good fit that brings a strong physical presence to the team. He also pairs with David Clarkson especially well.
Prediction: EITHER He re-signs a one-year contract for a comparable sum OR he signs with another team.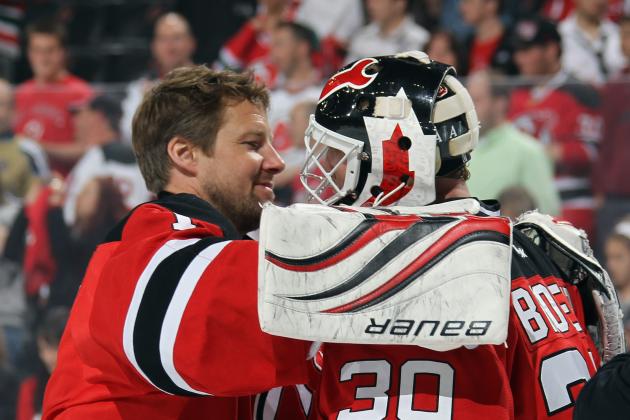 Bruce Bennett/Getty Images
Broalies
2012 Stats: 17-7-2, .918 save percentage, 2.23 GAA, four shutouts
Cap-Hit: $1,250,000
Mooooose. I love Johan Hedberg. He serves the backup role as well as anyone I can think of.
For his two seasons with the team, Moose has been there to steady the boat when Martin Brodeur needed a rest. Also, as Marty has aged, he's grown a little injury-prone, so there were stints where Hedberg served as starter.
And he did it great. The stats speak for themselves: his win percentage, save percentage, goals-against average and shutout total were all better than Brodeur's.
He hasn't been needed in the playoffs so far except for one brief appearance in relief, but if—knock on wood—something should happen to Marty, the prospect of going into a game with Moose between the pipes is not so grim.
Breakdown: The goalie situation in New Jersey is extremely complicated, and it seems unlikely that Moose will fit into whatever is worked out next year. However, should the pieces fall in such a way that a reliable back-up is needed, there's no vet I'd rather have.
Prediction: Signs with another team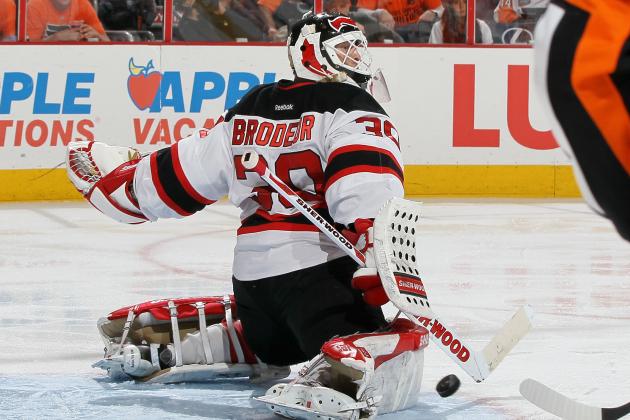 Jim McIsaac/Getty Images

2012 Stats: 31-21-4, .908 save percentage, 2.41 GAA, three shutouts (four assists)
Cap-Hit: $5,200,000
Throughout the season, Martin Brodeur has hinted that he'd like to return next season. The all-time leader in like everything* turned 40 on Sunday, but he appears to be going strong. Should be take his team into the Eastern Conference finals or, dare I say it, beyond, it could lead to a few possibilities.
It's quite possible that Brodeur will look at this year's post-season success as a good note to go out on. This would be increasingly likely if they make the Stanley Cup finals.
On the other hand, Marty could look at where his team is at and where he's at and decide that he wants another go of things. Were that to happen, I don't really know what would happen, as an analyst or a fan.
It's conceivable Marty will sign on for a year or two as a starter who gets 45-55 regular season starts and everything come playoff-time. It's also possible that the Devils find a young rookie somewhere and bring Marty in to help mentor, as well as starting 20ish game next season.
Given how well he's played of late, I have to admit I'd feel comfortable giving Marty another year. As long as he knows his limitations, his experience is only going to help the team.
Breakdown: If he wants to come back (which he does), he will almost certainly come back with the only team he's ever known. However, he better be willing to take a pretty massive pay-cut. It's for the team, bud.
Prediction: Re-signs one- or two-year contract worth $2 million or less for an undetermined number of starts
*Except playoff wins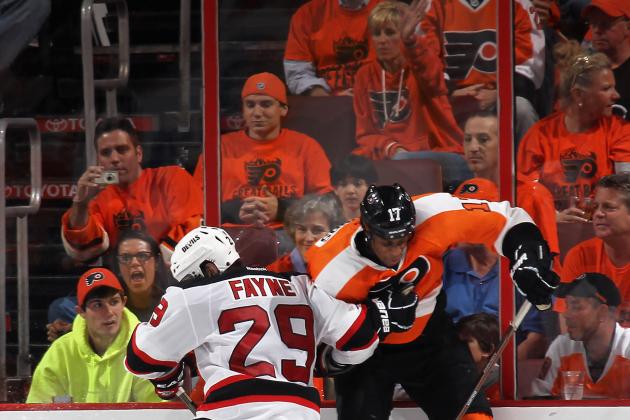 Bruce Bennett/Getty Images

2012 Stats: four goals, 13 assists, minus-four
Cap-Hit: $542,500
Fayne played his way onto the team last season, finishing with a strong rookie campaign including four goals, 10 assists and a plus-10 rating.
Unfortunately, he didn't really improve on that in his sophomore season, finishing with just three more assists in 25 more games, and a minus-four rating to boot.
In the playoffs, Fayne has been nearly invisible: 10 games played, no goals, no assists, no penalty minutes, no plus/minus. His 15, nine hits and nine blocked shots are the lone stats to suggest he does anything with his more-than-21 minutes per game.
Breakdown: Fayne came out of nowhere and became a regular on the roster last year. He can be a reliable d-man with the occasional offensive flourish. Luckily (in the business sense) he has been bad this year, so he should not be looking to a significantly larger contract.
Prediction: Re-signs to a mid-length contract
Bruce Bennett/Getty Images

2012 Stats: zero goals, two assists, zero plus/minus rating
Cap-Hit: $550,000
Peter Harrold signed as a free agent last summer, and he will likely be hitting the open market again.
The 28-year-old defender is solid enough, but almost certainly nothing special. In 11 regular season games, he contributed two assists playing 14:36 per game. So far, in nine playoff games, he has four assists and a plus-two rating,
Harrold has looked good at times, but very unreliable at others. He's contributed on offense to some degree, but his track record says he won't in the long run (eight goals, 20 assists, minus-nine in 175 games).
He carries a minimal cap-hit at $550,000. He's performed well enough that re-signing him at that price might be worth it.
Given his playoff production, he may seek a raise, and it's at that point the Devils would be wise to walk away. They have enough defensive depth that they don't need to waste extra money on a sixth/seventh defenseman.
Breakdown: Harrold has shown flashes of a better player, but his six giveaways (and one takeaway) in the playoffs don't inspire much confidence.
Prediction: Signs with another team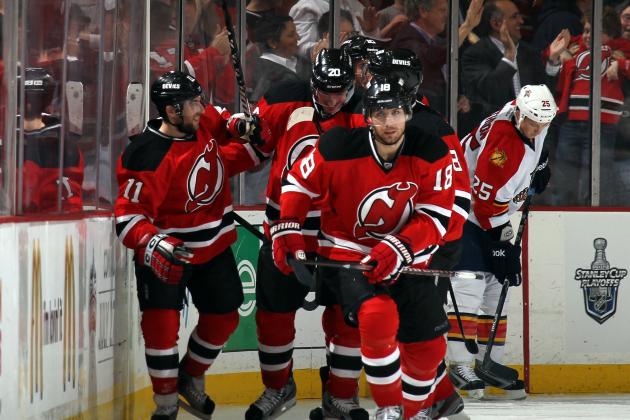 Bruce Bennett/Getty Images

Ryan Carter ($750,000), Stephen Gionta ($512,500) and Steve Bernier ($525,000), who currently make up the Devils' fourth line, will all be free agents at the end of this season.
Ryan Carter was the standout among the three during the regular season: he amassed four goals and four assists in 65 games. Of course, he also went minus-12.
Steve Bernier played in 33 games and managed to go plus-six, but he also only managed six points (a goal and five assists) in that time.
Stephen Gionta finished the season on pace to score more than 80 goals, with a goal in his only appearance.
The playoffs have been an entirely different story though. The there have combined for five goals, five assists and a plus-seven rating, along with a game-winning goal. Not bad for a fourth line.
Breakdown: The fates of these players will largely depend on how the larger free agent dominoes fall. All three players have displayed bursts of talent and the ability to work well with the team, and they would likely be welcomed back given enough cap space. However, look for them to be possible casualties if Parise's bidding gets too high.
Predictions: Carter signs with another team, Gionta re-signs two-year contract, Bernier re-signs one-year contract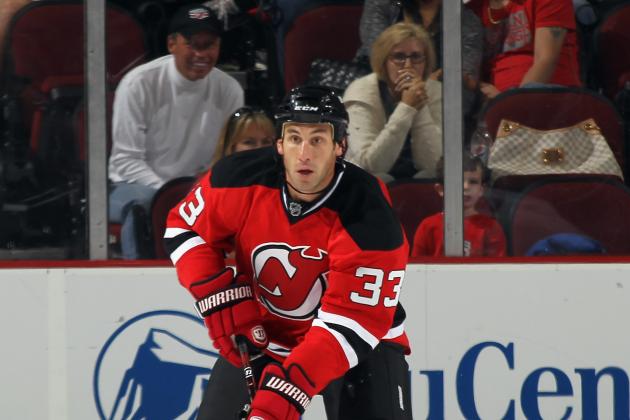 Bruce Bennett/Getty Images
This is Jay Leach. But I'm sure you knew that.
As well as the roster players, there's those familiar names who bounce between the majors and minors. Unfortunately, many will be UFAs at the end of this season.
Forwards Tim Sestito ($525,000) and Brad Mills ($525,000) will be free to walk, as will defenders Matt Taormina ($550,000) and Jay Leach ($525,000).
Tim Sestito actually played with the Devils in Sunday's game against the Flyers, but failed to make an impression. During the regular season, he played in 18 games without registering a point while going minus-five.
Jay Leach did not appear with the Devils this season.
Matt Taormina is a frustratingly good, young defender. I say frustrating because he never seems to get enough playing time. In 30 games this season, he posted a goal and six assists and went plus-six. He has the potential to be one of the top offensive forwards for the Devils, given the time.
Brad Mills appeared in 27 games and managed an assist to go with a minus-10 rating and 32 PIM.
Breakdown: Every team needs depth players. Matt Taormina is a very good bet, and the Devils would be wise to hold onto him. If they are in need of another defender, Jay Leach has also proven himself to be both very reliable and extremely unexceptional over the years (including a previous stint with the Devils). Both forwards failed to impress at all given their chances, and if any suitable replacements are available, the Devils may walk from the forwards.
Predictions: Taormina re-signs mid-length contract, Leach signs with another team, Sestito re-signs two year contract, Mills signs with another team