Fantasy Baseball: 10 Under-the-Radar Pickups You Must Make in NL-Only Leagues
Mike Stobe/Getty Images

After one month of your fantasy baseball season, you may be looking for production in one (or possibly many) categories.
Fortunately, there should still be some underappreciated players out there poised to help your team.
Here are 10 National League players who could bounce back from cold starts, will come back soon from injuries or are just flat-out ignored.
Begin Slideshow

»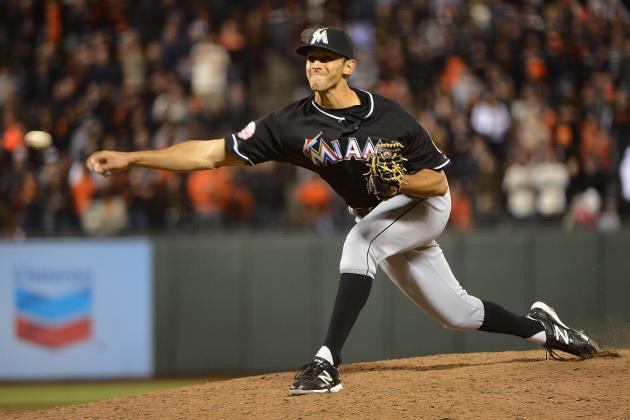 Thearon W. Henderson/Getty Images

With the demotion of $27 million closer Heath Bell from the closing role, the Miami Marlins will look to another arm to try and rack up saves.
The best candidate to do so for the Marlins is reliever Steve Cishek.
So far this season, Cishek is 4-0 with a 0.63 ERA and 15 strikeouts compared to just six walks. His WHIP is 0.91.
With those numbers, Cishek would be a great pickup regardless, but with the added fact that he may be the Marlins' new closer moving forward, this pickup is a no-brainer. In fact, you may even want to open up another Internet tab and see if he's still available before you continue reading this list.
I'll wait…
Oh, the guy who's already leading your league by a landslide picked him up? That's a shame.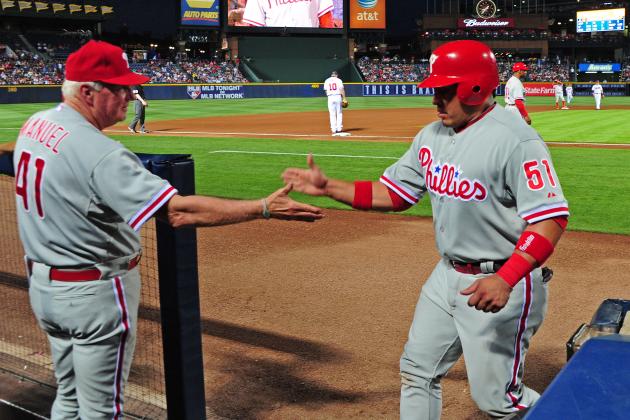 Scott Cunningham/Getty Images

Carlos Ruiz has always been a player I've really liked. He's certainly better known for his defense and game-calling ability, but he has really put it together with the bat this year.
Last season in 132 games played, Ruiz had just six homers. Scouts have been talking about his power potential for a while, but he never managed to put it together.
In just 24 games played so far in 2012, Ruiz has popped five dingers. He's also batting .325 with 19 RBI this season.
With Ryan Howard and Chase Utley out with injuries, Ruiz is one of the few Phillies hitters to step up.
The numbers so far are uncharacteristic for Ruiz, but he has been looking for pitches he can drive and has done so consistently. Rolling the dice on Ruiz seems like a wise move, especially if you don't have another dynamic catcher on your roster.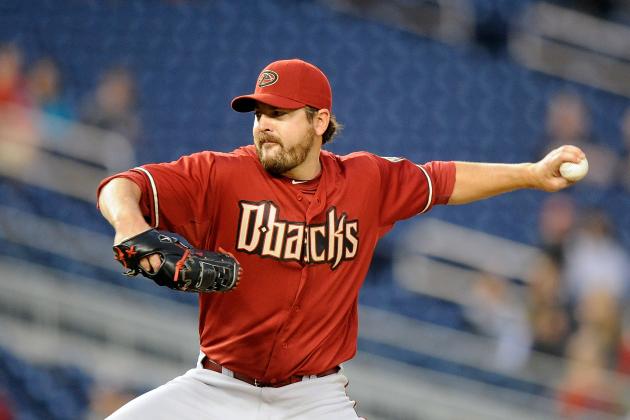 Greg Fiume/Getty Images

After tossing a gem by way of a complete-game three-hitter, Saunders came back to earth a bit in his next start.
In 6.1 innings pitched, Saunders fanned six batters while giving up three runs. He did not factor into the decision.
Saunders' numbers may be positively inflated from his complete-game shutout, but he's been a dependable pitcher thus far for the D-Backs.
His 24 strikeouts compared with just nine walks is certainly a positive.
The time is now for a guy like Saunders considering that D-Backs starter Daniel Hudson is out with injury, but even when Hudson comes back Saunders has solidified a spot in the rotation.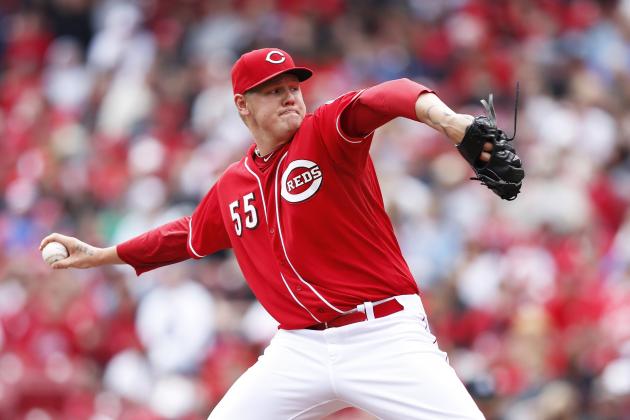 Joe Robbins/Getty Images

Mat Latos has just been plain bad for the Reds since coming over in a trade with the San Diego Padres.
His low point was a start against the St. Louis Cardinals where he gave up eight earned runs on nine hits in just 5.2 innings.
Latos's latest start may hint that he's starting to turn things around.
In six innings pitched against the Pittsburgh Pirates, Latos gave up only two hits while striking out 11 Pirate batters, picking up the win in the process.
You can take that with a grain of salt, as the Pirates have scored just 78 runs so far this season (fewest in all of baseball). However, the confidence that Latos may gain from striking out 11 batters in just six innings could prove invaluable moving forward.
Watch him closely as he's been a rollercoaster of stats thus far.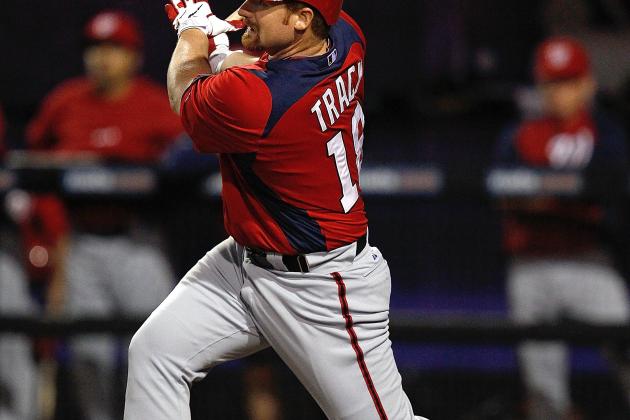 Sarah Glenn/Getty Images

MLB journeyman Chad Tracy has struggled all season for the Nationals. However, after back-to-back games with a home run in the absence of Adam LaRoche, the Nationals may need to find a spot for him in the lineup.
The Nationals' offense has been absolutely anemic and if they can find a hot bat to place in their lineup, they'll likely take advantage.
Now I would temper your expectations with a guy like Tracy, but he did hit 27 homers with the Arizona Diamondbacks in 2005, so he certainly has some pop in his bat.
Calling up Bryce Harper should help the Nats' offense moving forward, but they still need more production. If Tracy can provide that, they'll have no choice but to ride his hot bat.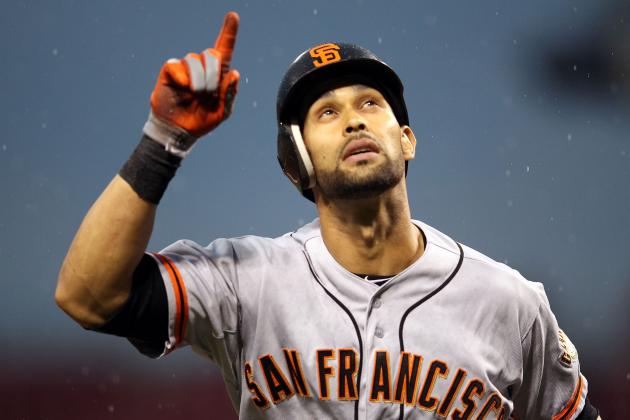 Andy Lyons/Getty Images

Despite a lackluster .259 batting average, Pagan has a major league-leading 18-game hit streak.
Pagan has the task of being a table-setter for a mediocre offensive team in San Fran. The loss of Pablo Sandoval due to injury may hurt Pagan's run scoring ability, but with four homers and three stolen bases so far this season, Pagan can contribute in a variety of categories.
If he's still available and you need outfield depth, Pagan deserves a look.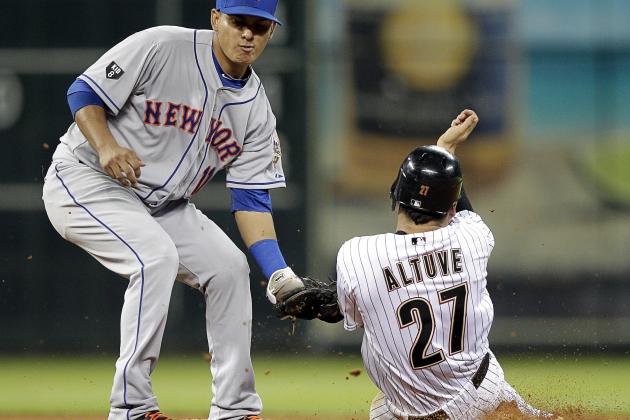 Bob Levey/Getty Images

With the loss of Jose Reyes, the starting shortstop spot has been taken over in New York by Ruben Tejada.
Who?
Well Tejada might be a name that you should learn moving forward. In fact, let's compare the 22-year-old Mets shortstop to the guy who used to man the position in Reyes.
Reyes: .225 batting average, zero homers, four RBI, 11 runs, .316 on-base percentage.
Tejada: .291 batting average, zero homers, eight RBI, 14 runs, .351 on-base percentage.
Outside of the fact that neither player has hit a home run yet, Tejada is besting Reyes in all of the above categories.
Tejada isn't a guy who's going to smack a bunch of home runs, but he's hitting for a decent average and is scoring more runs in the early going than Reyes is. The youngster has many Met fans saying "good riddance" to Reyes.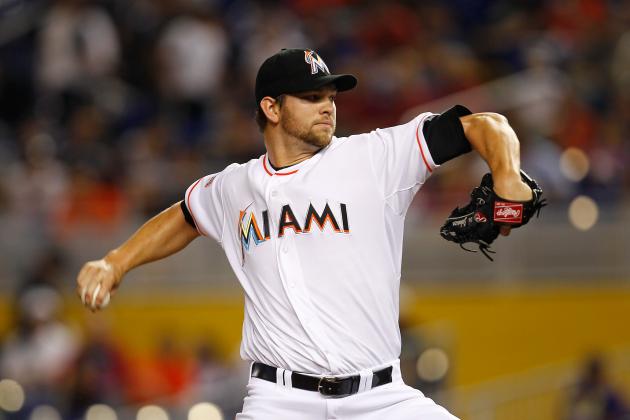 Sarah Glenn/Getty Images

Yes, Josh Johnson has been terrible for the Marlins so far this season. His 0-3 record to go with a 6.61 ERA are not numbers you'd want to be anywhere near.
However, if someone in your league gives up on him and drops him, rolling the dice on the former ace could be a high-risk high-reward move.
You'd have to think that Johnson is too good of a pitcher to continue pitching this poorly. If you pick him up and he figures out his faulty mechanics, he could change the face of your fantasy baseball team.
Christian Petersen/Getty Images

Stephen Drew has spent the first month of the season recovering from ankle surgery he underwent last season. He has, however, recently been cleared for rehab games.
He probably won't be back for another two or three weeks, but he's a solid player and could prove to be a big pickup if you nab him before he returns to the majors.
I'd speculate that Drew could bat around .270 with 15 homers and 50 RBI, and I'm likely underestimating the numbers he could put up.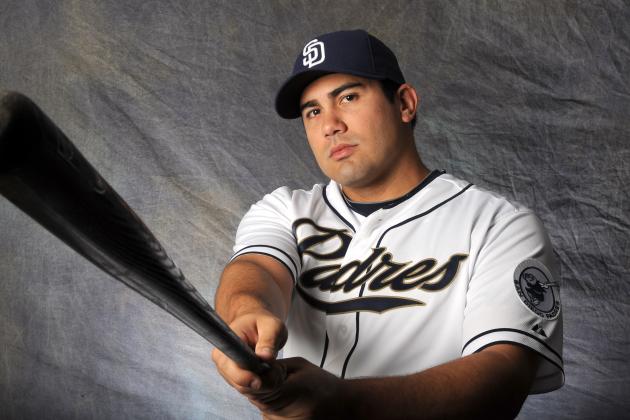 Rich Pilling/Getty Images

Carlos Quentin is a short time away from returning to the Padres after knee surgery kept him out for the first month of the season.
Quentin went 2-for-3 with a three-run homer in his rehab start at the Triple-A level. That's a great sign that he's not feeling any ill effects in his knee.
If he's still available in your league, he's a no-brainer addition to bolster your offense, even given the fact he'll be playing in the massive PETCO Park.
Expect a dip in his home run production, but he should still drive in a respectable amount of runs.