Why It's Time for New York Mets to Send Ike Davis Back Down to Triple-a
May 7, 2012

Sometimes an organization needs to make a move that is not popular among the fanbase but will ultimately benefit the franchise in the long term.
The New York Mets must make that type of decision by demoting first basemen Ike Davis to Triple-A before his season spirals out of control and his confidence is shattered.
The 25-year-old, 6'4" Davis currently has 16 hits in 93 at bats with a measly nine runs batted in. He is appearing extremely uncomfortable at the plate, is being fooled with off-speed pitches and is unable to consistently catch up to above-average fastballs.
Clearly, Davis has the ability to succeed at this level, as he has shown, but the team is suffering from the struggles of Davis, and he would benefit from a trip to Triple-A Buffalo to re-establish his stroke under less scrutiny.
Manager Terry Collins has clearly become frustrated with the struggling slugger and has experimented with moving him down in the lineup and giving him days off against lefties. Both have been done to no avail.
Entering the season, Ike was considered to be one of the few "sure things" in a Mets lineup that features a mix of young players, those returning from injury and those returning from subpar seasons.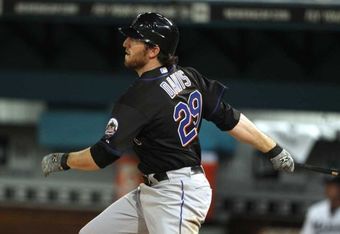 Thus far, he has essentially been the weak link, as the load has been carried by David Wright, Daniel Murphy, Josh Thole, Ruben Tejada and Kirk Nieuwenhuis. The team is averaging 3.81 runs per game with a mere 18 long balls.
2010 was a phenomenal rookie season for Davis. He finished seventh in Rookie of the Year voting after slugging 19 home runs, recording 71 RBI and playing fantastic defense at first for the Mets.
Mets fans were giddy at the prospect of producing a homegrown star with the best pure power since Darryl Strawberry. Ike has hit a number of moon shots and was able to knock the ball over the original dimensions in Citi Field while most Mets could not.
The beginning of 2011 saw Davis get off to a tremendous start. Through 36 games, he had recorded a .925 OPS and was on pace for 30-plus home runs and 120-plus RBI.
That all changed on May 11th, when Ike collided with Wright on an infield pop-up in Colorado. While it initially seemed like a relatively harmless injury, his left ankle was severely broken and ended his season.
In the offseason, Ike declared he was 100 percent and primed for a comeback. That was until he was diagnosed with "Valley Fever," which is fairly common among Arizona natives.
According to Public Medical Health, it is a fungal infection that is caused by inhaling certain fungus particles from the desert. While most symptoms are not serious, fatigue and weight loss are known to be common symptoms that could be directly attributed to his loss of power.
While the Mets have been adamant that Davis is fully healthy, it is obvious he is either extremely rusty from his extended absence last season or his body is fatigued from the effects of "Valley Fever."
Regardless of the explanations, the numbers are not pretty. Davis began the season hit-less in his first 18 at-bats.
He appeared to regain his form shortly, before going on another hit-less streak of more than 10 at-bats, which plummeted his average to .172, which is where it currently stands.
More troubling, Davis has 27 strikeouts and six walks. While the Mets can live with his strikeouts, his .222 OBP is a far cry from .351 in 2010 and .383 in last season's abbreviated stint.
Perhaps the low point came on Friday night, when Ike went 0-for-4 and allowed a routine grounder to slip through his legs into right field. The run ultimately came around to score, and the Mets blew a late-game lead.
After the game, Ike put the onus on his shoulders, but he said he is not panicking yet.
Perhaps the Mets front office is panicking, however, as they are fearing the Davis will not regain his power stroke and they will not see the return in their 18th-overall selection of the 2008 draft.
The weight of the decision is compounded by the fact that there is not really another option within the system. Daniel Murphy and Justin Turner do have experience at the position, but they are not skilled defensively in the spot and are valuable in their existing roles.
For a team that has seen several flame-outs, such as Jay Payton, it is easy to become skeptical. Perhaps the struggles of Davis are simply a product of early-season rust. Or perhaps he does not possess the confidence he had prior to his injury.
The Mets front office will be forced with a tough decision if Davis continues to struggle mightily. In that event, Ike may be taking a short plane ride north to Buffalo, where he will be able to find his stroke in the minor leagues.